It's no secret that customers love flexibility when it comes to online shopping, no matter what they are looking to buy. This is why offering add-ons or customization options for the products on your eCommerce store can be a great way to improve your customers' shopping experience.
Unfortunately, WooCommerce lacks the flexibility to personalize products. With the default installation of the popular WordPress plugin, you only have the option to add product variations (such as colors or materials), which gives your customers limited choices to customize their products. If you want to create a more customized experience for your offerings, you will need to use a WooCommerce plugin that adds this functionality to your WooCommerce store.
In this article, we'll take a look at Product Manager Add-Ons, one of the best plugins for customizing your WooCommerce products and creating more chances for upsells. We will then show you how to use this plugin to set up product add-ons for your eCommerce store products.
Why Should You Offer Customizable Products on Your WooCommerce Store?
Offering customizable products on your WooCommerce store has various benefits, both for you as a business owner and for your customers as visitors to your store. Broadly speaking, being able to personalize your products can help you:
Improve the Customer Experience: By providing your customers with greater flexibility in the products they purchase, you can make their shopping experience an easier and more memorable one. If you allow customers to customize their orders, they can adjust the product to how they prefer it. For example, imagine a person is ordering takeout from your burger restaurant and wants to remove the pickles from their burger. Offering the option to customize your products in this way improves the customer experience and, in turn, can make customers more likely to order from you again.
Boost Conversions by Offering Customers Greater Choice: You are also likely to make more sales if customers can find exactly what they are looking for at your store. This is why offering product customization options and templates can keep visitors around for longer. For example, imagine you're selling a toothbrush with disposable heads. By offering product add-ons, you could give customers the option to select how many and what kind of disposable heads they want directly on the product page. This saves them time searching through your site to find a separate item!
Increase Your Average Order Volume by Adding Upsells: Have you ever been to a physical store and bought one of those impulse-buy items next to the checkout counter? This is precisely why they are placed where they are! Adding customizable product functionality to your WooCommerce store allows you to recreate this same experience in a virtual format. Let's quickly go back to our burger restaurant example. Apart from selling a burger, you could also offer your customers the option to add a drink, some fries, or a dessert when they reach the checkout. The goal here is to make it as easy as possible for buyers to get those add-on items into their carts – even if only a handful of them will actually take you up on the offer, you're still adding dollar value to your bottom line!
Target New Markets with Customizable Products: Lastly, offering customization add-ons for your products can open your store up to people who would otherwise shop elsewhere. For example, let's imagine you run a clothing store and you start offering customizable T-shirts or sweaters. By doing so, you could immediately open your store up to every club or sports team that wants custom merchandise, not to mention a plethora of other customers looking for one-of-a-kind items.
We've already covered a few examples of how you can deploy customizable products on your WooCommerce store, but there are many more instances in which offering product add-ons could help to improve your customers' experience and boost your sales. So, let's go through a few more use cases! Customized products can also help:
Restaurants offering takeout or delivery: The applications here are endless, but a good example would be a pizza restaurant. Some of your customization options could be toppings, types of crust, or sizes, and add-ons could include appetizers, drinks, and desserts.
Clothing stores: We have talked about offering custom merchandise for sports teams, but people also buy custom clothing for many other uses. For example, for high school graduations, bachelor parties, social groups, and special events.
Stores offering gift options: Gift options can range from gift-wrapping your orders to adding a tag with a personalized message. Including a gift receipt is another excellent idea that can make it easier for the recipient to exchange an item while also increasing your average order value.
How do you create customizable products in WooCommerce?
While it might seem that you can customize products in WooCommerce, the reality is that, by default, the plugin only offers the option to add product variations for your customers to choose from. Typically, these are used to offer the same item in different styles, colors, or sizes.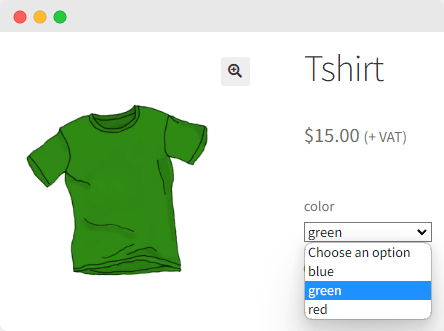 Customizing products with add-ons grants you (and your customers) much more flexibility when showcasing and offering your products. Let's consider a few more examples.
Suppose you own a pizza restaurant. Your customer wants to order a pepperoni pizza. Because this is just a straightforward product, you can offer it easily using the default WooCommerce configuration. But, say that same customer wants a large pepperoni pizza with extra cheese and a stuffed crust. Unfortunately, there is no easy way to provide this option using product variations – you would need to create variations for all possible different options of toppings, sizes, and crusts.
By using product add-ons, the process becomes much more straightforward. All you need to do is create add-ons for extra toppings, crust types, and sizes, which can be added to your plain cheese pizza product. This means you only need a single base product, but you can make it almost infinitely customizable by offering different add-ons.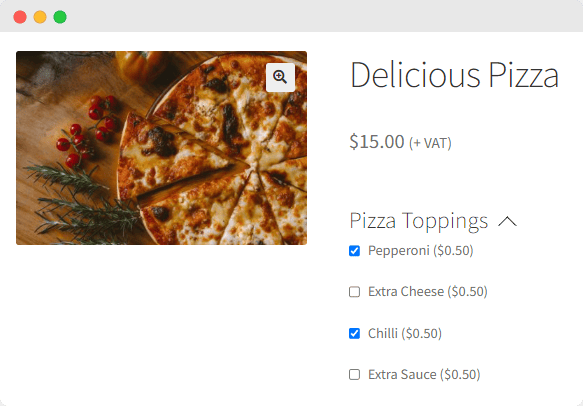 You will need a plugin to add this functionality to your WooCommerce store. Fortunately, there are dozens of good ones that can offer this functionality. However, not all of them provide the level of customization and flexibility you require to give your customers the best possible shopping experience at your eCommerce store.
This is why we recommend Product Manager Add-ons from BizSwoop, as it comes with a range of built-in features that can make offering customizable products on your WooCommerce store as straightforward and user-friendly as possible. Let's go through some of this plugin's main features.
Huge Product Customization Flexibility
Product Manager Add-ons offers a wide variety of different customization options to add to your products. You can create add-ons that your customers can access through checkboxes, dropdown menus, or radio buttons, and add text fields or file upload options (for product add-ons that need text input or an image to be added, such as personalized clothing), among other add-on options.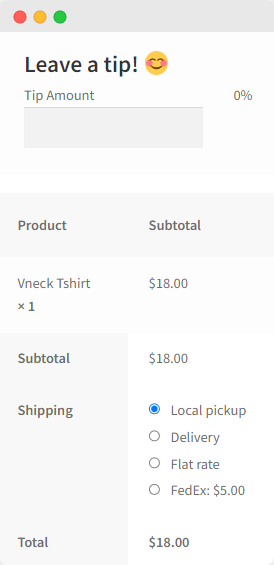 Include Add-ons on the Cart Page and Checkout
When you're using Product Manager Add-ons, the opportunity to customize your items or make upsells doesn't end the moment the customer clicks the add-to-cart button. In fact, you can offer add-ons on both the cart and checkout pages and upsell or cross-sell additional products before the customer completes their order. This is perfect for creating add-on options like tipping at the checkout and suggesting last-minute additional services like gift wrapping (which would be less suited to appearing on your WooCommerce product pages).
Compelling and Intuitive Add-on Display
Using Product Manager Add-ons, you can display your product add-ons in a way that is attractive and easy for your customers to understand. For example, you can add thumbnail product images and descriptions next to each add-on selection option to help your customers see exactly what they are adding to their orders. Suppose you are offering different color options for a clothing product – you can add a thumbnail image next to each option so customers get a visual representation of all of the colors available. By pairing Product Manager Add-ons with its sister plugin, Product Tables for WooCommerce, you can even display different product variations or categories in a product table, so customers can see their prices and images on the same page – allowing customers to choose the product design they like best before customizing it further.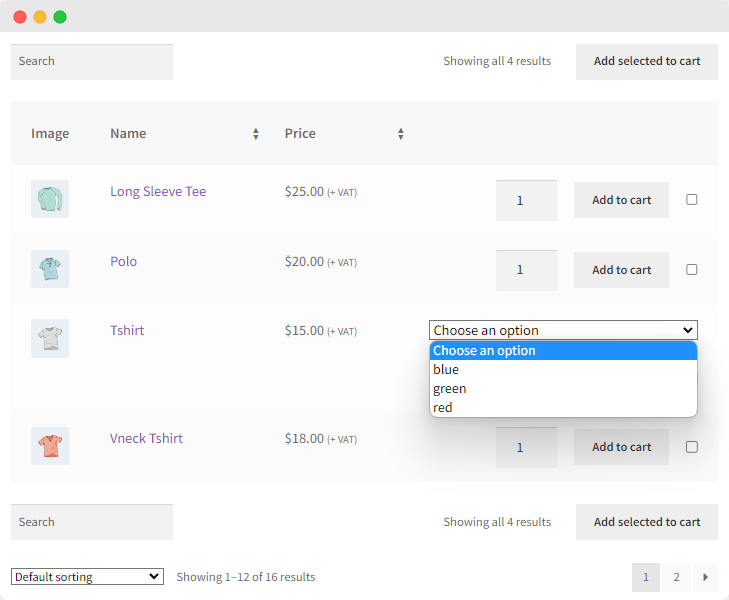 Seamless POS Integration
If your WooCommerce store sells both online and in-person, you'll want to be confident that your customizable products will work with your WooCommerce POS (Point of Sale) system. Product Manager Add-ons offers seamless integration with Jovvie POS, also from BizSwoop. Jovvie comes with powerful inventory management features that can help you keep track of every add-on and variation that your customers purchase easily, no matter if they are getting the product in-store or online. Keeping track of your inventory on a granular level in this way will help you make intelligent stocking decisions. By pairing Product Manager Add-ons with Jovvie, you can create complex custom items that will show up immediately in the POS and keep better track of which add-ons are adding the most value to your store.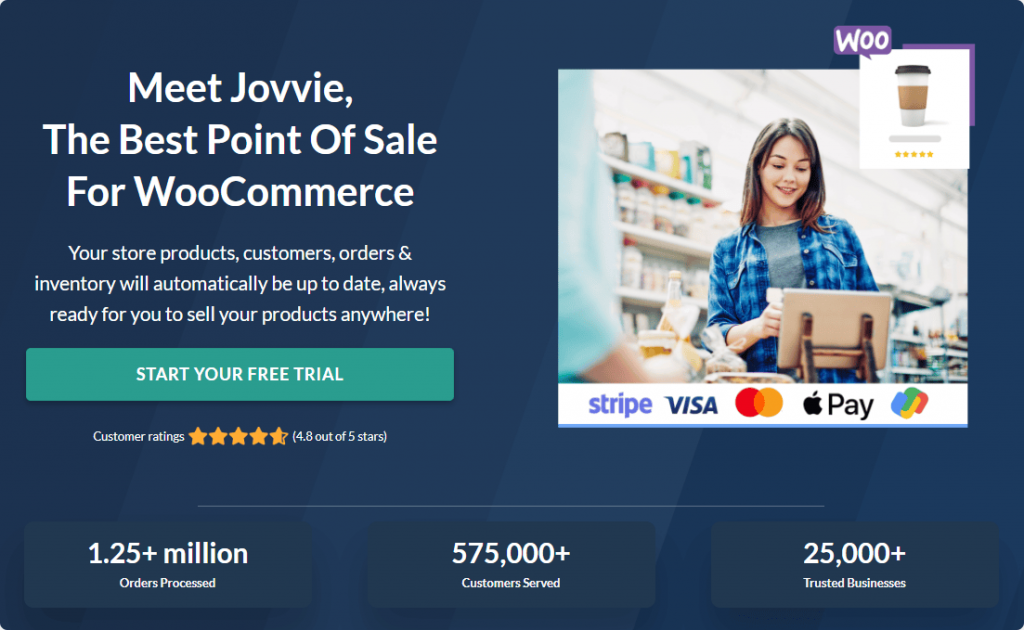 Pricing Plans
The Product Manager Add-ons plugin is available in three plans, starting at just $49 per year. Let's compare them so that you can decide which features you'll need for your store:
The Basic plan, starting at $49 per year, provides essential add-ons for product management, such as select, checkbox radio, text add-ons, and custom dynamic add-on pricing.
If you require more advanced features like images & file upload input, percentage-based add-ons cost, advanced labels & customization, and cart & checkout add-ons, you can upgrade to the Plus plan for only $89 per year.
The Pro plan, which is priced at $149 per year, includes all the features of the Plus plan, as well as additional features like product samples & limits, order & frequency restrictions, and product bundle & BOGO Promotions, making it ideal for stores with complex products and promotions.
As you can see, each of these plans offers tremendous value, including the Pro plan which has essential features for customizable products, such as the ability to create product bundles. Better yet, Product Manager Add-ons comes with a 14-day money-back guarantee, so you can test out all the ways that it can add new functionality to your eCommerce store.
How to Customize WooCommerce Products Using Product Manager Add-ons (Step-by-Step)
Customizing your products with add-on options couldn't be easier with Product Manager Add-ons. You can set the plugin up and start offering complex add-on options within minutes. Let's take a look at the main steps.
First, you will need to purchase, download, and install the Product Manager Add-ons plugin from BizSwoop. You can do this from your WordPress "Plugins" area. Once the plugin is installed and activated on your WordPress site, navigate to Products > Add-On Groups and create a new group.
Now, it's time to configure the add-on group options to best meet your requirements. For the purpose of this tutorial, we're going to show you how to set up add-ons for creating personalized T-shirts:
Give your new add-on group a name and choose where it will appear. You can set the new options to appear on all product pages, custom product pages (for example, only for specific product categories or a single product), the cart page, the checkout page, or both the cart and checkout pages. For the purpose of this guide, we'll select 'custom', then set the add-ons to apply to the category 'T-Shirts'.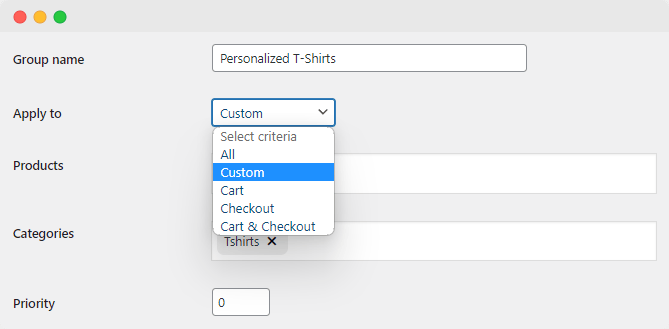 Next, click 'Add row'. This will create an add-on that will appear in the group. You can now choose what kind of input field you will require your customers to use. There are several options here; for example, you can let them use a dropdown menu, checkboxes, radio buttons, a text field, or a file upload field. As we're going to be adding custom text to a T-shirt, select 'Text' as your input option.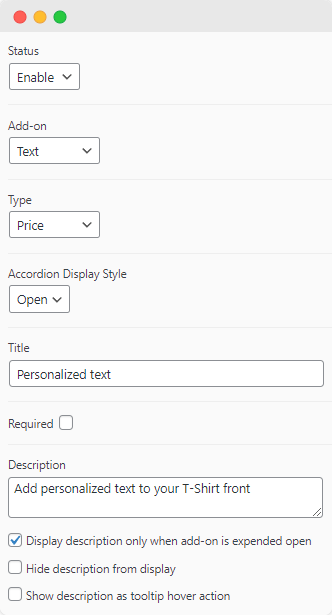 It's now time to set up some product add-on prices. Pick 'Add option' to configure the cost of the variation you've just created. For add-ons where there will be multiple options to choose from (e.g., pizza toppings), you can add as many as you need. As we're just adding the option to add custom text, we'll only include a single choice here. Write a value for the cost of the add-on and choose whether you want to include additional information, such as a specific SKU code, quantity restrictions, or a thumbnail image. Click on "Save" so the system remembers your changes.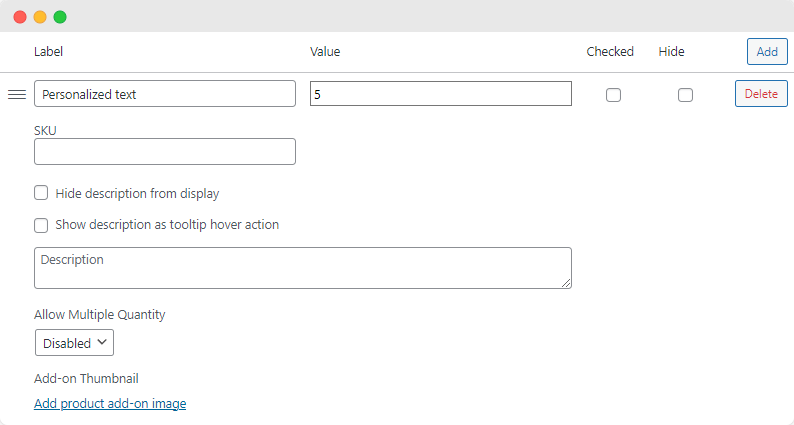 Quick note: Another way in which you can allow your customers to personalize their T-shirts is by adding a file upload option so they can add a custom image to be printed on the T-shirt. To do this, simply click 'Add row' to create another add-on, then select 'File' as the input option, and click 'Add option' to configure the cost in the same way as you did with the text option.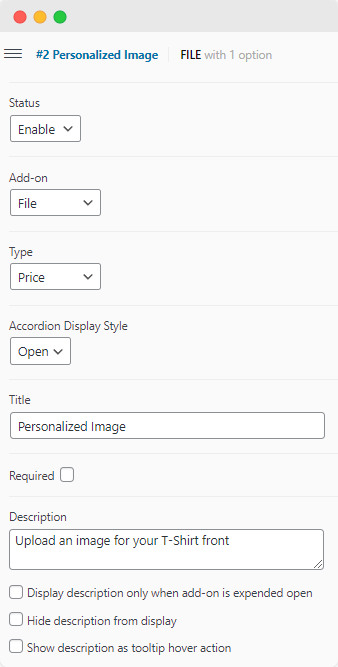 That's it! Your product add-ons will now be live on the front end of your site. If your customers choose to add custom text to their T-Shirt order, they will see the add-on cost displayed directly on the personalized products pages.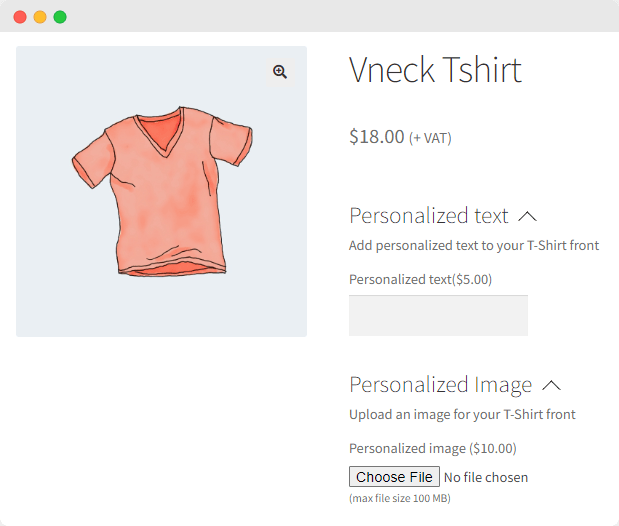 Boost Your Bottom Line With Customizable Products
There are many benefits to offering customizable products on your WooCommerce store. You can offer your customers greater flexibility, improve their experience of shopping with you, and make them more likely to come back to your store. Offering customizable products can even open up potential revenue streams for your online store by making it easier to upsell related products, as well as giving you the option to add customizations to existing products.
If you are looking for the best way to create add-ons for your WooCommerce products, Product Manager Add-ons is a great option for adding customizable product functionality. This plugin offers the following benefits:
A wide range of customizations to make your products flexible and unique.
Compelling add-on and variation display options to give your customers easier ways to combine their preferences.
Add-ons on product pages, the cart page, and the checkout page to help you increase the chance of upsells.
Seamless integration with your POS system (especially Jovvie).
Product Manager Add-ons offers scalable pricing depending on the level of customization you need for your WooCommerce products. With plans starting from $49/year and a 14-day money-back guarantee available, this tool is an excellent and affordable option to add powerful product customization functionality to your eCommerce store.