Are you looking to boost sales and customer satisfaction in your WooCommerce store? Offering product samples might be the key!
Studies show that receiving a product sample can increase the probability of the customer completing the purchase by 300%.
However, WooCommerce doesn't natively support product samples, which is where Product Manager Add-ons comes to the rescue.
In this article, we'll explore the benefits of offering WooCommerce sample products and guide you through the easy setup process using Product Manager Add-ons.
Furthermore, we'll demonstrate how to enhance your marketing efforts with follow-up emails using Flow Notify, ensuring your customers are more likely to purchase the full product after receiving the initial sample.
Let's dive in and discover the world of WooCommerce product samples!
Why should you offer sample products on your WooCommerce store?
Offering product samples is a strategic way to boost sales, build customer trust, and showcase the quality of your products.
Here are some of the main benefits of offering sample orders at your WooCommerce store:
Increase sales
Product samples are a powerful sales tool. Research shows that 35% of customers who try a sample will buy the sampled product in the same shopping trip.
For eCommerce store owners, offering product samples allows you to generate qualified leads that you can nurture into conversions, ultimately increasing sales and revenue.
Showcase the quality of your products
Providing samples enables your customers to evaluate your products before committing to a purchase, ensuring they are satisfied with the quality. If your customers are choosing between your store and a competitor's, offering product samples gives you a competitive edge by demonstrating the superior quality of your products.
By offering a free or reduced-price sample, you can foster customer trust and encourage them to return to your store for the full-price product.
Give new products or underperforming products a boost
Offering samples of your new product lines or products that are not selling as well as you'd like is an effective way to increase their visibility and encourage more customers to try (and ultimately purchase) them.
This tactic works exceptionally well if you bundle free samples of new or underperforming products with your best-selling products. By inviting customers to try something new without any financial commitment, you can introduce them to more of your product catalog, helping to increase sales and average order value in the long term.
Various types of stores can benefit from offering product samples, including:
Apparel stores: By providing fabric samples for their different clothing lines, apparel stores can increase customer trust by ensuring customers are happy with the texture, color, and appearance of an item before committing to a purchase.
Home furnishing stores: Offering samples of fabric and solid materials like wood and laminate is crucial for home furnishing stores. Their typically high average order value means customers will want to be confident in the quality of the materials used before making a purchase.
Software and music stores: Customers are unlikely to commit to purchasing the full version of a software product without testing it out and ensuring it meets their needs. Similarly, customers will generally want to listen to a sample of a digital music download before committing to purchasing the full track.
Printing companies: When ordering custom-printed products, customers will want to be confident in both the quality of the materials used and the quality of the printing itself.
Now that you know how, by implementing product samples, you're opening the door to increased sales, customer satisfaction, and a thriving online store, let's see how can you set up product samples in WooCommerce.
How do you offer sample products on your WooCommerce store?
Although WooCommerce is a powerful and versatile platform, it doesn't provide built-in functionality for offering product samples.
To overcome this limitation, you'll need a dedicated plugin, like Product Manager Add-ons.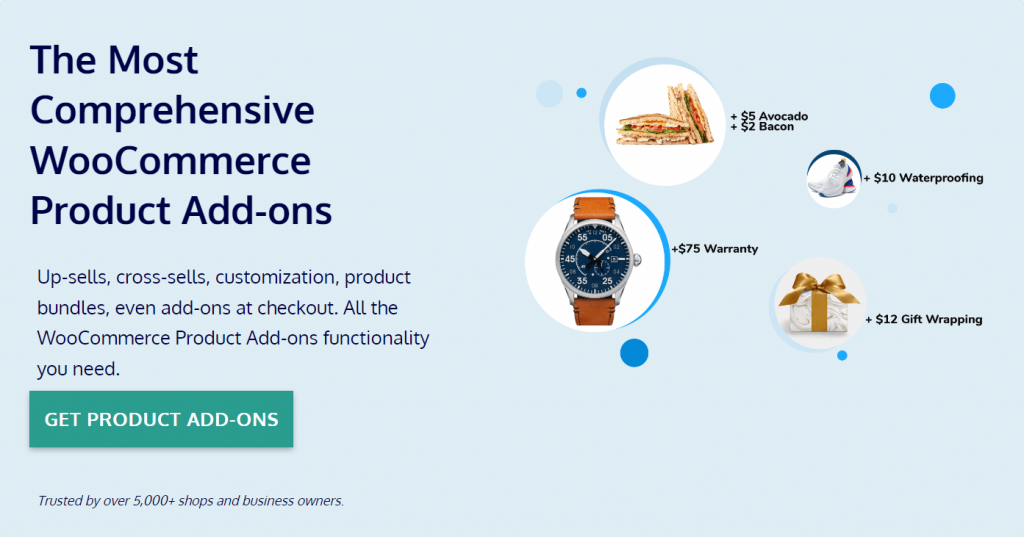 Product Manager Add-ons is a comprehensive solution, offering a range of features that make it perfect for adding product samples to your WooCommerce store.
Here are some of the key features of this plugin:
Flexible input field options
Product Manager Add-ons allows you to utilize a variety of input field options when offering product samples.
For example, if you sell variable products, you can enable customers to order samples of each variation using checkbox fields.
This ensures that your customers have the option to try out different variations before committing to a purchase.
Multiple product samples
The plugin comes with built-in quantity selectors, allowing your customers to order multiple product samples at once.
This feature is perfect for customers who want to share samples with family, friends, or clients, as it makes it easy for them to order multiple samples without any hassle.
Attractive visual display
Product Manager Add-ons enables you to create a visually appealing display for your product samples by adding product images or color swatches, individual descriptions, and more.
This not only enhances the user experience but also helps showcase the quality of your products.
Display samples by product, category, or globally
The plugin allows you to display samples on the product page, in the cart, or at the checkout.
You can choose to display samples by single product, product category, or globally, giving you complete control over how your samples are presented to customers.
Flexible pricing options
With Product Manager Add-ons, you can offer either free or paid product samples by setting either a flat-rate or percentage-based sample price.
This allows you to cater to different customer preferences and encourage more users to try out your product samples.
Inventory and order management
The plugin enables you to assign SKU codes to your different product samples, helping you keep track of your sample quantity, obtain sample data from inventory, and import products if necessary.
This feature is essential for making smart stocking decisions and ensuring that you always have enough samples on hand to meet customer demand.
These and many other features of Product Manager Add-Ons make it an easy-to-use WooCommerce plugin that helps offer an unparalleled shopping experience for your customers and drive the growth of your eCommerce business.
Tutorial: How to set up product samples in WooCommerce with Product Manager Add-ons
Setting up product samples on your WooCommerce store using Product Manager Add-ons is a simple process.
In this step-by-step tutorial, we'll guide you through the process of creating and configuring product samples for your online store.
1. Download and install the plugin
Begin by downloading and installing the Product Manager Add-ons plugin on your WooCommerce store from your WordPress dashboard.
2. Create a new add-on group
From the WordPress admin dashboard, navigate to Products > Add-on Groups and click "Add new". 

This will allow you to create a new group of product sample add-ons.
3. Name your add-on group and choose the display location
Add a name for your sample add-on and choose where you want to offer your product samples.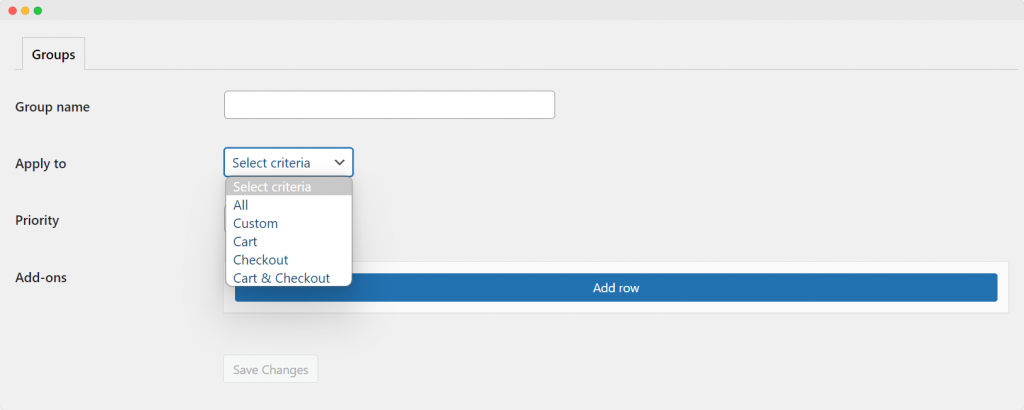 You can display samples on specific product pages (set by individual product or category), all product pages, the cart page, the checkout page, or both the cart and checkout pages.
4. Configure the add-on display
Click "Add row" to configure how your sample add-on will be displayed.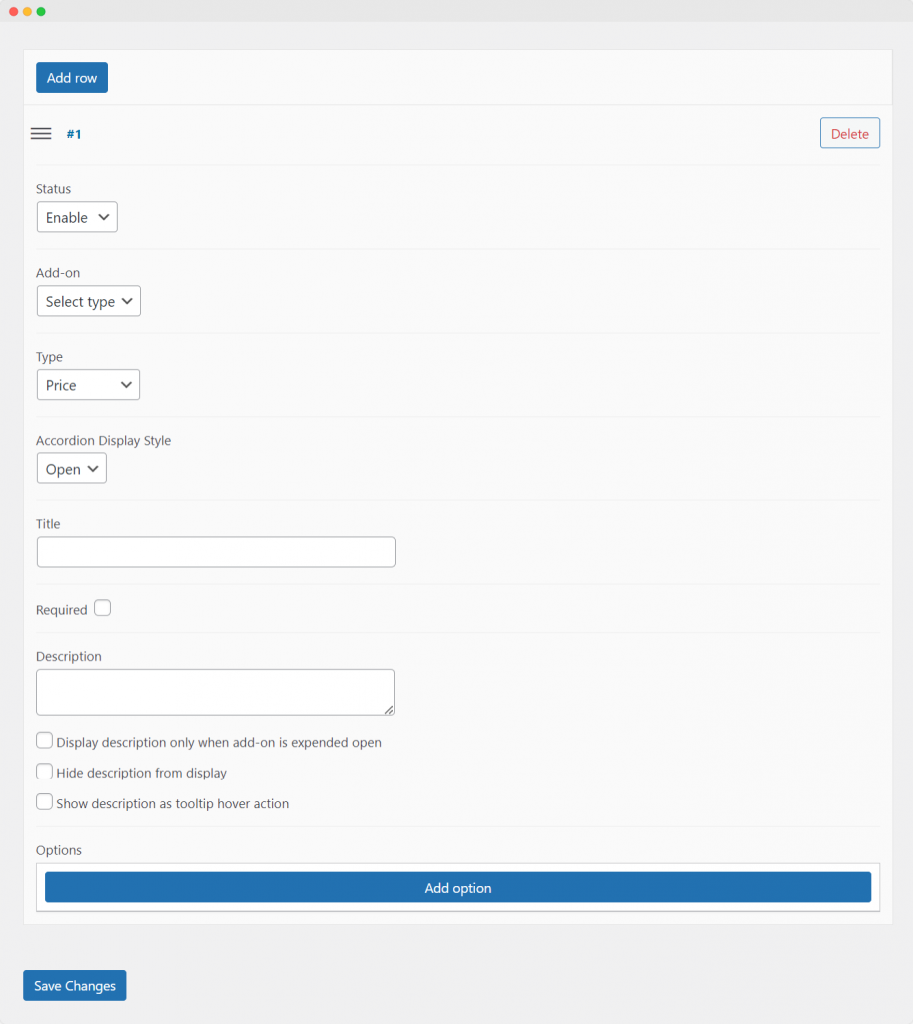 From here, you can set the following options:
The input field used for selecting your product sample options (options include dropdown lists, radio buttons, checkboxes, text input fields, and more).
How your product sample is priced (flat rate, percentage of product price, percentage of cart subtotal).
The name and description of your add-on as it will appear on the store front end.
5. Add sample options
Click "Add option" to add the specific selections that your customer can make when choosing their product sample.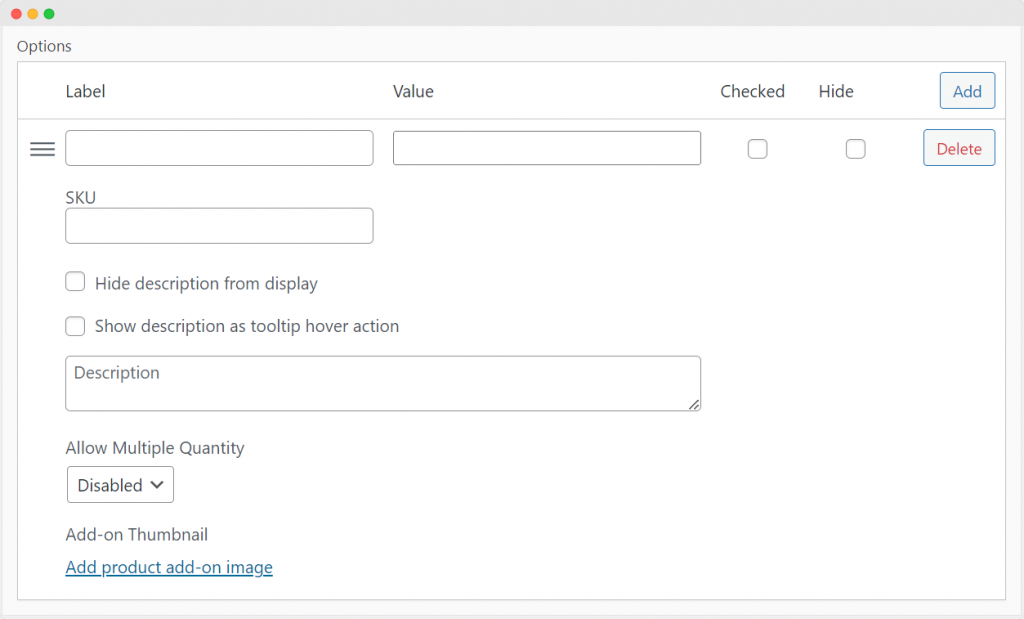 From here, you can configure options like:
The name, description, and SKU code of each product sample you want to offer.
The price of the individual sample (this can be set as "0" if you want to offer free product samples).
Whether or not customers can add multiple quantities of the sample to their order.
6. Add a product image
Upload a product image for each sample option to make the selection more visually appealing for your customers.
You can offer as many different options as you like – for example, if you run an online cosmetics store and you want to offer a free sample of your new range of foundation products, you could create different options so customers can choose a color of foundation that matches their skin tone.
You can also create multiple different add-ons within each group.
For example, if you wanted to offer samples of both your new foundation line and your underperforming moisturizer product, you could set these up as separate add-ons.
Once you configure all the plugin settings, you'll be able to provide your customers with the opportunity to try out your products before committing to a purchase.
Bonus section: How to maximize the impact of your WooCommerce sample products
Offering sample products is a fantastic way to entice customers to try out your products and demonstrate their quality.
However, just because a customer has ordered a sample from you, that doesn't necessarily guarantee they will make a purchase!
To maximize your conversions and capitalize on the leads you have generated by sending out sample products, you need to ensure that you follow up with your customers effectively.
This is where Flow Notify comes in – a powerful automatic notification plugin that enables you to send follow-up messages to your customers via email, SMS, and WhatsApp.
With Flow Notify, you can seamlessly send and schedule automatic follow-up notifications for customers who have ordered a free sample from your WooCommerce store.
Flow Notify is designed to help you create custom, personalized notifications with a combination of plain text and WooCommerce data fields.
This allows you to pull in dynamic product data like the customer name, order information, and even specific details on promotions and coupon codes. By sending personalized follow-up messages, you can increase the likelihood of converting your sample recipients into paying customers.
Here are some tips on how to maximize the impact of your WooCommerce sample products using Flow Notify:
Send a timely follow-up: Schedule your follow-up notifications to be sent shortly after the customer receives their sample product. This ensures that the product is still fresh in their minds, and they are more likely to make a purchase.
Personalize your message: Use the customer's name and other relevant information in your follow-up notifications to create a more personal connection, making it more likely that they will engage with your message and make a purchase.
Offer an incentive: Include a promotion or discount code in your follow-up message to encourage customers to make a purchase. This can be particularly effective if you make the offer time-sensitive, creating a sense of urgency.
Highlight the benefits of the product: Remind your customers of the benefits of the product they sampled, emphasizing its unique selling points and why they should choose your product over competitors.
Provide social proof: Include testimonials or reviews from other satisfied customers in your follow-up message to build trust and credibility.
Combining the power of Product Manager Add-ons and Flow Notify, you can create a powerful and effective system for offering product samples and converting those leads into paying customers.
Boost sales with sample WooCommerce products created with Product Manager Add-Ons
As we've explored throughout this article, offering sample products in your WooCommerce store is an effective strategy for increasing sales and showcasing the quality of your products.
By providing samples, you give customers the chance to try before they buy, boosting their trust and confidence in your offerings.
Product Manager Add-ons is the perfect plugin for effortlessly adding sample product functionality to your WooCommerce store.
With its wide range of customization options, including flexible input fields, attractive visual displays, and dynamic pricing, it's the ideal solution for any online store looking to offer product samples.
To further maximize the impact of your product samples and convert more leads into customers, consider adding Flow Notify to your WooCommerce store. This powerful notification plugin will enable you to send personalized, automatic follow-up messages that encourage customers to make a purchase after trying your samples.
Embrace this winning combination to increase sales, improve customer satisfaction, and achieve overall success for your online business!