Let's get started
Simplify Your Website Accounting with 1-Click or AutoSync!
Activating License with BizSwoop
Step 1: Install and Active Plugin App on WordPress
Download from Order & Upload the WooCommerce QuickSync plugin to the /wp-content/plugins/ directory or Add New on the Plugins page and upload zip file to your WordPress website.
Once the Plugin is uploaded by FTP or Add New zip file from the Plugins section.
Go to Plugins installed in the WordPress admin, Click Activate Plugin to activate WooCommerce QuickSync plugin. 
On the WooCommerce menu, a new menu item will be created labeled QuickBooks.
Step 2: Activate WooCommerce QuickSync License with BizSwoop
Click the QuickBooks menu item under WooCommerce. 
Click the Settings tab on WooCommerce QuickSync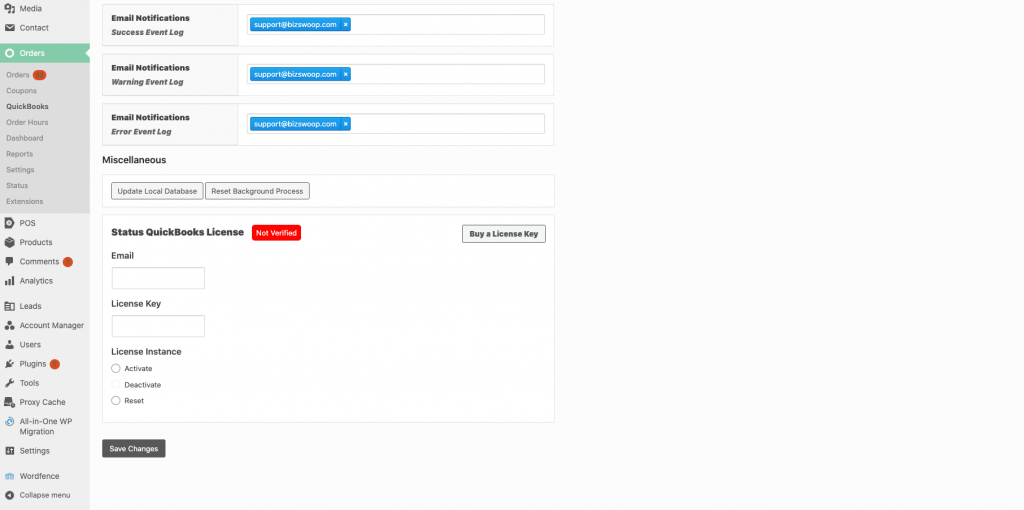 Scroll down to section Status QuickBooks License
From the order, enter your Activation Email and License Key
Select the Activate option, click Save Changes
WooCommerce QuickSync is no Activated!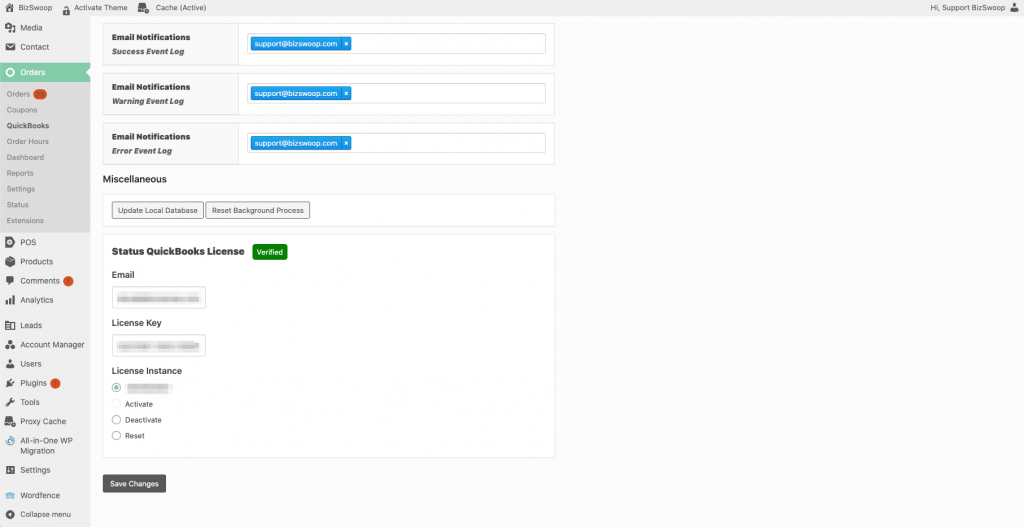 Connecting to QuickBooks Account
Step 1: Get Client ID and Client Secret
It's easy. Quick steps to get the ID and Secret
Step 1: Sign In to your Intuit Developer Account here
Step 2: Create New APP on the Dashboard here
Step 3: Enter App Name(eg. Invoice Sync) and Select "Accounting" Scope and Create APP
Step 4: Go to Product Keys & Oauth ,if you are using QuickBooks sandbox then copy Development key otherwise copy Production Keys.
Note: You might need to complete account verification and Eula settings on your account to finish the app setup steps on Step 5.
Step 5: Enter Redirect URI found under the Accounts Tab
Note: This is the Redirect URL on your WooCommerce website and under the Accounts tab of the WooCommerce >QuickBooks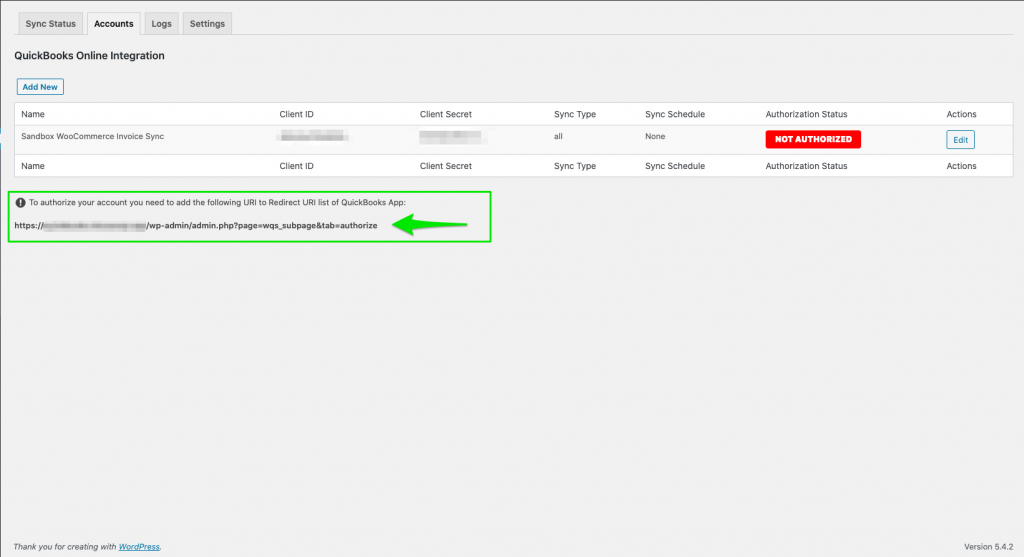 Step 6: Save APP then copy client ID and Secret and put both in plugin settings
Or if you are a visual person. A quick video to get the ID and Secret
Step 2: Setup Account and Connect
Click the Accounts tab for WooCommerce QuickSync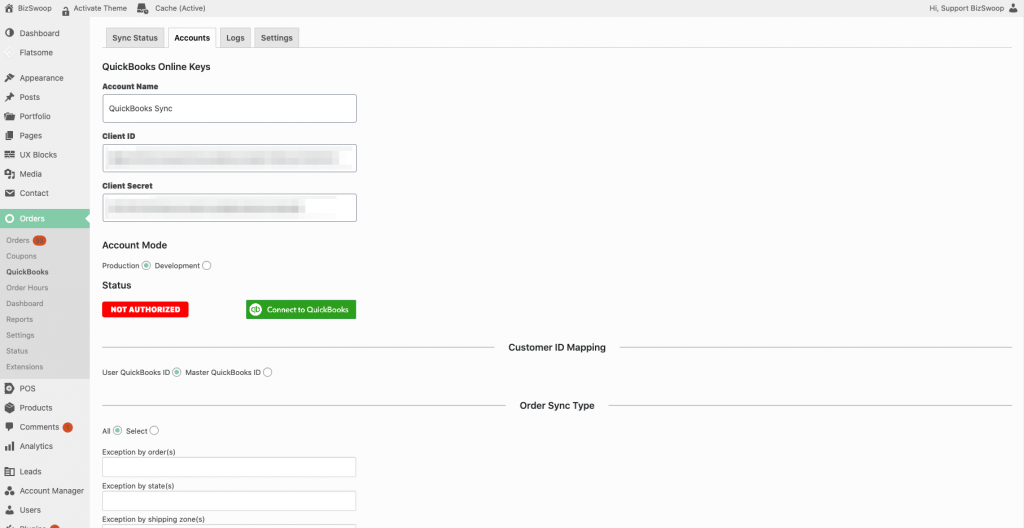 Select Account Mode Production or Development
Input a Account Name
Enter in the Client ID and Client Secret from your QuickBooks account
Click the Connect to QuickBooks button
Once clicked a dialog window will appear requesting authorization to connect to your QuickBooks account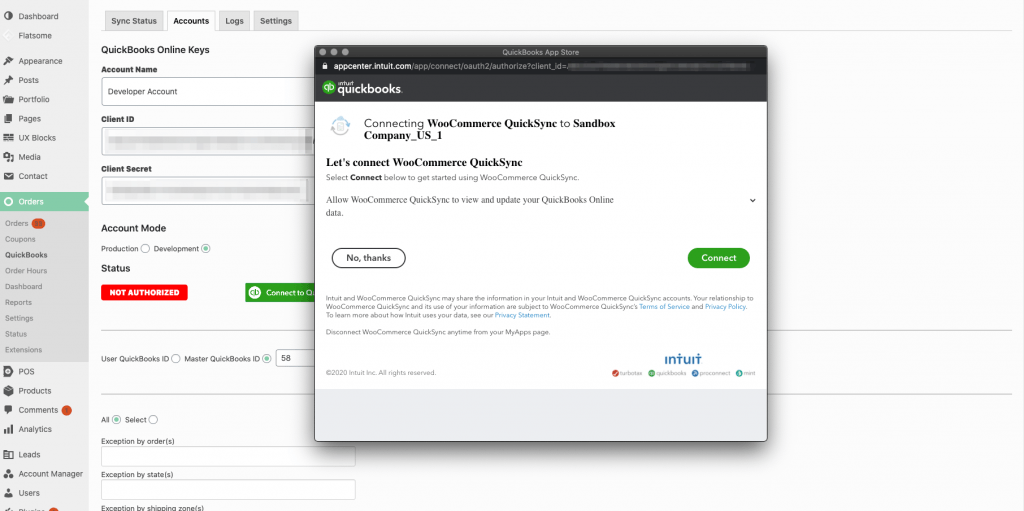 Review to verify the account and approve terms. Click Connect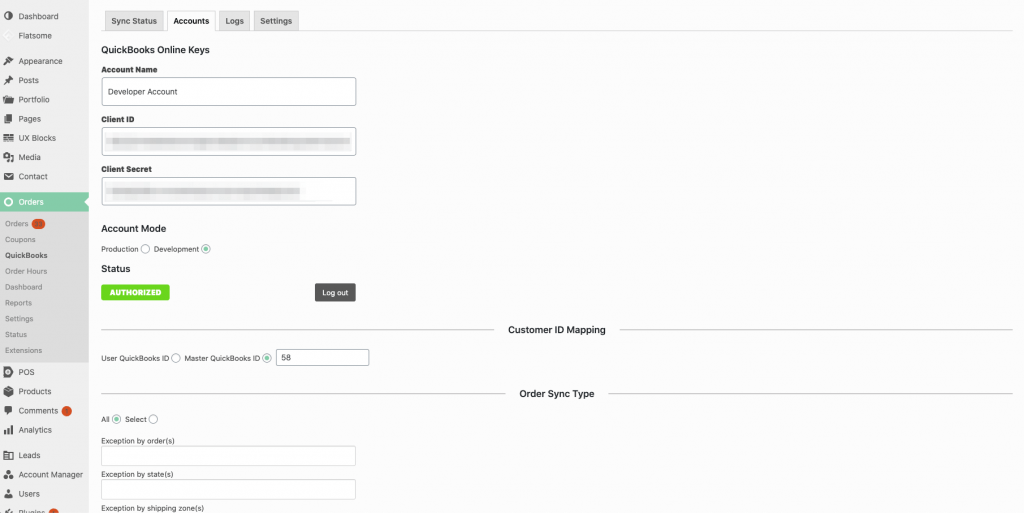 After clicking Connect, the account will show Authorized for syncing to start.
You are now all set to start syncing WooCommerce orders to your QuickBooks account!
Disconnect from QuickBooks
Disconnecting from QuickBooks account
Step 1: Log Out of Connected Account
Click the Accounts tab for WooCommerce QuickSync
Click Edit on the Account you would like to disconnect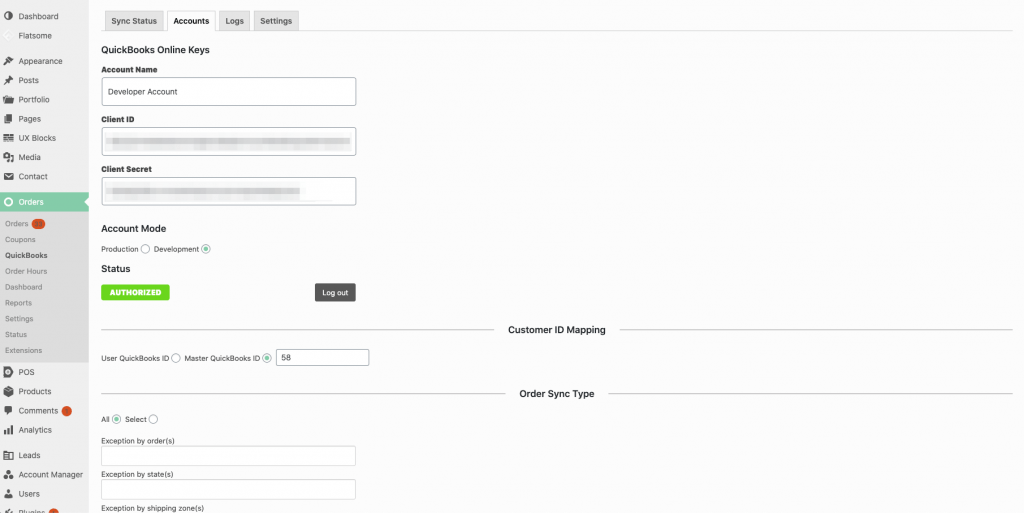 Click Log Out, next to label Authorized
Verification: WooCommerce QuickSync is Disconnected
After Log Out is clicked, the Accounts tab will load, showing a notification confirmation the Account has been disconnected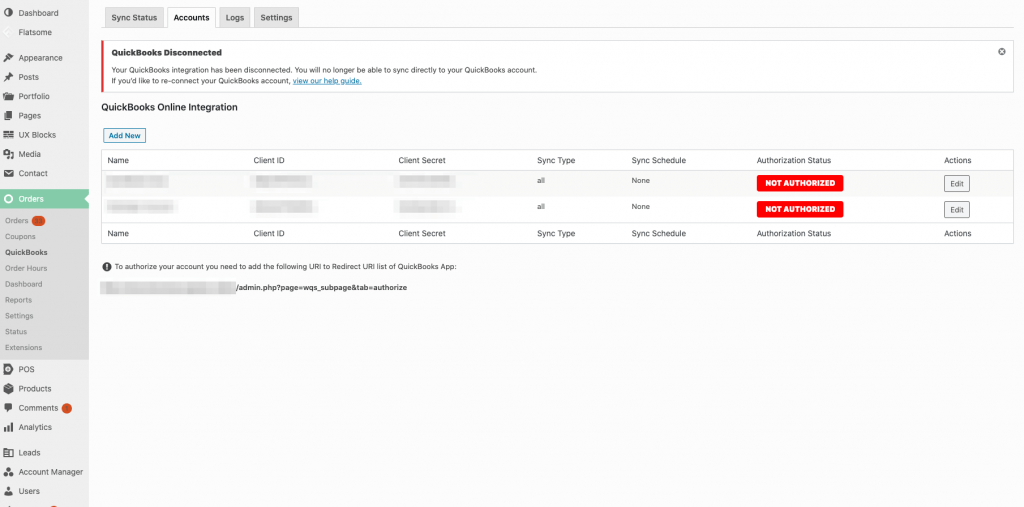 The authorization status will now also show as Not Authorized for the account
*All product names, trademarks and registered trademarks are property of their respective owners.