If you are running a WooCommerce store, then it is likely that you have a lot of product images. To keep your workflow running smoothly, it is important to organize these images into WordPress media folders. 
CatFolders is a WordPress plugin that is compatible not only with WooCommerce but also goes well with other page builder plugins. This review article will show how it can help you use WordPress media folders in a WooCommerce site. 
Introduction to WordPress Media Folders
Unlike media categories, WordPress media folders created by CatFolders display in a separate sidebar with folders and show how folders are stored in the hierarchy. You can open each of your folders to view its content in the file pane.
WordPress file pane display options come with two modes: grid and list. And the CatFolders plugin works seamlessly with both of them.
Drag and drop files in grid mode
WordPress media grid mode shows attachments in square thumbnails.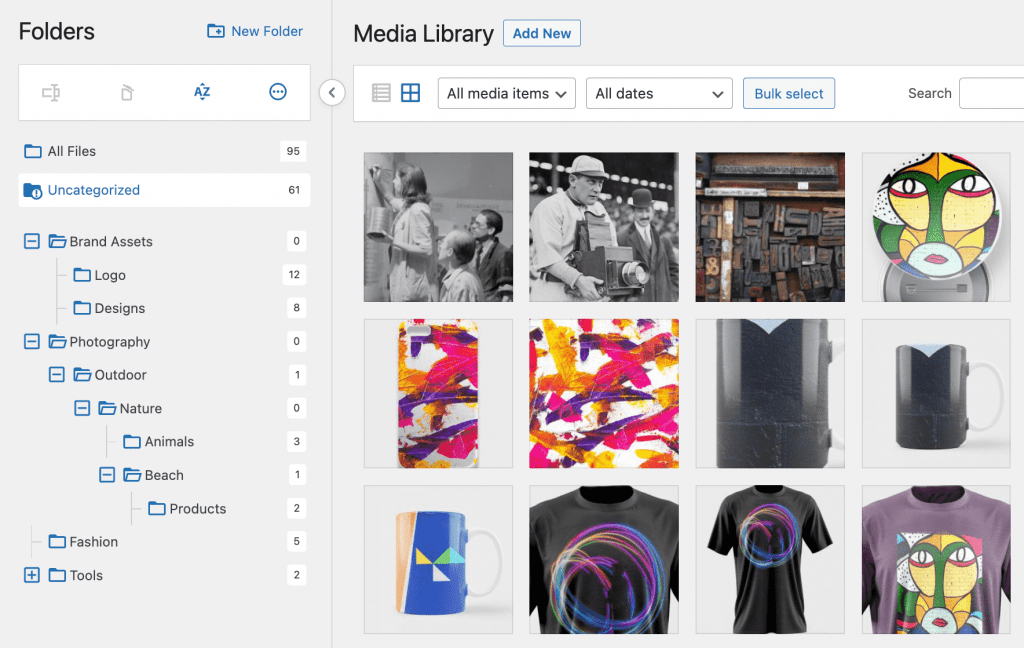 In order to organize those files, you can follow these steps:
Open

Uncategorized

folder

Click

Bulk select

to enable multiple selection mode

Select those files that you need to categorize

Move the items over to the destination folder and release it.
Drag and drop files in list mode
In WordPress list view, simply tick on the checkboxes to select multiple files. And you then can drag and drop them to any folder in the folder tree.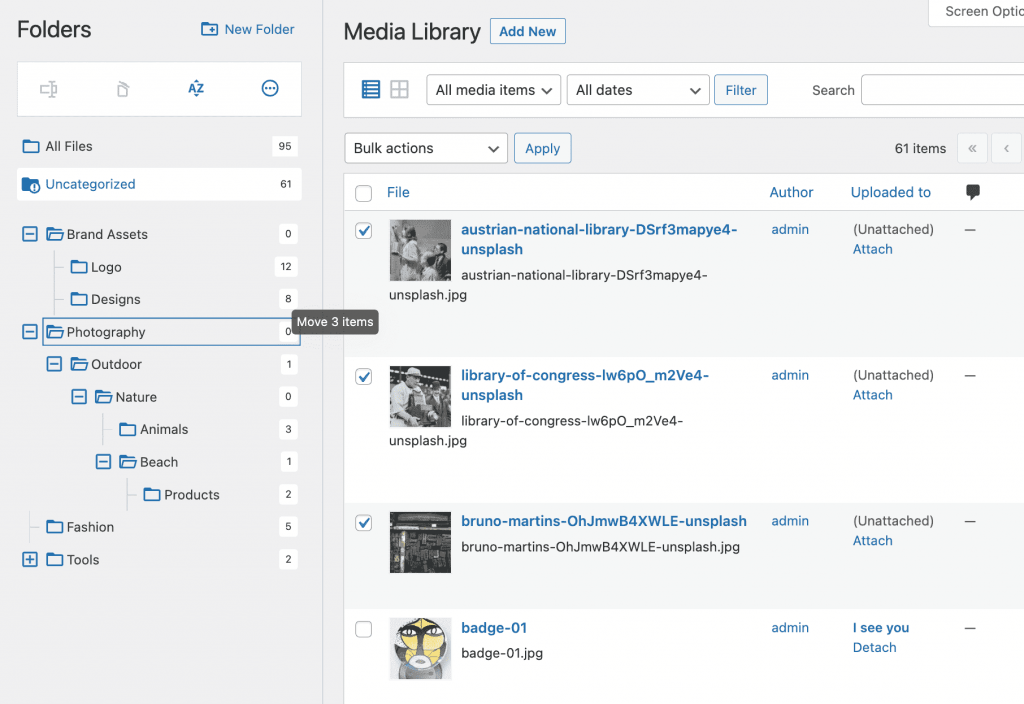 CatFolders Notable Features
Easy folder import
It supports quick migration from many other WordPress media folders plugin like:
FileBird by NinjaTeam

Enhanced Media Library by wpUXsolutions

WordPress Media Library Folders

WordPress Real Media Library

WP Media Folder by JoomUnited

HappyFiles by Thomas Ehrig

Folders by Premio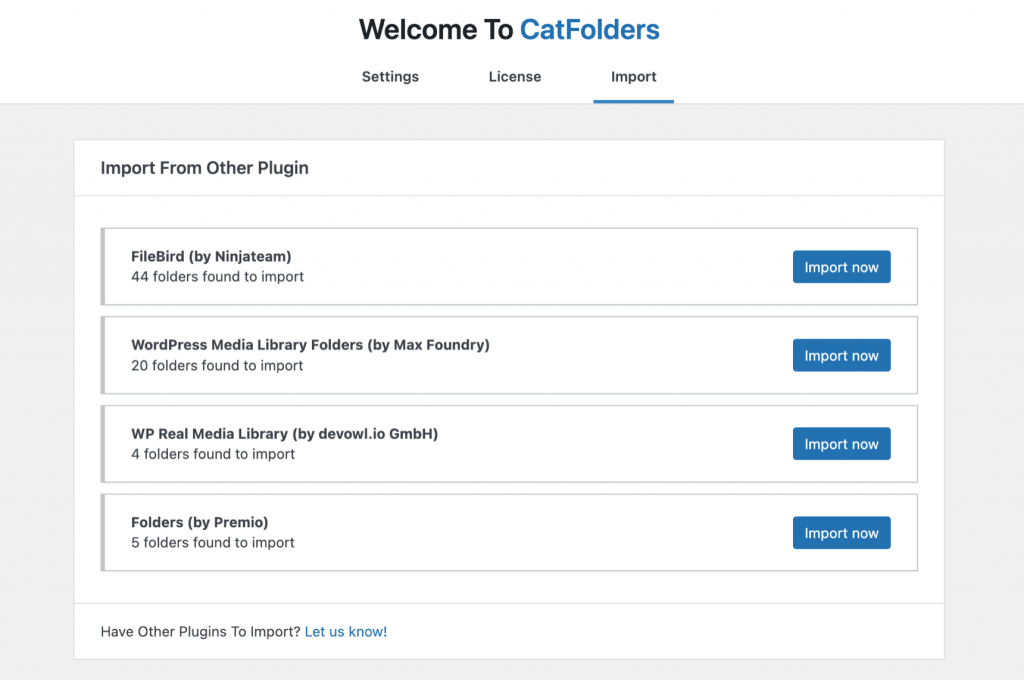 Folder tree
After a successful installation and activation of the plugin, go to the 'Media' tab, click on 'Library' to access and create your folders. The library will now show different elements/options for adding new folders, delete folders, rename folders, and sorting options, etc.
Upload to a specific folder
CatFolders gives you the ability to select an already created folder/category first and then upload the file from your computer that automatically goes into the selected category. Also it adds those files into the selected folder which would be visible in the media library area and file browser modal.
Startup folder
There are a variety of options to allow you to pick the most convenient folder for you within a work session.
A fixed folder

: Open a specific folder such as "Brand Assets" among your list of created folders in order to reach this folder at first in your work session.

Recent folder

: Always get back to the previously opened folder to quickly pick up where you left off.

All files

: Always open "All files" folder when you visit your media library.

Uncategorized

: Always show unorganized items so you can continue categorizing them.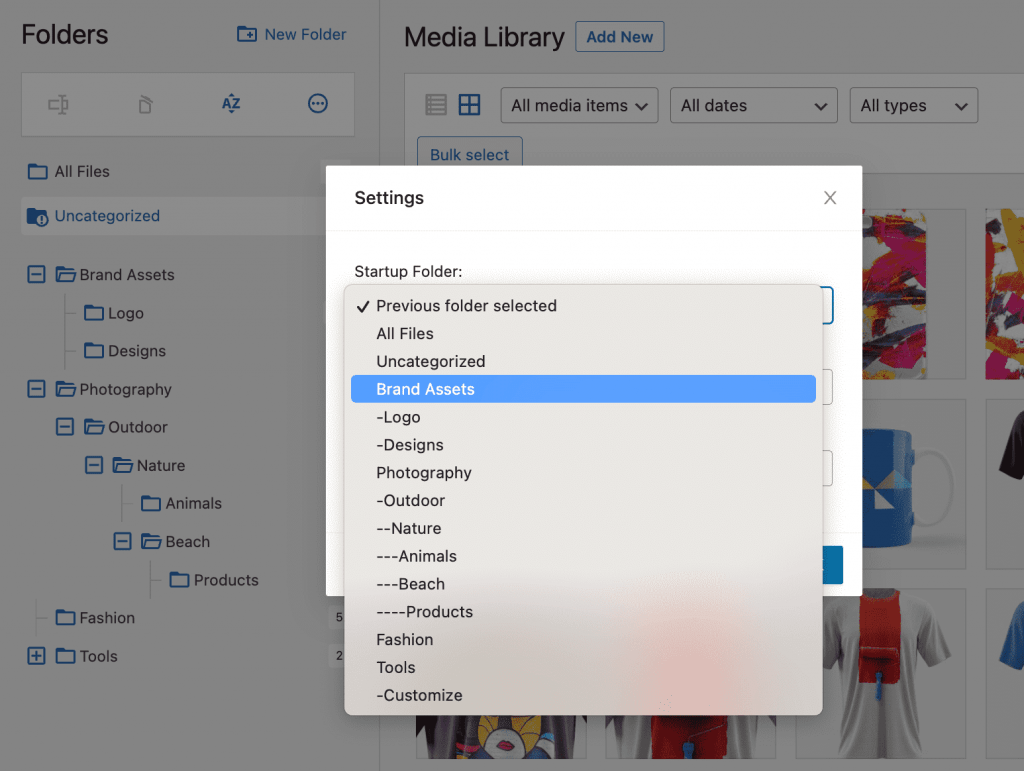 Sort options
Sort options in CatFolders come with default and temporary modes.
You can set a default ordering for your files and folders. With these settings, your folder tree will initially appear in the chosen order.
Default: sort the folders in the order that you manually place them

Name ascending

Name descending
Temporarily, it also provides 10 ways to sort files:
File name: ascending or descending

Created date: ascending or descending

Modified date: ascending or descending

Author: ascending or descending

Title: ascending or descending
Temporary sorting means when you refresh the web page, it will revert to the default sorting method.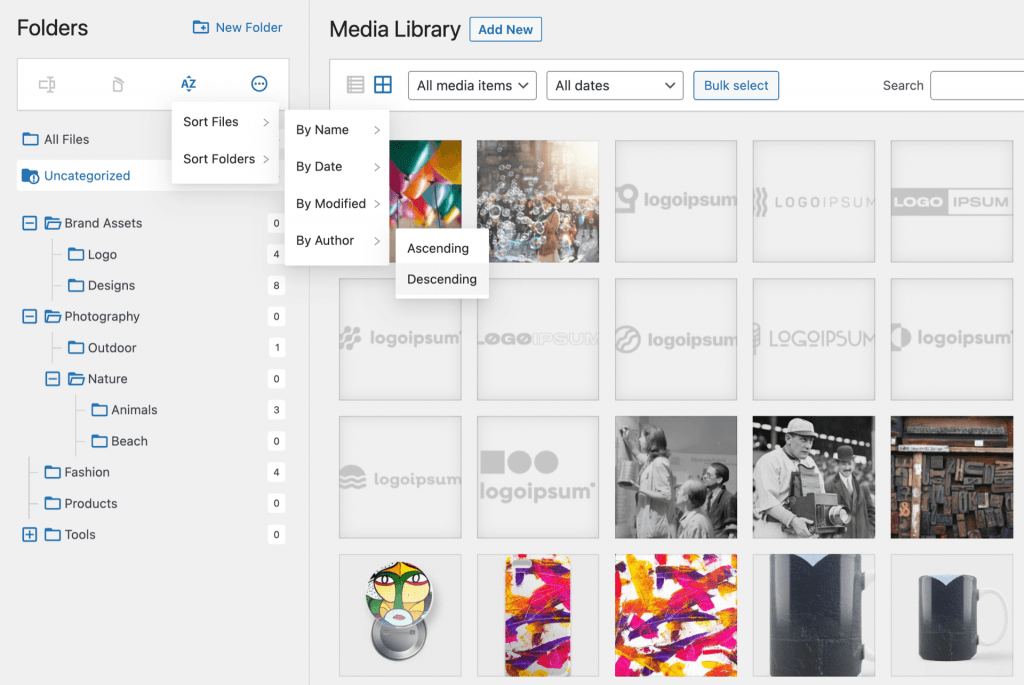 Multi-language supported
WP Media Folders are supported with Polylang/WPML and available in multiple languages.
How WordPress Media Folders Work?
Adding and renaming a folder is simple with just a few clicks. And when you delete a folder, all its files will be moved to the Uncategorized folder, so that you still can categorize them later.
WooCommerce compatibility
With CatFolders and WooCommerce integration, you'll get the benefits of browsing organized files in the folder tree without having to scroll up and down in your media library.
Thanks to the integrated file browser, you can quickly find the files needed for the product gallery or variable product featured images. YouTube video

Page builder compatibility
CatFolders works with all popular themes and page builders like WPBakery, Elementor, Gutenberg, Beaver Builder, Oxygen, Divi Builder, Thrive Architect, Slider Revolution, etc.
It is developed with built-in compatibility in mind. Different hooks and filters are ready for external integrations so that multiple plugins on your website can coexist and extra adaptations can be made.
CatFolders WP – Pros and Cons
Managing media and files in folders is a better form of content management than clicking through long lists! Just consider these pros and cons before making an informed decision.
Pros
Great speed

: Loading folders and content is relatively fast. Tested with 10,000 folders in a single WordPress media library.

User-friendly

: Virtual folders and subfolders will be accessible when uploading files or updating pages, posts and products.

Developer-friendly

: Filters and hooks are ready for image gallery integration.

Compatibility

: Integrations with various other plugins and page builders.
Cons
No API: Not providing a set of functions and classes to extend backend functionality.

Not for every pocket from the pricing standpoint.

The left sidebar holding the folder tree is collapsible, however, it is not resizable.
Pricing Plans of CatFolders
WP Media Folders' annual subscriptions are available with these price options:
 1 Website – $79.00

 3 Websites – $99.00

 Unlimited Websites – $199.00
One-time payment with lifetime updates are offered as below:
 1 Website – Lifetime – $159.00

 3 Websites – Lifetime – $295.00

 Unlimited Websites – Lifetime – $699.00
CatFolders Review Conclusion
Running a successful online store with WooCommerce can be a challenge. However, with the right file management plugins, you can slash your task list and gain more time for worthwhile activities like analytics and sales reports. 
I hope this guide has helped you in one way or another understand WP Media Folders and also given you some insights about CatFolders! If you like this article, don't forget to let us know your thoughts!