WEBSITES – love them or hate them, no small business can afford to be without one.
But you are a business owner – and there just are not enough hours in the day as it is let alone having to fit in building a website from scratch, right?
So what to do? Outsource it to an expert? Sure, but expensive. Or get your nephew who is a bit of a computer whizz to sort it? Can do, but they probably will forget to give you the password.
Actually, try WordPress. This one-stop-shop website designing software has many attractive features – not the least of which is that is free.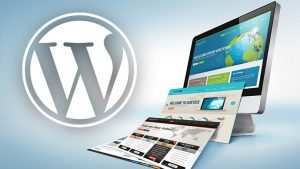 Free is good – but can it be any good for free? Well, in a word – yes. It is not just small businesses that make use of WordPress – plenty of major firms use it to power their all singing, all dancing sites too. Sony, Bloomburg, BBC America and even Facebook itself all make use of this free resource to power parts of their online presence.
WordPress originated in the early 2000s as a site to let bloggers unleash their musings on the world – but today has grown to be a fully functional Content Management System, flexible enough to handle pretty much any needs you may have for your website.
Are you after a straightforward landing page to let potential customers know you exist? Check, that is easy.
Or do you full interactivity with customers, a working online shop front, order forms, analytical data, social media updates, payment systems and more? No problem, all that is in WordPress.
Which means that for a small business WordPress offers one huge advantage – it is fully scalable meaning your website can grow with your business. 
You will not need to worry about big expensive overhauls in the future, or having to migrate to different platforms as you develop new needs.
WordPress has been round long enough to have proven beyond doubt that it can handle your changing needs as you grow and evolve your business.
How does it do this? WordPress is an open source platform, meaning thousands of users help make it grow, respond and adapt as web technologies are developed.
There are literally thousands of 'plug-ins' available – with more being added all the time – that mean you can simply add features as you need.
Need an interactive map? No problem. Plug one in. Want detailed analytics of who has visited your site? Pick from several that can digest Google's data for you. How do you capture customer data? Use a form creator plug in – oh, and link it to an email system to allow follow up marketing.
You are only restricted by your imagination. The best bit is many of these plug ins are also free, and those that are commercial are not usually very expensive. 
WordPress has thousands of themes allowing you to pick just the right look for your site, with images and color schemes to suit. There are also thousands more professional looks available if you want to spend a few dollars for something really high end looking.
Google itself lets you embed its G Suite of online Office-style products into WordPress as well.
In fact, it is estimated around a third of all websites are created in and powered by WordPress – keep your eyes open as you surf, it is usually there in the small print at the bottom of the home page.
So if you are starting out small, great – WordPress is for you. It is easy to use and in the right price range – free!
But even better it is there for you as you grow – all at no further cost. Just add in the plug ins you want to increase your website's capabilities and take the internet by storm. Bizswoop's catalog of custom WordPress plugins make it super simple for small businesses to run smoothly. Not sure where to start? Get in touch with our team and we'll point you in the right direction.