Personalization is becoming increasingly important to consumers, with 80% of customers saying they are more likely to purchase from brands that offer personalized experiences.
As a WooCommerce store owner, offering personalized products is a great way to improve the customer experience on your store and increase conversions. Personalized products can also help you reach a wider market and potentially increase your order volume.
While default WooCommerce does not offer product personalization options, there are plugins available that can add this functionality to your online store. In this post, we will explore the benefits of offering personalized products on your WooCommerce store and show you how to add this functionality using a recommended plugin.
Why offer personalized products on your WooCommerce store?
Offering personalized products on your WooCommerce store can have numerous benefits for both you and your customers. Here are some of the top reasons why you should consider adding personalization options to your products:
Improved customer experience
Personalization options or product add-ons can make for a better shopping experience for your customers. They enable customers to purchase exactly the products they want and can even make it easier for them to bundle related products together, making the journey from product page to checkout much more efficient.
For example, a personalized printing company might offer postcards, bookmarks, and fridge magnets, and allow customers to add on other personalized goods to their order at a discount price.
Increased conversions
If customers can't find what they're looking for when they visit your eCommerce store, they'll shop elsewhere. By offering personalization and customization options on your WooCommerce products, you make it easier for customers to find or create exactly the product they want.
A good example of this would be a restaurant that offers customers the option to add or remove ingredients from their dishes. By offering this level of customization, the restaurant makes it easy for customers to create exactly the meal they want, reducing their chance of shopping elsewhere and increasing their own conversions.
Expanded market reach
Adding personalization options to your WooCommerce products presents a range of new opportunities for your store. You can expand into selling bespoke custom products with exactly the specifications your customers require, opening your store up to new markets.
Imagine you run an electronics store, and want to start offering custom keyboards to your customers. By enabling customization options or WooCommerce product add-ons on your online store, you could allow your customers to choose anything from the case and key color to the type of keys they want. Offering these types of additional options to your products can open your store up to entirely new markets, boosting your potential sales.
Increased average order volume
Personalization options and add-ons are a great way to increase your bottom line. Offering these extra product options as impulse buy items in the cart or checkout can provide further opportunities to increase your order volume. Adding personalization to a product also increases the perceived value of the product, which enables you to charge more for it. For example, an eCommerce store might offer gift wrapping or personalized greeting card options at the checkout.
Now that we've explored some of the benefits of offering personalized products on your WooCommerce store, let's look at how you can actually add this functionality to your store.
How do you offer personalized products in WooCommerce?
By default, WooCommerce does not come with any product personalization functionality. With the base WooCommerce functionality, the level of customization you are limited to is choosing your preferred product variation of a specific variable product. In order to add personalization to your WooCommerce products, you'll need a plugin.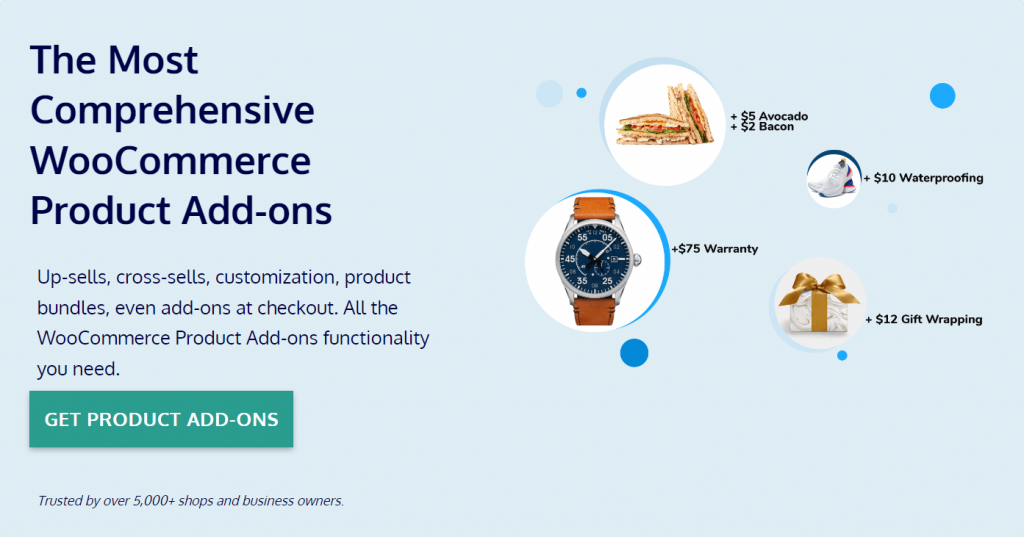 One WordPress plugin that can help you add personalization to your WooCommerce products is Product Manager Add-ons from BizSwoop. This plugin offers a range of features that make it the best solution for adding personalization to your WooCommerce store:
Flexible personalization options: Product Manager Add-ons provides a wide range of add-on options and field types for customizing and personalizing products, including checkboxes, radio buttons, text fields, and file upload fields.
Intuitive add-on display: Product Manager Add-ons allows you to display your product personalization options in structured groups for a streamlined user experience. You can also add thumbnail images and descriptions to make the product personalization experience as intuitive as possible. You can even include add-on options in the cart and on the checkout page to offer more opportunities for upsells and cross-sells.
Order volume-boosting product bundles: With Product Manager Add-ons, you can create product bundles to provide bespoke offers to customers looking to purchase related products, improving the customer experience and increasing your bottom line.
Offer add-ons for online and in-person sales: If you run an omnichannel store, you need a product personalization solution that works both online and at the point of sale. Product Manager Add-ons has tight compatibility with WooCommerce POS systems, particularly if you pair it with Jovvie, BizSwoop's all-in-one POS solution.
We'll go into more detail about how to use Product Manager Add-ons to add personalization to your WooCommerce products in the next section.
Tutorial: How to offer custom product personalization with Product Manager Add-ons
Now that we've introduced Product Manager Add-ons and discussed some of its features, let's walk through the main steps of how to offer a personalized product on your store using this WooCommerce plugin. In this tutorial, we'll show you how to offer a personalized hoodie product.
Download and install Product Manager Add-ons.
From the WooCommerce dashboard, navigate to Products > Add-on groups and click 'Add new'.
Add a group name and select where the add-on group will apply (all products, custom products/categories, cart, checkout, or cart and checkout). In this instance, we'll set the add-on group to apply to our 'Hoodie' product.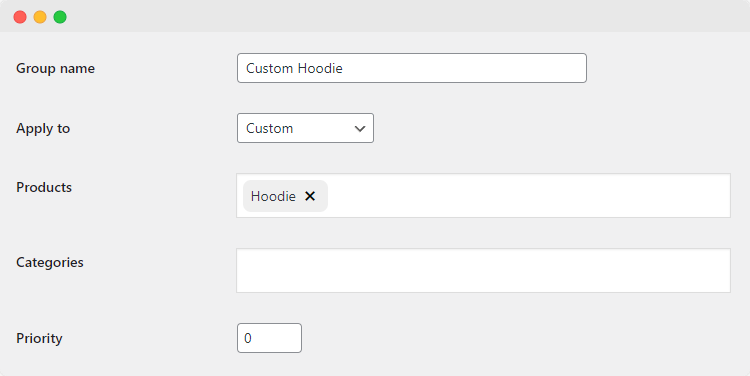 Next to 'Add-ons', click 'Add row'. This will create a new add-on that you need to configure.
Select the type of input field that the add-on will use. In this case, we want to add a personalized text input field, so we'll choose 'Text'.
Select the type of pricing that you want to apply to the add-on. You can apply flat-rate pricing, percentage-based pricing to the product, or percentage-based pricing to the order subtotal. In this case, we want the personalized text add-on to cost a flat fee, so we'll choose 'Price' from the dropdown.
Add an add-on name and description and choose the description display options (always show, display on mouse hover, or hide).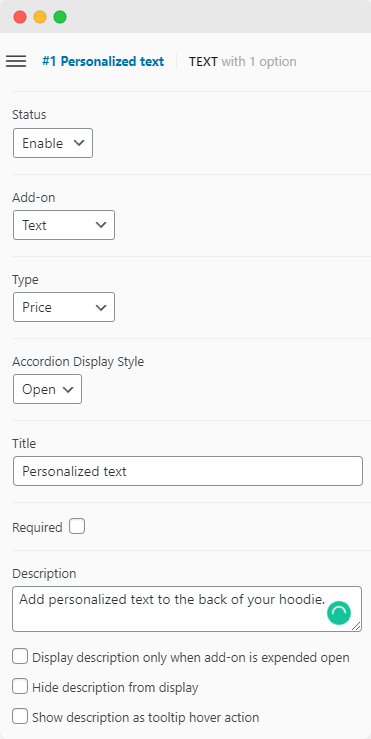 Click 'Add option' to add choices to your new add-on. This is useful if you are offering variable add-ons; for example, if you want to offer different gift-wrapping options. As the choice here is just to add custom text or not, we'll only need one option.
Add a name for you option, an SKU (stock-keeping unit) for better inventory management, and a price.
Add a description and configure the description display options.
Configure whether customers can add multiple copies of the add-on to their product.
Add a thumbnail image to provide a visual display of what the add-on looks like.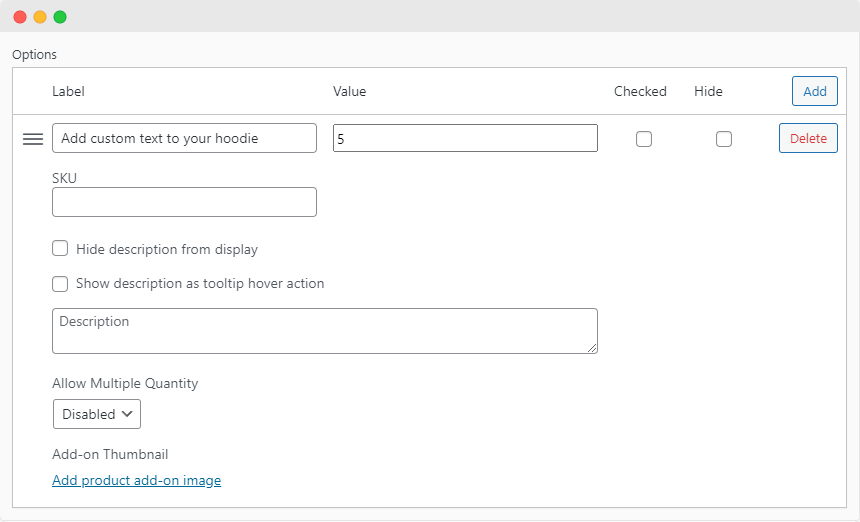 Add further add-ons and options as appropriate. For our personalized hoodie product, we'll offer the option to add a personalized image using the file upload field option.
Check the display of your personalization options on the front end of your store and make any tweaks as required.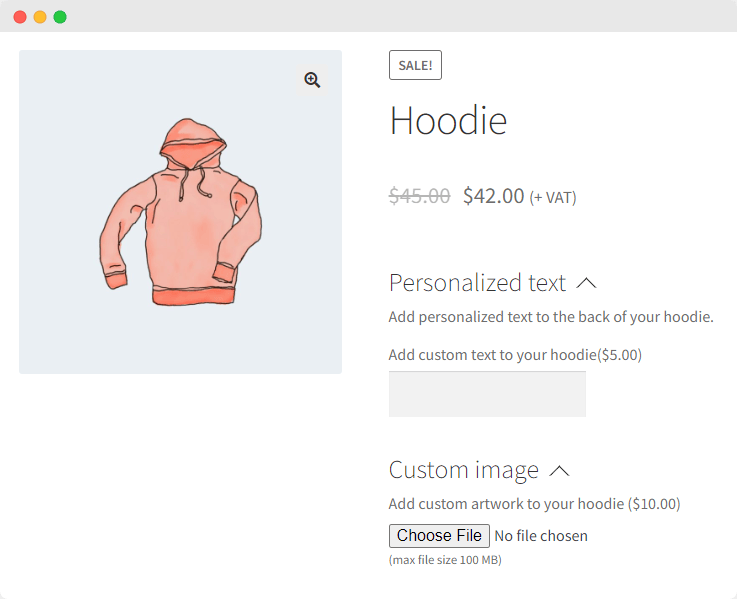 That's it – your customers will now be able to personalize their products using your product add-on options. You can repeat these steps to add personalization options to any of your WooCommerce products.
A Product Manager Add-ons use case to inspire you
How can your WooCommerce store benefit from Product Manager Add-ons? There are many ways that stores could be improved by offering customization or add-on options using this plugin! Let's take a closer look at one use case by revisiting the custom printing company that we mentioned in an earlier example.
If you run a custom printing company that offers personalized merchandise – for example, custom bookmarks, postcards, fridge magnets, or greeting cards – Product Manager Add-ons not only enables you to create such custom products, but also presents a great opportunity to easily bundle your products together, making for a better customer experience and helping to increase your average order volume.
Let's say you have a customer who wants to buy a personalized bookmark using their own custom artwork. We've already seen how easy it is to add such an add-on option to your 'Custom Bookmark' product in our tutorial – simply create a new add-on group that is applied to the product, then create an add-on for uploading a custom image.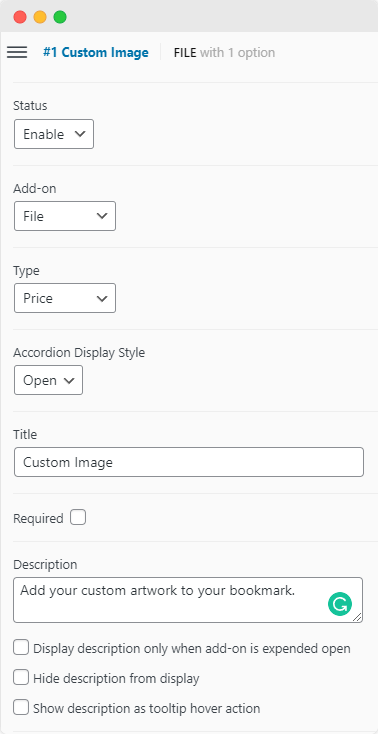 If your customer is purchasing a custom bookmark, they might also want to use their personalized artwork on other related products. Using Product Manager Add-ons, it is extremely easy to create add-on options to upsell other related products. Simply create a new add-on for your personalized products and add all of the related products you want to upsell as options.
Make sure you set the input field to 'Checkbox', as this will allow your customers to select multiple add-on options from the list. You can also easily configure your add-on options to allow customers to add multiple copies of each add-on product and even add SKUs to each add-on option to allow you to keep better track of your inventory. Finally, you can add thumbnail product images and descriptions to each add-on option so that your customers can see at a glance what they are adding to their order.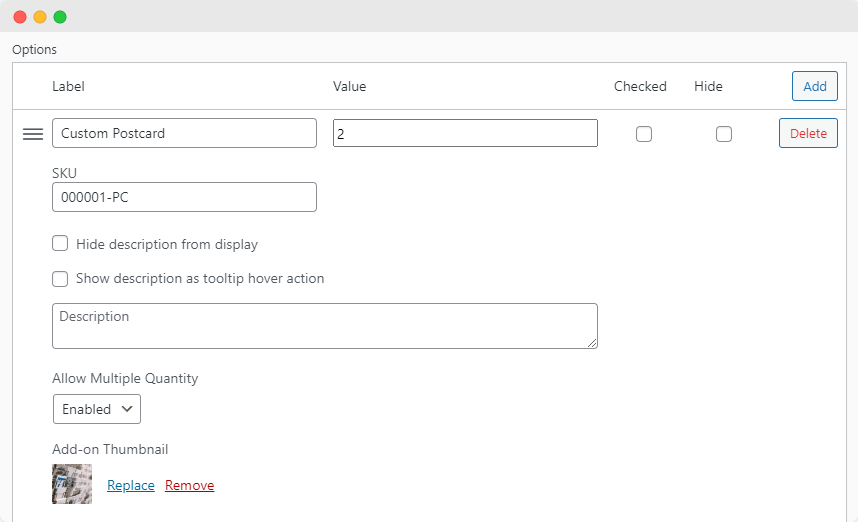 Now, when your customer goes to buy their custom bookmark, they'll be presented with a range of related personalized products that they can easily add to their order with a single click. This makes the customer's purchasing journey much smoother, and also stands to increase your bottom line.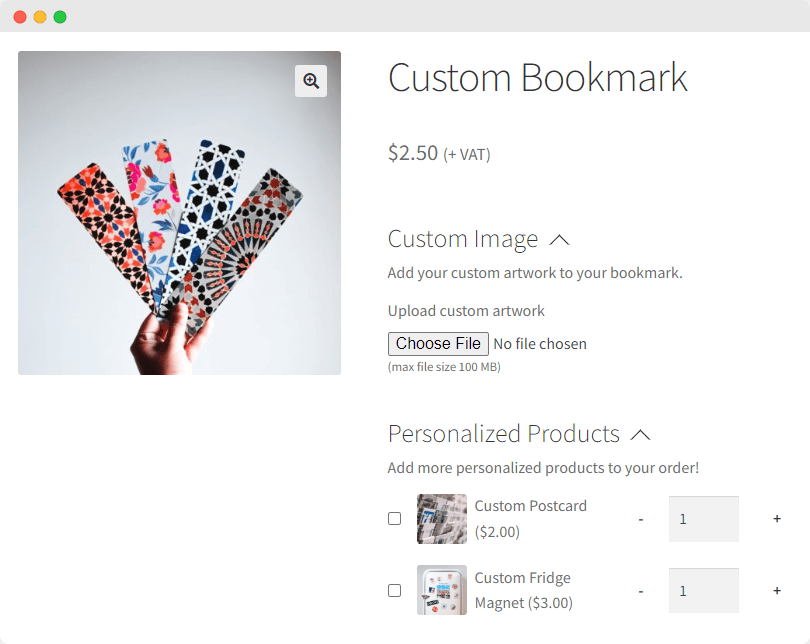 This is just one example of the benefits Product Manager Add-ons can bring to your WooCommerce store. Regardless of the type of store you run, Product Manager Add-ons can help you offer the custom products and options your customers are looking for.
Boost profits and customer satisfaction with personalized products
Offering personalized products in your WooCommerce store can have numerous benefits for both you and your customers. Personalized products can improve the customer experience, increase conversions, increase average order volume, and help you expand into new product lines.
Product Manager Add-ons is the best plugin for adding product personalization functionality to your WooCommerce store. It offers a wide range of personalization and add-on options, has an intuitive add-on display that includes cart and checkout options, enables you to create product bundles for upselling and cross-selling, and works seamlessly with your point-of-sale system.
Try out Product Manager Add-ons for yourself, with its 14-day money-back guarantee. By adding personalized products to your WooCommerce store, you'll be able to offer your customers a more personalized shopping experience and potentially increase your bottom line.