Whether you're a WooCommerce store owner looking to run a fundraising campaign for your favorite charity, a non-profit organization looking to offset your running costs, or the owner of a service business looking to top up your staff's wages through tipping, the ability to accept donations in WooCommerce is integral.
There's no great obstacle to accepting donations via your WooCommerce store – you'll just need the right plugin for the job. Fortunately, we've got you covered.
In this complete guide, we'll run through everything you need to know about selecting the right donations plugin for your website, how to set up plugins for both in-person and online donations, and provide some handy tips that'll allow you to solicit the most amount of donations via your fundraising efforts.
Let's dive in!
Benefits of accepting donations on your WooCommerce store
Many businesses, including some of the largest businesses in the world, accept donations, and there are plenty of advantages to joining them:
Positive societal impact: There's more to business than generating profit. By collecting donations or running fundraising campaigns, your business can help to drive social causes forward and have a positive impact on society.
Enhance brand reputation and credibility: Modern consumers increasingly prefer to give their business to companies that demonstrate a commitment to social causes. If you collect donations, you can therefore enhance your reputation and make your business more appealing to socially-conscious consumers.
Diversifying income streams: Not all donations are for charitable purposes. Businesses can also take donations that support their bottom-line finances; for instance, through tips or crowdfunding campaigns.
Building stronger relationships with customers: Businesses that work directly with their customers to make the world a better place tend to enjoy better business-customer relationships. This deeper connection can result in great customer loyalty.
Not sure if your eCommerce store is the right fit for accepting donations? Here are just a few examples of common cases where a WooCommerce store might collect donations:
Collecting money to donate to charitable causes.
Non-profit organization websites collecting money for fundraising efforts (for example, museums or religious institutions).
WooCommerce product businesses collecting money for development via crowdfunding campaigns.
Service-based businesses that accept tips.
Selecting the right donation plugin for your WooCommerce store
There are a huge number of donation plugins available for WooCommerce. But if you're looking to maximize the impact of your fundraising campaigns and make the process of donating straightforward for your customers, you'll want to ensure you choose the best option. Some of the key things to look for in a plugin include:
Features
There's more than one way to accept donations. Selecting a WooCommerce donation plugin that includes an array of features, including flexible donation amounts, progress tracking, a range of payment options, recurring donations, and adding a donation prompt at the checkout page will help to provide the best experience.
Compatibility
Your donation plugin should integrate seamlessly with your existing plugins and themes. Business owners that run an omnichannel store will also need to ensure their donation plugin integrates with their POS system for in-person donations.
Pricing and ease of use
You'll want a plugin that's competitively priced and straightforward to set up and use, so you can focus your energy on your other business tasks knowing your website can accept donations.
Setting up WooCommerce donations with Product Manager Add-ons
If you're looking for a powerful, easy-to-use WooCommerce donations plugin, then you can't go wrong with Product Manager Add-ons. This plugin comes complete with all the features you need to seamlessly accept donations on your website. Key features include:
Flexible donation options
With Product Manager Add-ons, customers can choose to give donations their preferred way. The plugin allows customers to select from a flat-rate amount or a percentage-based donation based on the value of their WooCommerce order. They can even include a custom message that'll be sent with their donation.
Cart and checkout donations
The plugin allows WooCommerce store owners to provide donation prompts on the product page, cart page, checkout, or in any combination, providing greater flexibility about when and where you request donations from your customers. Through testing different setups, you can find the placement that works best for you and maximize customer opportunities to donate.
Powerful integrations
You can maximize the effectiveness of your donation campaigns by integrating Product Manager Add-ons with other plugins from the BizSwoop suite, including:
Using Flow Notify to send custom follow-up emails to customers that have made a donation. For example, information about what the donation was used for, updates on donation goals, and additional ways they can help.
Using BizPrint to automatically send custom, branded donation receipts with a personalized note thanking the customer for their donation.
Using Jovvie to accept POS donations in person. Jovvie even supports self-serve customer donations through its "kiosk mode" functionality.
Competitive pricing
Product Manager Add-ons subscriptions start at $49/year, and there's even a 14-day money-back guarantee in case you decide it's not the right fit for your business.
Setting up your WooCommerce store to accept donation payments with Product Manager Add-ons is straightforward. To add the plugin to your website and begin taking donations, simply:
From your WordPress dashboard, go to Products > Add-on Groups and click Add new.
Configure the group settings:

Add a name for your donations group that will appear on the front end of your store.
Select where your donation options will appear. You have the option of all product pages, custom product pages, the cart, checkout, or cart and checkout.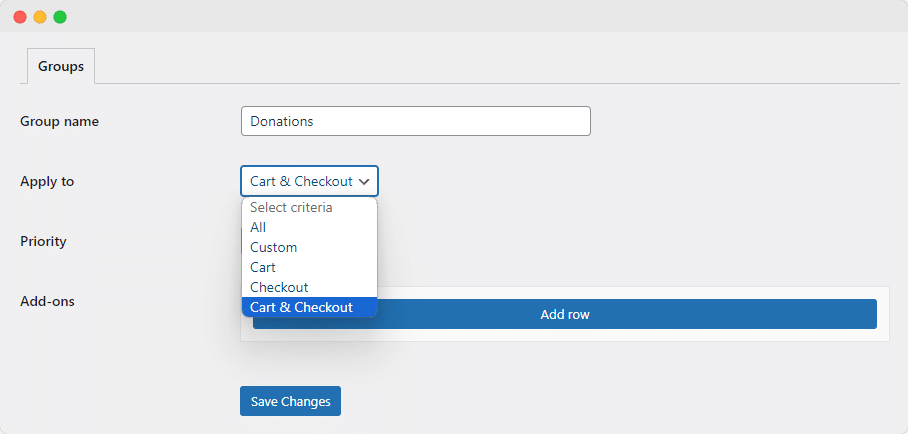 Add and configure a donation add-on to the group by clicking Add row:

Select the input field for your donation add-on, for example, a radio button or dropdown menu.
Configure whether the donation amount will be a flat rate, a percentage of the product cost, or a percentage of the cart subtotal.
Add a title and description to your donation add-on.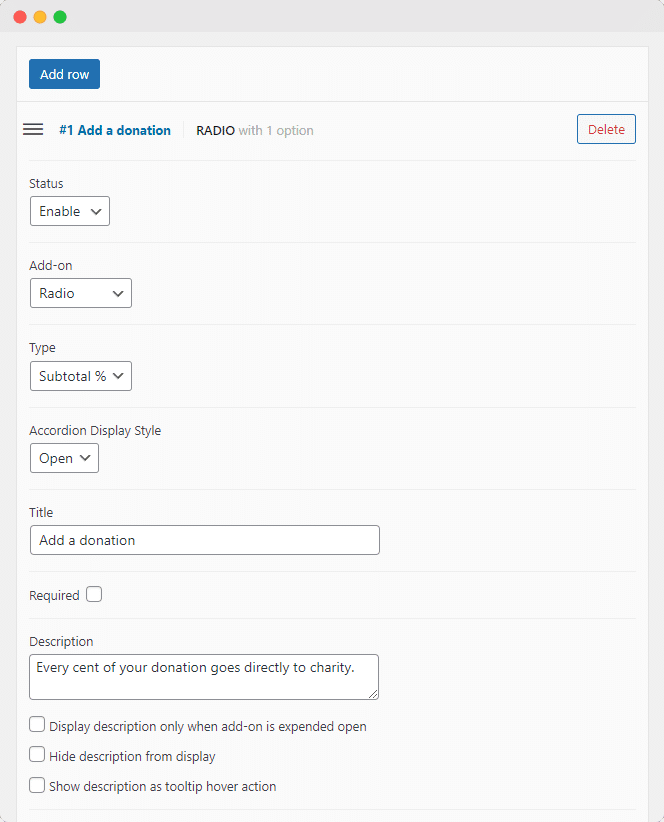 Add and configure the donation amount options you want your customers to be able to choose from by clicking Add option:

For each option, add a name and value.
Add a description and configure the description display options.
Configure tax options.
Add a thumbnail image. For example, if you wanted to tie your donation amounts to specific items the donations go towards, you could add a relevant image to provide customers with a visual incentive.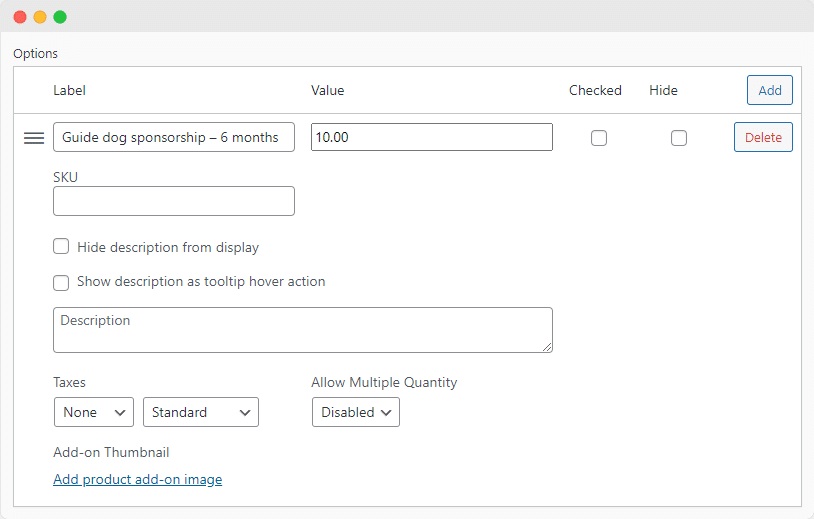 Continue to add donation options and other add-ons as required. For example, you could add a text input field add-on to allow customers to leave a personalized message with their donation, or add a checkbox field to let customers opt in to specific updates about their donation.
Accepting in-person donations with Jovvie
If you run an omnichannel business, then you'll also find value in accepting donations in-person as well as via your website. It's especially recommended for non-profit institutions that wish to accept donations from visitors, and for any business where it's appropriate to accept tips.
Jovvie, a powerful point-of-sale (POS) plugin from BizSwoop, offers a wide range of features that make it ideal for accepting in-person donations:
Easy payments: Customers can donate their preferred way with Jovvie, which supports a wide range of payment methods thanks to its integration with popular payment gateways, such as Stripe Terminal.
Flexible donation options: Donors can choose to give a flat-rate amount, percentage-based amount, or custom donation amount at the POS.
Self-service donations: Thanks to Jovvie's kiosk mode, customers can donate money without staff assistance.
Powerful analytics: Want to keep track of who's donating, how much, and how often? Jovvie provides powerful insights about the data behind your donations, enabling you to offer rewards and incentives to regular donors.
Competitive pricing: You can get started with Jovvie for just $19/month, with a 30-day free trial.
Accepting donations or tips with Jovvie, whether at the point of sale or at a self-service donation kiosk, couldn't be easier. To get started:
Download and install Jovvie, and follow along with the quick-start guide to set up your POS stations and devices.
From the POS interface, go to POS > Stations > Edit Station and click on the Cart tab. From here, you can enable donations at the POS station level.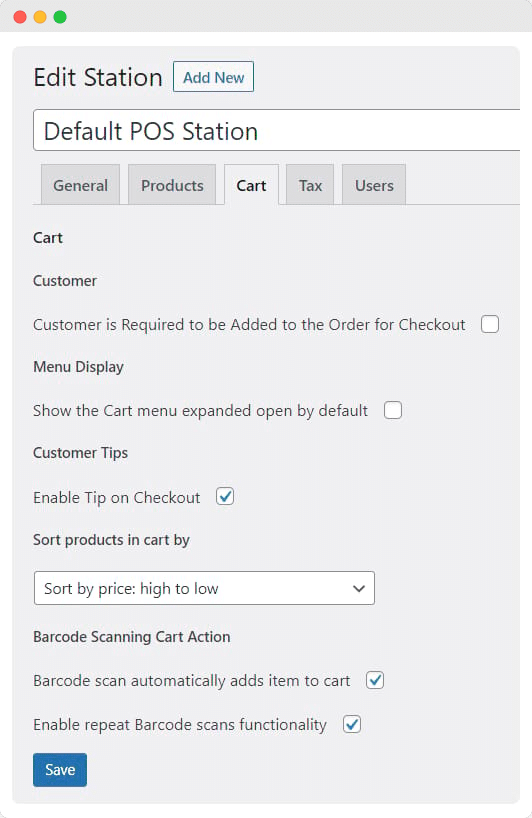 That's it! The customer will now be able to add a donation or tip to an existing order. Jovvie offers 15%, 20%, and 25% donation amounts, as well as an option to add a custom donation, as standard.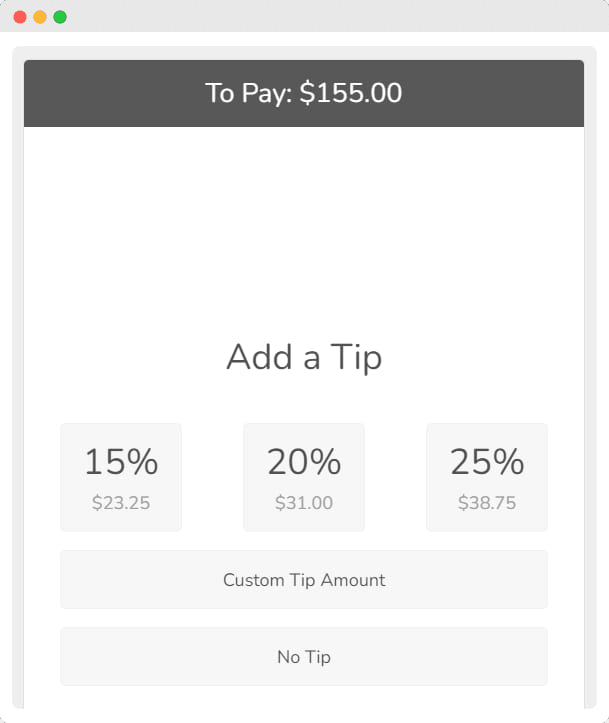 If you want to offer alternative amounts or add extra options to your donations, Jovvie also integrates seamlessly with Product Manager Add-ons, enabling the display of all add-on options directly within the POS interface.
If you want to offer an option for customers to make a donation without the need to buy a supplementary product, you can simply create a new blank product for each donation amount that the customer can add to their cart and purchase.
Maximizing the effectiveness of your donation campaigns
Fundraising any amount of money is beneficial, but the more donations you can receive, the better. Follow these handy tips to maximize the effectiveness of your donation campaigns.
Promote your campaigns: People can't give to your donation campaign if they don't know it exists. Promoting your campaign through your marketing lists and social media channels is key to increasing awareness. You can use Flow Notify to send custom emails, SMS messages, and WhatsApp messages about your campaigns to your customers.
Offer incentives to donate: Your customers will be more likely to donate if there's an incentive to do so. Consider offering recognition on your website, discounts on future purchases, or free gifts to donating customers.
Provide updates: Regularly updating your donors about the progress of your campaign can help maintain momentum. You can use Flow Notify to send automatic, personalized updates via email, SMS, and WhatsApp.
Thank your donors: Donors will be more likely to give in the future if they receive a personalized thank you message and see the positive impact of their donations.
Use analytics: Analyzing the data behind your campaigns can help to improve future campaigns. For example, understanding whether you received the most donations from the product page, cart, or checkout will help you optimize where you ask for them in the future.
Start accepting donations on your WooCommerce store today
There are plenty of good reasons to accept donations in WooCommerce, especially if you're a charity, a business that wants to have a social impact or a non-profit organization.
With Product Manager Add-ons and Jovvie, it couldn't be easier to begin accepting donations both online and in-person. With both of those plugins in your arsenal, you'll be in a strong position to maximize the impact of your fundraising efforts, especially since they integrate with other powerful plugins from the BizSwoop suite that can take your donation campaigns to the next level, such as Flow Notify and BizPrint.
To begin accepting donations today, get started with Product Manager Add-ons, which is available from just $49/year. And don't forget to check out the full suite of BizSwoop WooCommerce plugins, which can help to turbocharge your donation campaigns and take your fundraising efforts to the next level!