Anything that provides increased conversions, increased average order value, and a better customer experience should be welcomed with open arms by eCommerce store owners. And that's just what configurable products offer WooCommerce businesses.
Alas, WooCommerce doesn't offer much when it comes to product customization. You can create product variations, which provide customers with a wider range of choices, but there's no built-in functionality that gives customers the chance to make products their own, such as adding custom text or artwork, or applying add-ons or customization options. To unleash the full potential of configurable products, you'll need a dedicated plugin.
Thankfully, there are plenty of excellent product configurator plugins at your disposal. In this post, we'll run through some of the key plugin attributes to look for, as well as break down our selection of the top five plugin choices on the market.
Introduction to WooCommerce product configurator plugins
Want to take your customers' experience to the next level? Then consider offering products with configurable attributes, such as personalization and customization options.
Some of your customers will want to purchase your products as they are, but others will want to enjoy those products their way – and it's product configuration that can ensure they can get what they want from your eCommerce store.
WooCommerce doesn't offer product configuration by default. Store owners can create different variations of the same product, but there's no in-built feature that'll allow you to offer your customers the chance to customize elements of their product selection. For that, you'll need to add a product configurator plugin.
Imagine you run an online pizza store. Using WooCommerce's default functionality, you'd be limited to offering your customers a pre-set list of pizzas. While you can easily add different variations of your base pizza product, each of these will have a pre-defined set of attributes, which risks alienating customers that don't want any of the options on your menu.
In contrast, using a product configurator plugin, you could let customers make adjustments to their pizzas, or even add a create-your-own-pizza feature that allows customers to choose their preferred crust, toppings, size, and so forth.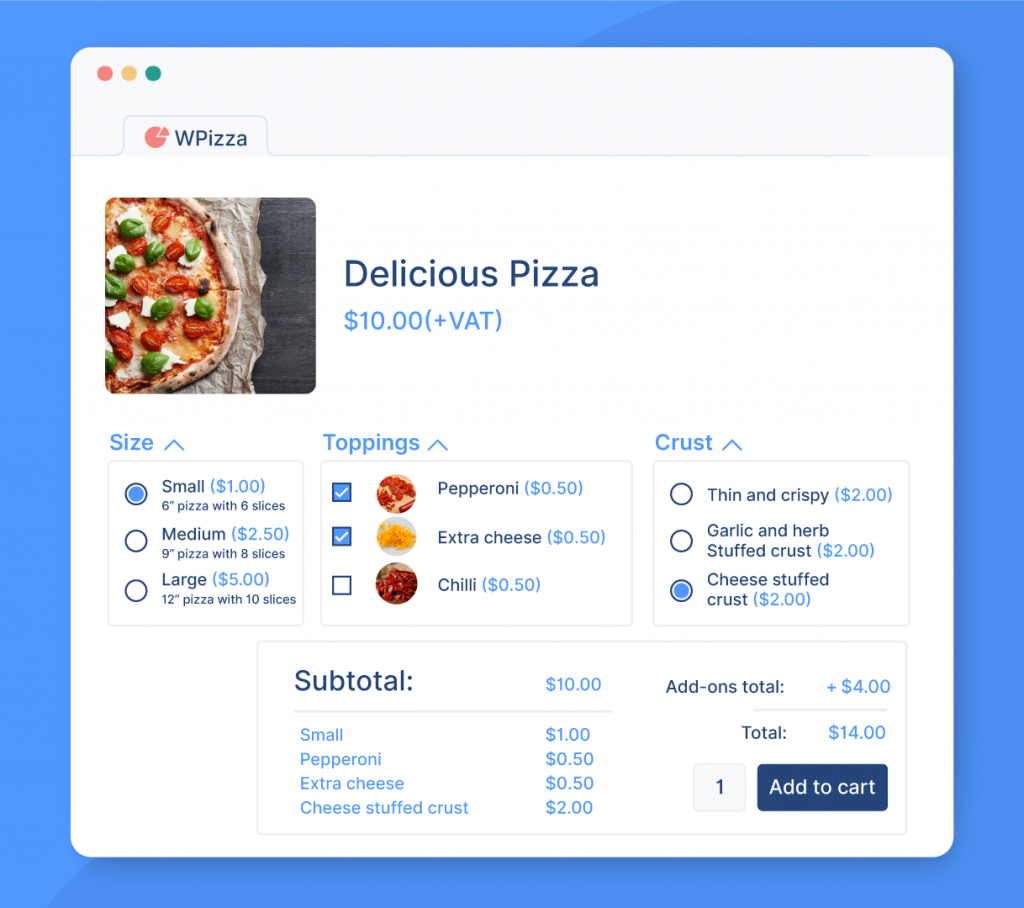 Why use WooCommerce product configurator plugins?
Here's a look at some of the ways product configurator plugins can improve your WooCommerce store:
Improved customer experience: If you have options to offer and they're not managed with some kind of product configurator, your store is likely to be more disorganized and a lot harder to navigate. Product configuration makes the customer experience cleaner and smoother.
Increased sales and reduced cart abandonment: By offering customizable products to your customers, you can give yourself an advantage over your competitors and improve conversions, since your customers will be more invested in the product and more likely to follow through with the purchase.
Increased average order value (AOV): Providing customization options to your customers increases the perceived value of your product, meaning you can charge more. You can also boost your AOV by upselling ad-on elements or cross-selling complementary items.
What makes a good WooCommerce product configurator plugin?
There's no shortage of product configurator plugins for WooCommerce. But it's important to keep in mind that not all plugins are right for all businesses. It takes work to find the plugin that does everything you're looking for and functions in a way you can actually use. Here are a few things to look for when considering plugins so you can find the right fit for your business, fast:
Wide range of customization options: The more choice you can offer your customers, the better. A good plugin should allow for complex configurations via a range of different input field options.
Flexible pricing tools: Does the plugin allow the store owner to use different pricing structures for their configuration options or product add-ons? You should be in control of all elements of your store's pricing.
Visual display options: Customers should see how their selected options will impact the finished product. Visual display options like thumbnail images or color swatches will give customers a clear understanding of how the final product will look.
Compatibility: Does the plugin work with popular WooCommerce plugins and themes? Does it work well on both desktop and mobile? The best of the best will even integrate with POS systems that allow for in-store product customization.
Competitive pricing: A product configurator plugin is an investment, but it shouldn't break the bank. Look for a plugin that balances an extensive feature set with competitive pricing.
Top 5 WooCommerce product configurator plugins for enhanced customization
Product Manager Add-ons
Product Manager Add-ons from BizSwoop is a powerful, flexible product configurator plugin that comes jam-packed with features. It's a fantastic choice for any WooCommerce shop owner looking to make sure their store offers tons of customization options to shoppers.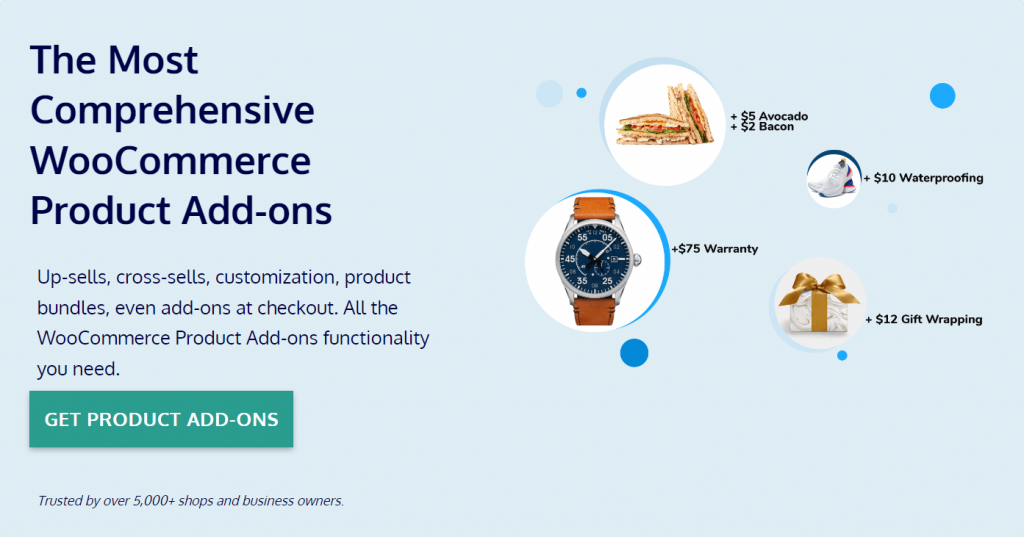 So what's to love about this plugin? Some of its key features include:
Highly customizable add-on options: Make use of a wide range of add-on fields including radio buttons, text fields, checkboxes, and even file uploads!
Flexible add-on pricing: Pricing is easy to set up on your end, and updates in real time as shoppers select their customizations. Simple for you, clear and effective for customers!
Intuitive visual display: Product Manager Add-ons lets you group add-ons in logical sections, making customization more customer-friendly. Moreover, you're also able to easily add thumbnails to add-ons and customization options, giving your customers a clear preview of the final product.
Works in multiple settings: Product Manager Add-ons works seamlessly on desktop and mobile, and it pairs well with WooCommerce POS systems, particularly its sister plugin, Jovvie. This means you can use it to offer customizable products both online and in-person.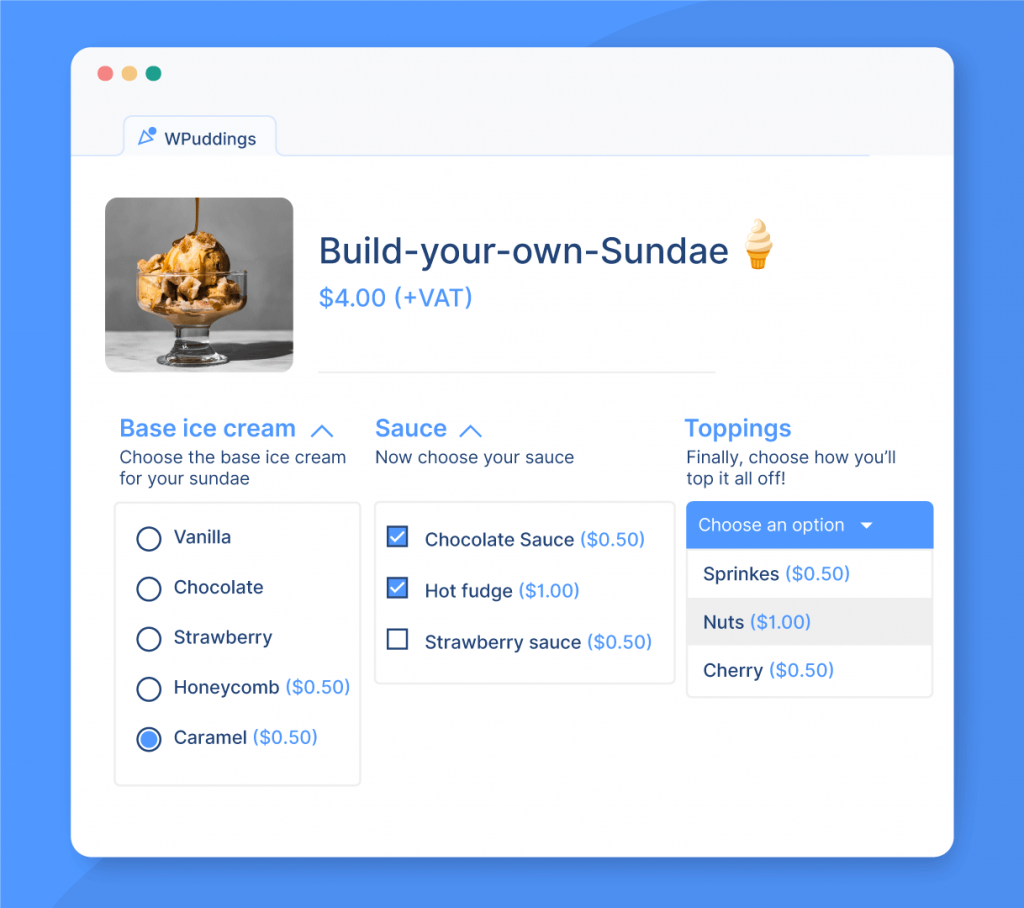 In other words: this popular plugin offers a range of features to help take your WooCommerce store's product customization options to the next level. Plus, there's little in the way of risk for giving it a shot: The plugin starts at $49/year, and it comes with a 14-day, no-questions-asked refund period so you can try out the full feature set.
Fancy Product Designer
Fancy Product Designer is a fantastic fit for anyone looking to dip their toes in fashion retail. Though you can use this plugin with all types of products, it's most suitable for apparel such as T-shirts, shoes, and caps. It also has the virtue of being available for more than WooCommerce; you can also use it with Shopify and jQuery stores.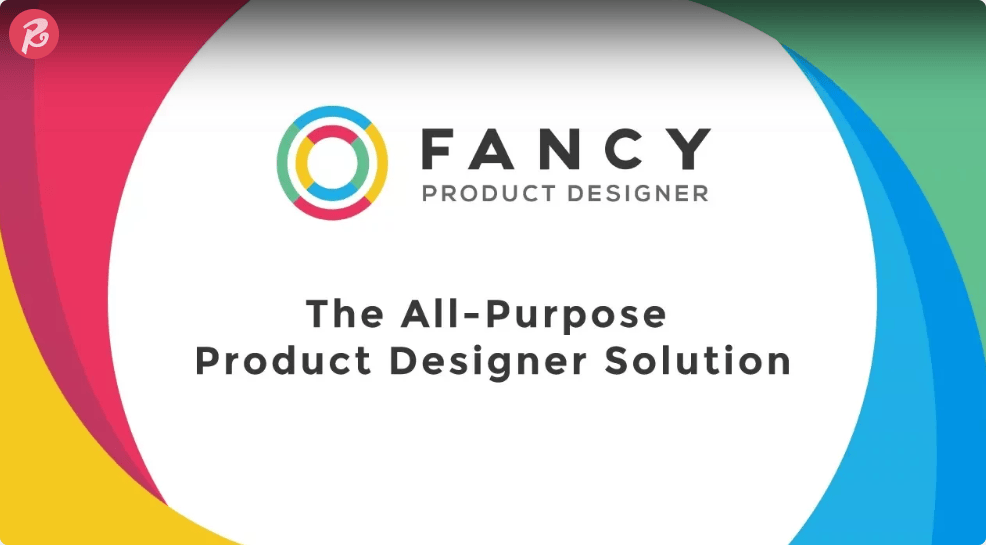 Some of the key features of Fancy Product Designer include:
A wide range of customization options and field types.
Works across all devices, including smartphones, desktops, and tablets.
Provides various UI layouts for matching the plugin with your store's overall branding.
The cost of Fancy Product Designer will depend on the type of bundle you purchase. The basic package costs $79, though you'll need to use add-ons to access certain functions, such as managing bulk variations. These add-ons can range from $15–$199.
WooCommerce Product Configurator
WooCommerce Product Configurator from Iconic is perfect for companies that offer visually-attractive products with lots and lots of customization options. The key attribute of this plugin is its visualization feature, which allows customers to see what their final product will look like based on the selections they've made.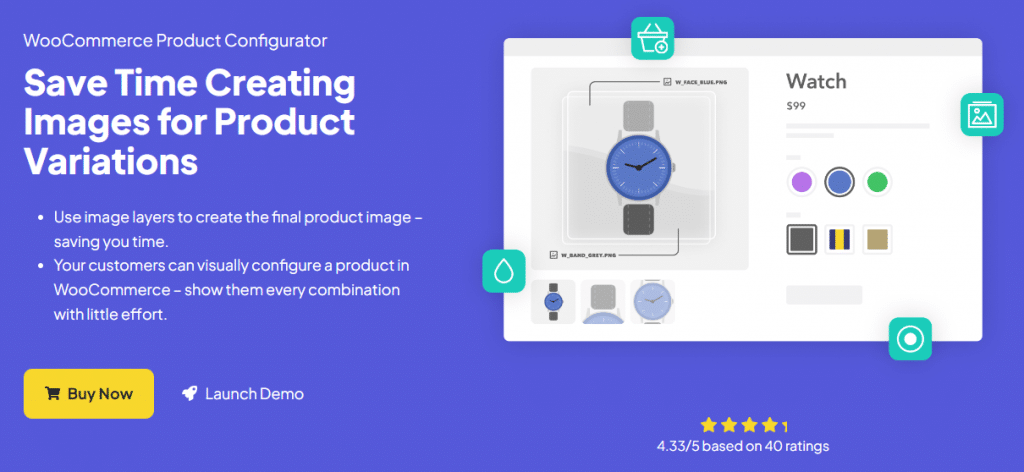 Each new addition is automatically added to a virtual interpretation of the product. Once the customer has finished customizing the product, they'll be shown the final product in full, which can help to manage customer expectations and reduce cart abandonment.
Other features of WooCommerce Product Configurator include:
Handy stock management feature.
Provides cross-device support across mobile, desktop, and tablet.
Compatible with all major themes.
Integrates seamlessly with WooCommerce.
The plugin is available for $79 a year, or you can get the entire suite of Iconic WooCommerce plugins for $299.
Advanced Product Fields for WooCommerce
Advanced Product Fields for WooCommerce from Studio Wombat is super user-friendly, so if you're a beginner looking for a straightforward way to add extra options to your products, then this plugin may be a great fit. It provides space to add dropdowns, swatches, images, and text boxes to your products, and also comes with a handy final price adjustment feature.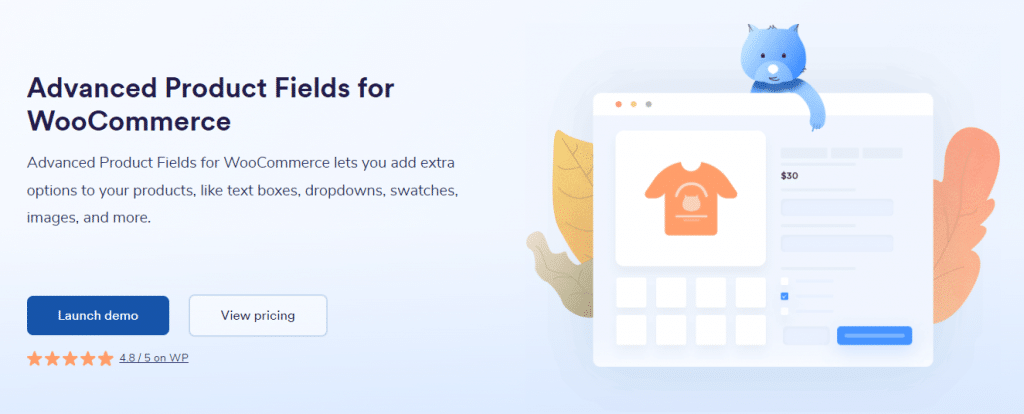 Key features of Advanced Product Fields for WooCommerce include:
Add fields to individual products or all products.
Provides multi-currency support.
Allows for repeatable fields.
Support for conditional logic.
Pricing for the plugin ranges from $40–140, depending on the package.
Product Configurator for WooCommerce
Product Configurator for WooCommerce is a free plugin that can help store owners get started with their customization offerings. The plugin allows customers to get an instant visual representation of the final product based on their selections. It also comes with a variety of themes, to help match the plugin with your store's branding.

Key features of Product Configurator for WooCommerce include:
Accessible price point.
Easy layers function makes it straightforward for customers to customize products.
Allows you to use your own themes, making it developer-friendly.
Product Configurator for WooCommerce is free, but some of the most useful features, such as conditional logic, are only available as paid add-ons.
Choosing the right product configurator plugin for your store
Not sure which product configurator plugin is right for your store? Check out our handy cheat sheet:
| Category | Plugin | Description |
| --- | --- | --- |
| Best plugin for creating flexible customizations: | Project Manager Add-ons | Product Manager Add-ons provides the most flexibility across the board. If you're looking to give your customers tons of functional options, then this is the plugin for you. |
| Best plugin for visual previews: | Fancy Product Designer | Fancy Product Designer has been specifically designed with end-product visualization in mind. If your visual preview is a top priority, then consider Fancy Product Designer. |
| Best plugin for conditional logic: | Advanced Product Fields | Have complex or interactive forms for creating your customizable products? Advanced Product Fields provides conditional logic support. |
| Best plugin for POS compatibility: | Product Manager Add-ons | Need the plugin to have POS compatibility for in-person sales? Then Product Manager Add-ons, which offers robust POS support, will be the way to go. |
| Best plugin for competitive pricing: | Product Configurator for WooCommerce or Product Manager Add-ons | Product Configurator for WooCommerce is free, but you may need to pay for some of the add-ons to make the biggest impact. In that case, the extensive features and reasonable pricing of Product Manager Add-ons will be more suitable. |
Get started with the best product configurator plugin today
Customization options drive sales because they give customers a chance to put their own personality and taste into the product. If you can find the right product configurator plugin for WooCommerce, you can build these options into your online store with ease. 
With tons of highly customizable add-on options, flexible add-on pricing, and an intuitive visual display, Project Manager Add-ons is a great option for anyone looking to build product configuration into their online store.
Get started today, and with only $49/year, you can take your store's customization and personalization options to the next level.