Are you looking for a way to make your WooCommerce store more personalized for your customers? WooCommerce extra product options can help you create a more tailored customer experience.
Statistics from McKinsey show that almost 75% of customers expect a tailored purchasing experience, and investing in customization can increase revenue by as much as 40%. Additional product options can help you enhance your customer's personal purchasing experience.
WooCommerce doesn't directly offer extra product options by default. Fortunately, there are dedicated plugins out there that offer the functionality to tailor products to your consumer. This article will share the benefits of adding extra WooCommerce product options to your WordPress online store and how to set them up with our recommended plugin solution.
What are WooCommerce product options?
WooCommerce product options refer to customization options or add-ons that can be applied directly to your WooCommerce product pages.
Examples of customizable products and companies include:
A clothing store that wants customers to design or upload their own T-shirt slogans.
A coffee company that wants to sell coffee beans as an add-on to their coffee machines.
A pizza place that wants customers to be able to choose their own toppings.
A personalized gift card company that wants customers to upload their own images.
Extra product options can be displayed on WooCommerce via input fields, which are custom product fields made possible via a WooCommerce plugin like Product Manager Add-Ons by BizSwoop (more on that later).
Examples of custom fields include:
Checkboxes – checkboxes are tickable boxes that allow your consumer to select the customization they want from their product. Checkboxes allow for multi-select functionality, making them perfect for instances where customers will want to choose multiple options. Think of an online pizzeria that allows customers to choose from a list of dedicated pizza toppings.
Radio buttons – radio buttons allow the customer to select one customization from a list of options by clicking a button. It saves them from having to filter through a dropdown menu. This custom field is restricted to one choice, e.g., choosing a color for a T-shirt.
Dropdowns – also known as select boxes, dropdowns allow the consumer to select one option by scrolling through a menu of choices.
Text areas – text areas are free format boxes where a consumer might add a slogan or set message to customize their product. Sometimes companies that ask customers to upload text might charge on a per-character basis.
File uploads – if the method of personalization is a photo, for example, then file uploads allow your consumer to add the exact photo they want to appear on their product.
These additional features allow you to offer your clients personalized products easily and efficiently when they purchase an item.
What is the difference between product variations and extra product options?
WooCommerce comes with product variations by default. These are different versions of the same product that vary based on specific product attributes like color, pattern, or size, which you have predefined on your WooCommerce store's back end.
This means that while a customer can customize their product to a certain extent, there is a limit to how far the customization can go, as your list of products is already predetermined.
WooCommerce extra product options go much further than product variations, as they can effectively allow the consumer to choose the exact product they want or select a specific add-on.
To reach the same level of customization with product variations, you'd have to list every possible combination of product features in order to sell them, which is both impractical and time-consuming. WooCommerce extra product options, on the other hand, allow you to create customizable items quickly and easily.
Why should you offer extra product options on your WooCommerce store?
WooCommerce extra product options can significantly enhance what you're offering the customer in several ways, including:
Better customer experience
Extra product options make it easier for your customers to find and purchase the exact products they want. Having customized fields on your product page makes the purchasing experience quicker and more tailored to the customer. Think of a personalized gift company – a free text field and file upload can help customers choose exactly what they want to be printed on their T-shirt, mug, or gift card.
Increase conversions, reduce cart abandonment
If your customer can create the product they want, you are more likely to see an increase in conversions and repeat business. Extra product options also enable you to personalize the checkout experience with fields like a date picker for delivery dates, clear product pricing for additional delivery options, or gift wrapping, creating a more cohesive shopping experience that reduces the chance of cart abandonment.
Improve customer loyalty
If customers find the exact products they need at your store, they will naturally want to purchase from your business again. The data generated from repeat purchasing and personalization can also be fed directly into the product variations you offer customers as part of your store as standard, making for a more streamlined shopping experience. WooCommerce extra fields for products can be a fantastic way to gather intel on customer preferences, and you can focus on upselling popular products and common product combinations as add-ons.
Increase average order value
Offering extra product options and add-ons on your WooCommerce store is a great way to increase your average order value. These options provide the opportunity to offer complementary products as cross-sells, or add-on options as upsells, both of which encourage customers to spend more. As an example, think of a photography business that allows you to purchase frames for your printed photographs or personalized merchandise when they place an order.
How do you offer extra product options on your WooCommerce store?
When it comes to offering customization options, default WooCommerce only offers product variations and does not support extra product options without a dedicated plugin. Choosing which plugin to use might seem overwhelming as there are a lot of options. To help you get started, we've selected our top four, starting with our favorite, Product Manager Add-Ons.
1. Product Manager Add-Ons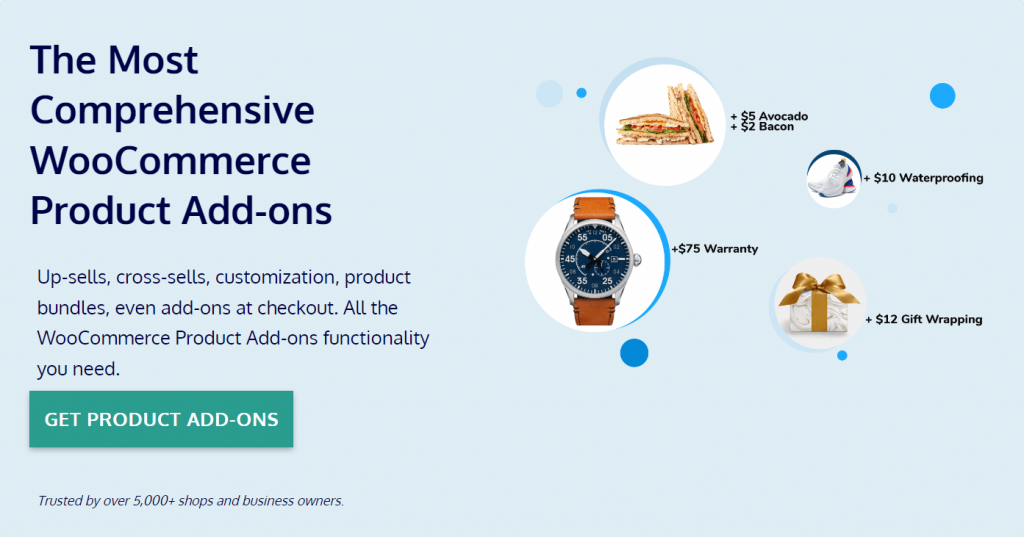 Product Manager Add-Ons is a versatile plugin from Biz Swoop that allows for easy integration of extra product options on your WooCommerce product pages, cart page, and checkout page. Some of the key features include:
Flexible custom fields
Available features include checkboxes, radio buttons, free text fields, and image upload fields. You can also integrate easy add-on costs as a percentage of the product cost or cart subtotal, or as a flat rate. The range of fields and flexible pricing options allow you to add multiple customizations and extras quickly and effectively.
Intuitive add-on functionality
Product Manager Add-Ons' built-in grouping functionality allows you to combine common add-on options into logical groups easily. For example, a custom clothing store might want to group personalization options like color swatches with fields where you can upload custom artwork or freely type text. This functionality enables easy navigation for customers searching for customization options in one intuitive place.
You can also create thumbnail image swatches for particular patterns or designs, which helps to provide a better visual indication of how your different product options compare, making it easier for customers to make a decision.
Cart and checkout add-ons
Product Manager Add-Ons also enables store owners to customize the cart and checkout pages with the addition of the same kinds of flexible add-on options you can add to your product pages. This has many useful applications, including:
Upselling recommended items or common purchase combinations.
Offering gift-wrapping options.
Enabling customers to request specific delivery dates or leave instructions for the carrier.
This is great if you need to offer customization as part of the delivery process in addition to the existing add-ons on your product pages, and gives you the flexibility to offer a wider variety of add-ons at the most appropriate time in the customer's purchasing journey.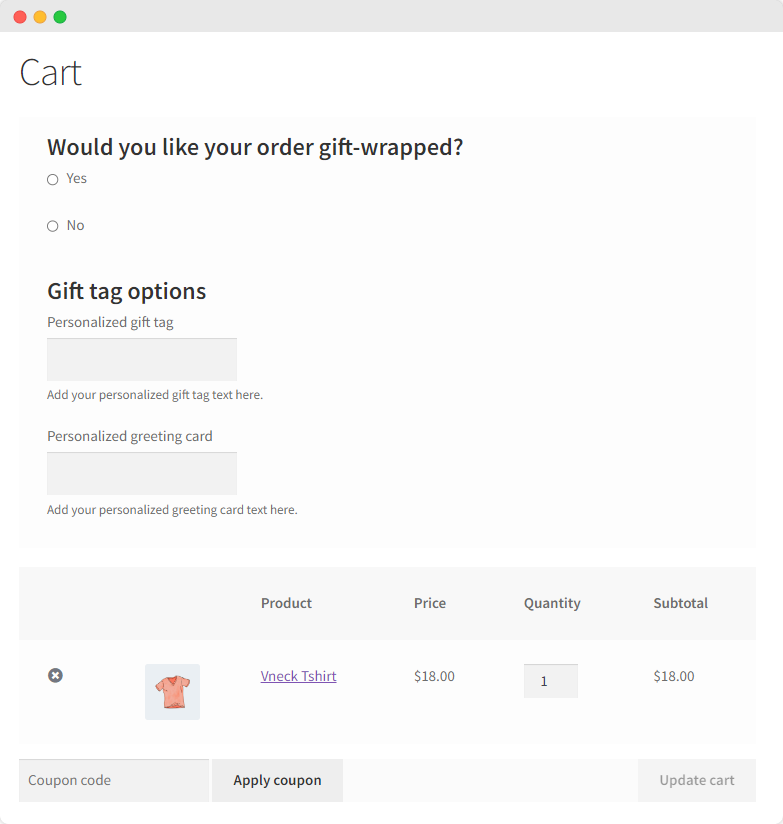 Omnichannel compatibility
Product Manager Add-Ons is an incredibly versatile tool that works well on phones, tablets, desktops, laptops, and even POS systems for in-person sales. The display and functionality are equivalent across each device, meaning that customers and users know exactly what to expect when making a purchase. Product Manager add-ons has particularly close integration with Jovvie, its sister plugin from BizSwoop, ensuring a seamless checkout experience for your in-person sales.
Product Manager Add-Ons offers a range of flexible pricing plans, starting from $49/year. All pricing plans also come with a 14-day money-back guarantee to enable you to test out the full feature set on your WooCommerce store.
2. Extra Custom Product Options for WooCommerce
Extra Custom Product Options for WooCommerce by Plugify is an intuitive tool for adding product customization options to your WooCommerce store. It allows you to input logic into your extra product options to hide or display customizable field options depending on user input. If the user types in a set value, the validation instructions will instruct WooCommerce to display or hide specific fields. All product add-ons or extras are highlighted in the cart for easy customer visuals before checkout.
Extra Custom Product Options for WooCommerce is available from $49/year, including support and extension updates.
3. WooCommerce Product Options
WooCommerce Product Options by Barn2 offers WooCommerce store owners a range of field types to add to their WooCommerce product pages, including more advanced options like a date picker field. The plugin also offers conditional logic to show or hide custom product fields. Pricing options are flexible, including per-character pricing for text-input fields, prices based on product quantity, and percentage-decrease pricing options.
WooCommerce Product Options is available from $69/year, with a $129 two-plugin bundle available if you are interested in adding product tables to your WooCommerce store.
4. Extra Product Options for WooCommerce
Extra Product Options for WooCommerce by ThemeHigh offers over 26 customizable field types, including product page personalization options and templates with variations in color, positioning and styling. It lets customers view their product selections on the cart, checkout, and order details pages.
The plugin is available for a single site from $39/year, with additional pricing structures for multiple sites.
How to set up extra product options in WooCommerce with Product Manager Add-ons
Product Manager Add-Ons is our recommended plugin for adding extra product options to your WooCommerce store. This tutorial will provide you with a walkthrough on how to install and set up the plugin, before demonstrating how to add custom product options to your store for the purpose of selling personalized T-shirts. Let's get started!
Purchase, download, and install the Product Manager Add-Ons plugin from BizSwoop.

Navigate to Products > Add-On Groups, then create a new group. Name the group, and choose where it will appear:


All product pages.
Custom product pages (i.e., pages for specific products or categories).
Cart page.
Checkout page.
Cart and checkout pages.
For the purpose of this tutorial, we will select 'custom', as we want to apply our new add-ons to all products in the category 'T-shirts'.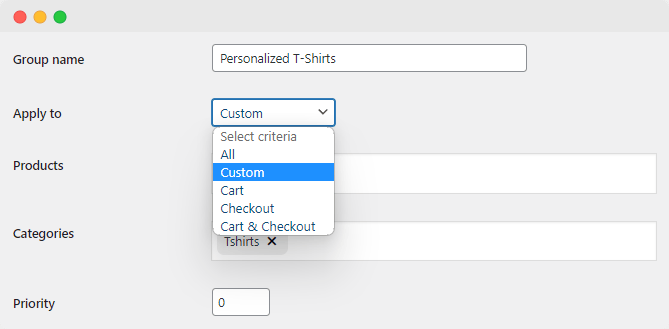 Click 'Add row' to create your first extra product option in the add-on group. Here we will select 'Text' to add custom text to our T-shirts. From here, you can also configure the description display, choose if customers are required to choose an option for the add-on before adding the product to their cart, and set the pricing structure, choosing from the following options:


Flat rate
Percentage based on the product price
Percentage based on cart subtotal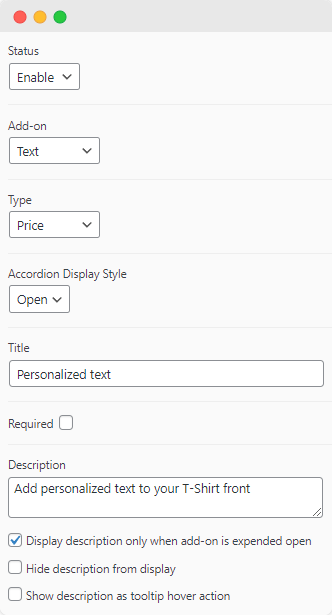 Click 'Add option' to add the choices for this specific add-on. If you want your customers to be able to choose from multiple add-on options (for example, colors or specific T-shirt designs) you can add as many options as you want. We will only need one option for this demo for our custom text add-on. Add the information about your add-on, like cost, a description, a thumbnail image, or a stock-keeping unit (SKU) code.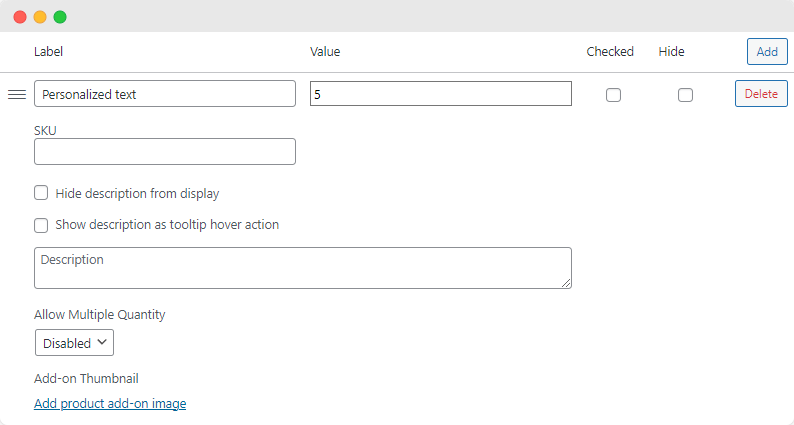 Once you are happy with your first add-on, you an add any further product options that you would like to the add-on group. For example, you might choose to add a file upload option to enable customers to add their own artwork to their T-shirts, or a radio button option with thumbnail images to help customers choose their preferred T-shirt color.
Save your changes and make sure that you preview your WooCommerce extra product options on the front end of your store to check what your customers will see. If you need to make changes, you can return to the 'Add-on groups' page and click 'Edit'.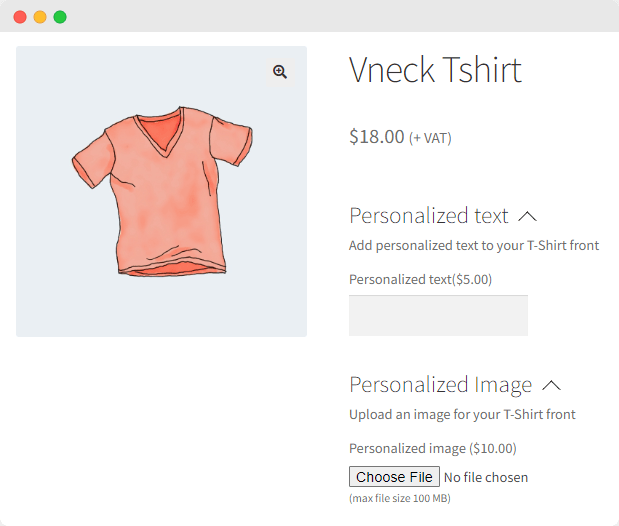 Once you have previewed your changes and saved them, your customers can now select the new product options on your WordPress site. If they add custom text to the order, they'll see the updated costings displayed across their product, cart, and checkout pages.
Improve the customer experience and boost conversions with extra product options
Adding extra product options to your WooCommerce store is the ideal way to offer customization and personalization options to your customers. This stands to benefit your store in many ways, from increased average order prices to greater customer loyalty and conversion rates, and an improved customer experience. Bring your consumers the tailored product they need in an easy-to-navigate way.
Product Manager Add-Ons is a stand-out plugin for offering WooCommerce extra product options. As you can see from our walkthrough, it is an incredibly easy tool to use, with an intuitive and visually appealing front-end display. Add-on types are incredibly easy to navigate, making the plugin an ideal tool for novice and veteran WooCommerce users. Benefit from additional cart and checkout functionality, ease of use across multiple channels, and BizSwoop's integrated range of WooCommerce plugins for in-person and digital sales.
Try Product Manager Add-ons from $49/month and start offering extra product options on your WooCommerce store. Give your customers the personalization they expect from their online shopping experience today.