Creating a diverse, attractive, and easy-to-navigate product catalog is an essential part of every successful online store. In particular, WooCommerce store owners know the power of product variations – from different colors, sizes, and materials to more nuanced details, the ability to provide customers with multiple options can significantly increase sales and elevate customer satisfaction.
But what if you're limited by the standard WooCommerce functionality?
While it allows you to create and display product variations, the process can be cumbersome, and its presentation uninspiring. Each variation needs to be generated individually for each parent product, which becomes a daunting task with a large product catalog. Plus, these variations are only displayed as dropdown menus, limiting the visual appeal.
That's where it becomes essential to have a variation wizard do the work for you: a WooCommerce product variations plugin.
These powerful tools allow you to overcome the traditional limitations of WooCommerce variations, helping you to optimize your store for both performance and aesthetics. Variation plugins offer a far more efficient way to create and manage product variations, and they often present more visually appealing and user-friendly interfaces to your customers.
In this article, we'll delve into the world of product variations in WooCommerce, dissecting the platform's default features and limitations, and exploring the available solutions. We're also going to discuss and compare the best product variations plugins for WooCommerce, including the popular Product Manager Add-Ons, which despite not focusing solely on product variations, offers flexible and customizable solutions that hit the mark.
Let's start on our journey to streamline your product catalog, overcome eCommerce hurdles, and ultimately boost your sales!
What are product variations?
When browsing an online store, you've likely come across products that are available in different sizes, colors, materials, or designs. These different versions of the same product are what we refer to as 'product variations' and each variation is distinguished based on specific attributes.
To ensure we're on the same page, let's discuss the difference between product attributes and product variations in the WooCommerce landscape.
Product attributes refer to the distinctive characteristics or features of a product. For instance, the color, size, or material of a product are its attributes.
Product variations are different versions of the same product, differentiated by these characteristics.
Let's use an online apparel store as an example. If the store sells T-shirts, these T-shirts could have variations such as different colors (red, blue, green), sizes (small, medium, large), and necklines (crewneck, v-neck). All these variations are born from the same base product – the T-shirt.
However, in WooCommerce, each variation will have different attributes associated with it. The 'red' T-shirt is a variation that carries the 'red' color attribute. Similarly, the 'blue' T-shirt is another variation with the 'blue' color attribute attached.
The beauty of offering product variations in your WooCommerce store lies in the multitude of benefits that they bring:
Increased sales: By providing a variety of options, you're allowing customers to find the product version that suits their specific needs, leading to an increase in sales.
Improved customer satisfaction: Modern shoppers expect options. The more variations of a product you offer, the more likely you are to meet these expectations, resulting in improved customer satisfaction.
Competitive advantage: Let's say your competitor offers a product in just one version, while your store offers multiple variations of the same product. If all other factors like price and quality are equal, your range of options gives you a competitive edge.
With the importance and benefits of product variations established, let's explore how you can optimize this feature using the right WooCommerce product variations plugin, which can help you meet, and exceed, customer expectations.
How do you set up product variations in WooCommerce?
Creating and managing product variations in WooCommerce involves several steps, but once you understand the process, you'll find it straightforward and intuitive. Here are the main steps to setting up product variations in your WooCommerce store:
1. Creating WooCommerce attributes:
Firstly, you need to create the necessary attributes for your WooCommerce products. For example, if you're selling T-shirts, you might need to create attributes like color, size, or material. Here's how you do it:
Navigate to 'Products' in your WordPress dashboard, then go to 'Attributes'.
Type in the name of your attribute (e.g., Color), then click 'Add attribute'. You can add as many attributes as you need.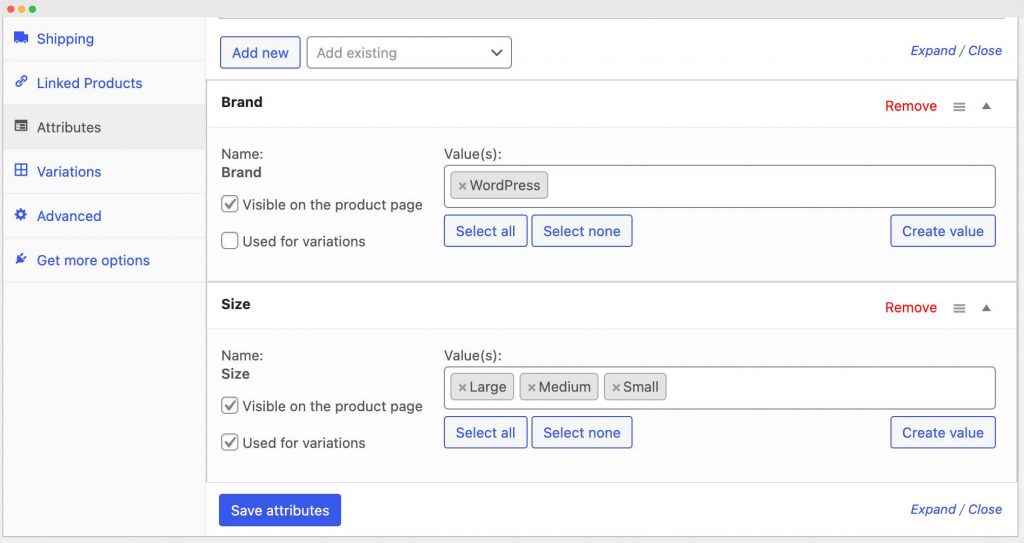 2. Defining terms for these attributes
After creating an attribute, you can add specific terms to it. For instance, if your attribute is 'Color', you could add terms like 'Red', 'Blue', or 'Green'.
Click on the 'Configure terms' text next to the attribute you just created.
Type in a term (e.g., Red), then click 'Add new Color' (replace 'Color' with your attribute's name). Repeat this step for all the different terms you want to add.

3. Applying attributes to specific products
Once your attributes and terms are set, it's time to apply them to specific products.
Go to 'Products' and choose the product to which you want to apply the attribute.
In the product's data panel, click on the 'Attributes' tab.
Choose the desired attribute from the dropdown menu and click 'Add'.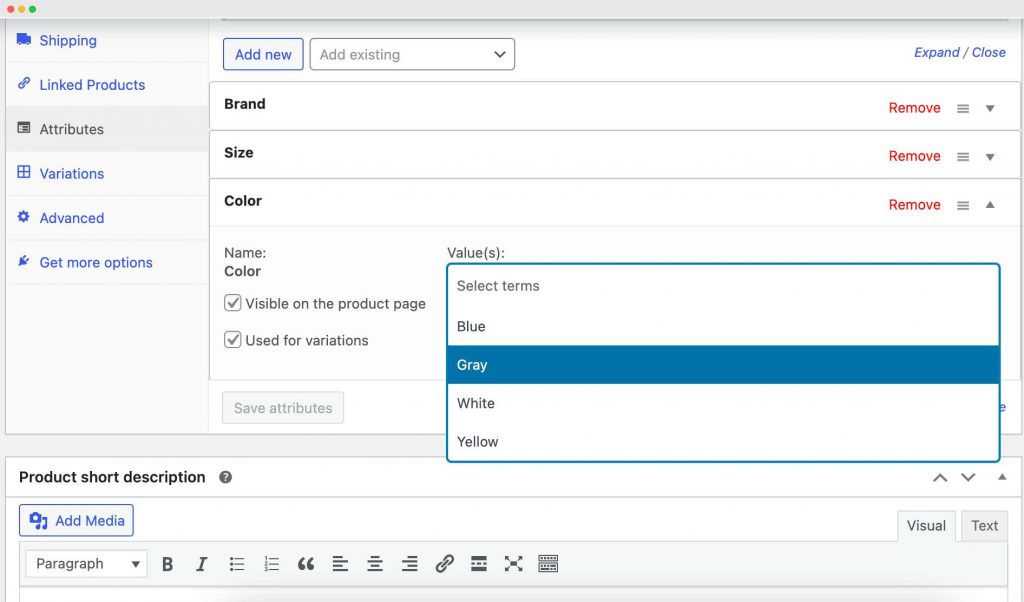 You can then select the relevant terms for that attribute.
4. Converting simple products to variable products
Next, you need to convert your basic product into a variable product to add variations based on the attributes.
Under the product data box, change 'Simple product' to 'Variable product' in the dropdown menu.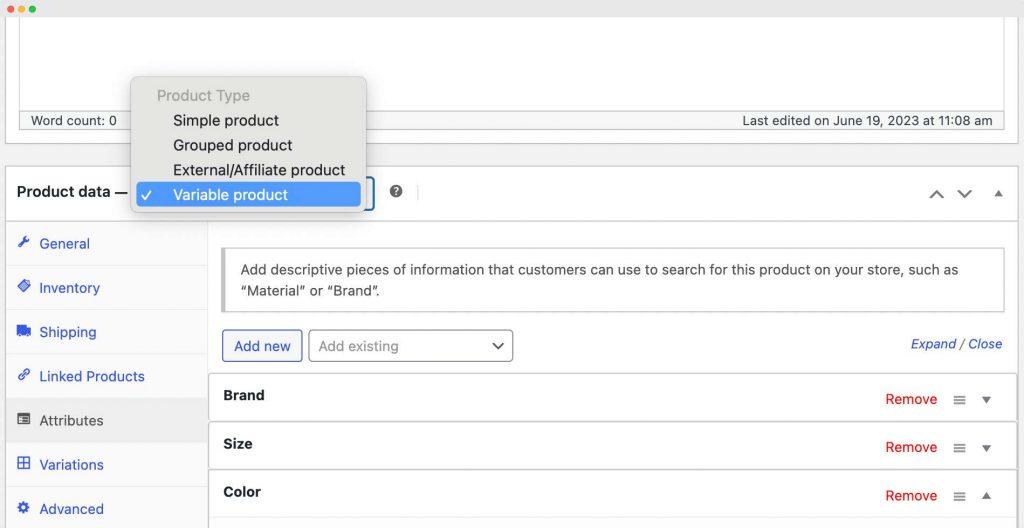 5. Generating variations based on attributes
Now, it's time to generate the product variations.
Click on the 'Variations' tab in the product data panel.
Select 'Create variations from all attributes' from the dropdown menu, then click 'Go'. WooCommerce will then generate variations using every possible combination of the attributes assigned to the primary product.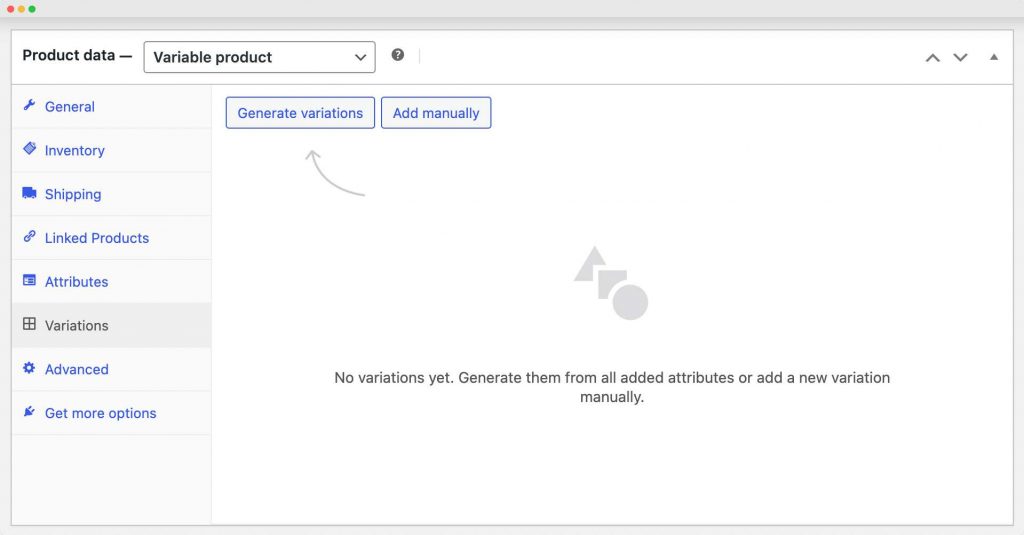 6. Adding product data to individual variations
Each variation can have its own SKU, price, stock status, and more. To add this data:
Under the 'Variations' tab, click on the dropdown menu next to a specific variation.
Here, you can input all the relevant details for the variation.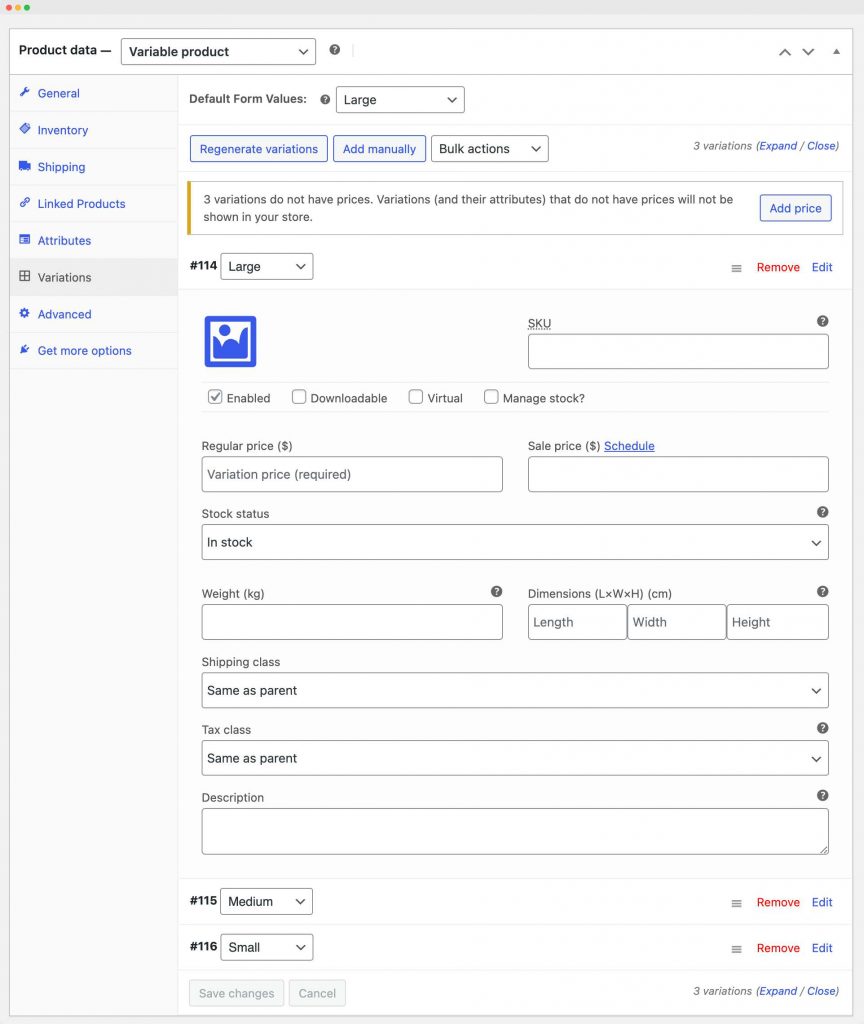 7. Displaying product variations on the WooCommerce front-end
Once all the variations are set up, they will automatically appear as options on the product page in your online store.
While this process can seem a bit time-consuming, especially with a large number of variations, it's an essential part of setting up a versatile online store. However, having said that, WooCommerce does have some limitations while creating product variations. Let's look at those next.
Limitations of WooCommerce's default product variation functionality
While WooCommerce provides a sturdy platform for setting up and managing product variations, its default functionality does come with certain limitations that may hamper your online store's performance and user experience.
Understanding these limitations can help you make informed decisions about whether to opt for a WooCommerce product variations plugin. Here are some of the main drawbacks:
Limited display options
WooCommerce's default setup only allows for product variations to be displayed in a dropdown menu. While functional, it's far from visually enticing or intuitive. Dropdown menus often fall short when it comes to providing a comprehensive at-a-glance comparison of different variations.
For many products, visual variation selectors such as color swatches, image swatches, or buttons could significantly enhance the customer's shopping experience.
Lack of bulk editing features
When it comes to managing a large number of product variations, WooCommerce's lack of a bulk-editing feature can be a serious hurdle. Updating each variation individually is time-consuming, making tasks like updating prices or stock levels across multiple variations tedious.
The absence of bulk editing features can make managing a large product catalog with numerous variations a less-than-smooth experience.
Performance issues
Another issue with the default WooCommerce setup arises when dealing with a large number of variations for a single product.
Since each variation is essentially a separate product with its unique ID in the database, it can potentially slow down the loading time of the product page. Performance issues could compromise the user experience and, consequently, your sales.
Despite these limitations, it's worth noting that they can be effectively addressed with the help of WooCommerce product variations plugins. These plugins are designed to overcome these hurdles, optimizing your online store for the best possible performance and user experience.
Which WooCommerce product variations plugins are best?
Choosing the right WooCommerce product variations plugin for your store is a crucial decision. The best fit for you will depend on a balance of additional features, ease of use, cost, and, most importantly, your store's unique needs.
For instance, a store with a small product catalog may not benefit significantly from bulk editing features. However, these same features could be extremely useful for a store housing hundreds of variable products.
Similarly, a store that offers variable products differing primarily in color or design would benefit more from enhanced display options compared to a store whose product variations are based on features or other specifications.
This brings us to the question…
What makes a good product variations plugin?
While the 'best' plugin varies based on individual needs, there are several key features you should look for when choosing a WooCommerce product variations plugin.
These features can help enhance your store's functionality and user experience. They include:
Attractive and interactive display options: A good plugin should offer visually appealing and user-friendly ways to display your product variations. Look for features such as color swatches, image swatches, or buttons that can provide a more interactive shopping experience for your customers.
Bulk editing capabilities: If your store has a large product catalog, you'll want a plugin with robust bulk editing capabilities. This feature can save you considerable time when updating prices, stock levels, or other details across multiple product variations.
Multilingual support: If you're catering to a global audience, having a plugin with multilingual support is essential. This feature ensures that all customers, irrespective of their language, can easily navigate and understand your product variations.
Ease of installation and setup: A good plugin should be straightforward to install and set up. It should seamlessly integrate with your existing WooCommerce store without requiring extensive coding knowledge.
Regular updates and support: A plugin that receives regular updates ensures that it stays compatible with the latest versions of WooCommerce. Additionally, having access to reliable support can be invaluable, especially when dealing with technical issues or needing help with setup.
Let's now take a close look at the best WooCommerce product variations plugins currently on the market. These plugins have been chosen for their wide range of features and high customer satisfaction ratings, helping you to enhance your product variation functionality and boost your online store's performance.
7 Must-have product variations plugins for WooCommerce
Whether you're looking for advanced display options, bulk editing features, or comprehensive customization capabilities, there's a product variation plugin for your needs. Here, we look at the main features of these great options, discuss their potential limitations, and check pricing for each of the plugins.
Let's dive in!
1. Product Manager Add-ons by BizSwoop
Product Manager Add-ons by BizSwoop is a comprehensive plugin that significantly expands your WooCommerce store's product variation capabilities. It's equipped with a suite of features designed to provide an enhanced, intuitive shopping experience for your customers, while simplifying the process of managing product variations for store owners.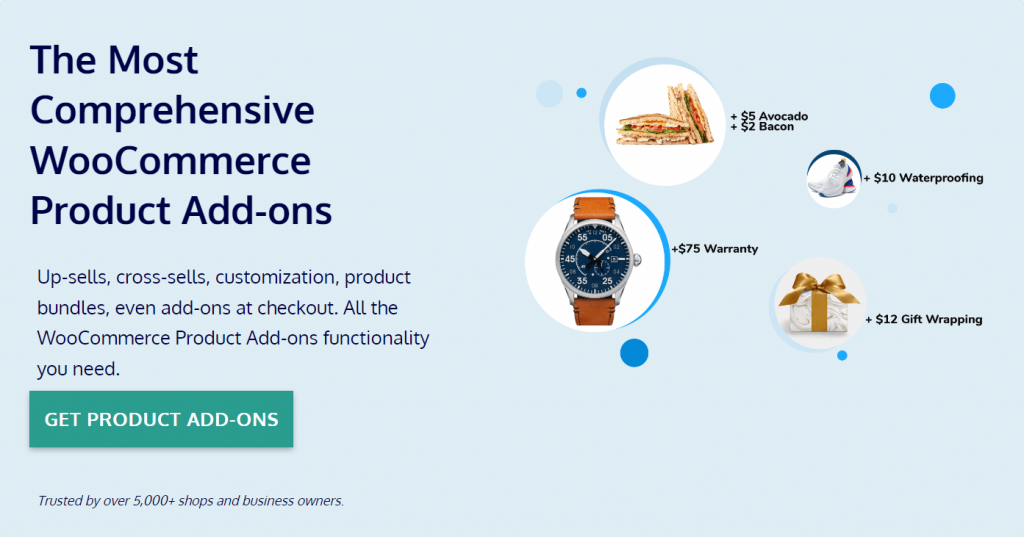 Key features
Intuitive display options: This plugin provides visually appealing ways to display your product variations. Instead of the default dropdown menus, you can utilize radio buttons or checkboxes. Additionally, thumbnail images and descriptions can be added to each variation, making it easier for customers to make informed decisions.
Variations at cart and checkout: Enhance your customer's shopping experience by enabling them to select their preferred variation and any other add-on options at any stage of the shopping process, not just on the product page.
Bulk create and edit variations: With the Product Manager Add-ons plugin, you can apply variations and add-on options across entire product categories or even your entire online store in one fell swoop. This feature is particularly beneficial if you offer similar variation options across multiple product lines, such as color variations across different lines of T-shirts.
Additional customization options: Beyond product variations, this plugin also offers powerful functionality for creating and managing product add-ons and customization options, making it a versatile tool for any store looking to offer a personalized customer experience.
Pricing for Product Manager Add-ons by BizSwoop starts at $49/year.
With powerful features and flexible customization options, the Product Manager Add-ons plugin stands out as a valuable asset for WooCommerce stores aiming to provide a seamless and personalized shopping experience.
2. Product Tables for WooCommerce by BizSwoop
Product Tables for WooCommerce, also by BizSwoop, is another powerful plugin that takes product variation display to a whole new level. It provides a unique way to showcase your product variations in a comprehensive, easy-to-compare manner, improving the shopping experience and potentially increasing conversion rates.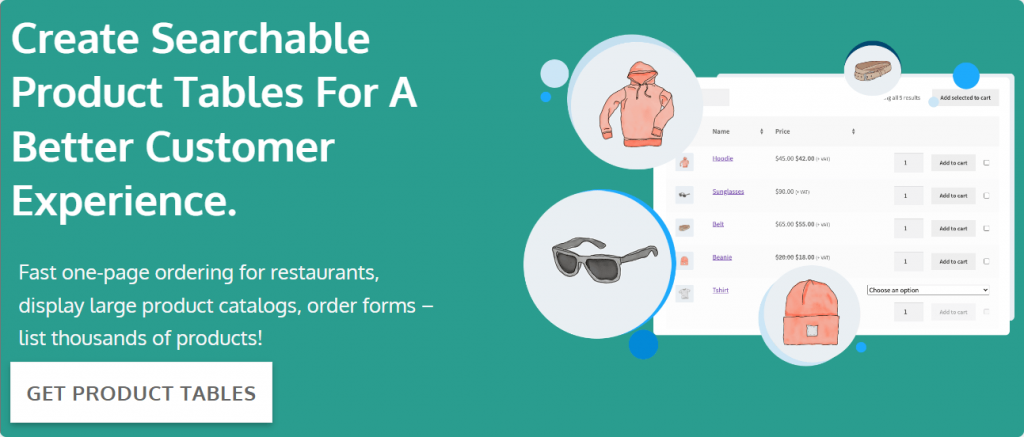 Key features
Attractive visual display: This plugin allows you to present product variations as individual rows within your product tables. It even lets you include important information like the product description in your tables, making it easier for customers to compare options at a glance.
Advanced searching and filtering: Product Tables for WooCommerce integrates built-in search bars and AJAX filtering into your product tables. This feature helps customers quickly find their preferred variations, enhancing user experience and expediting the shopping process.
Display tables anywhere: With the help of built-in shortcodes for every table you create, this plugin allows you to display your product tables wherever you see fit on your site. This flexibility gives your product variations greater visibility and allows for a more intuitive site design.
Product Tables for WooCommerce is available at a cost of $69/year.
3. WooCommerce Variation Swatches by Premmerce
WooCommerce Variation Swatches by Premmerce offers a fresh and interactive approach to displaying product variations. By integrating visually intuitive tools, this plugin creates a dynamic and user-friendly shopping experience.

Key features:
Interactive variation display: WooCommerce Variation Swatches allows you to display your product variations using color and image swatches, labels, and radio buttons, making it much easier for customers to visualize their choices.
Quick variation access from archive pages: Customers can view different product variations directly from archive pages and add them to their cart. This feature speeds up the shopping process by eliminating the need to navigate to individual product pages.
Mouseover descriptions for attributes: Adding to its interactive design, this plugin enables you to add mouseover descriptions to your attributes. This way, you can provide additional information to your customers without cluttering your product pages.
Pricing for WooCommerce Variation Swatches starts at $49.99/year for a single site license.
Though this plugin greatly enhances the visual aspect of product variation selection, its focus on aesthetics may not be as beneficial for products where variations are less visually distinguishable. It is most advantageous for stores where color or design significantly differentiates product variations.
WooCommerce Variation Swatches is a solid option for online stores seeking to present their product variations in a visually appealing and interactive manner. By offering more engaging selection methods, it enhances user experience and could lead to higher conversion rates.
4. WooCommerce Better Variations by Plugin Republic
The WooCommerce Better Variations plugin by Plugin Republic revolutionizes the way customers interact with product variations in your online store. It provides a seamless and intuitive approach to managing and displaying product variations, making the shopping experience much more streamlined for your customers.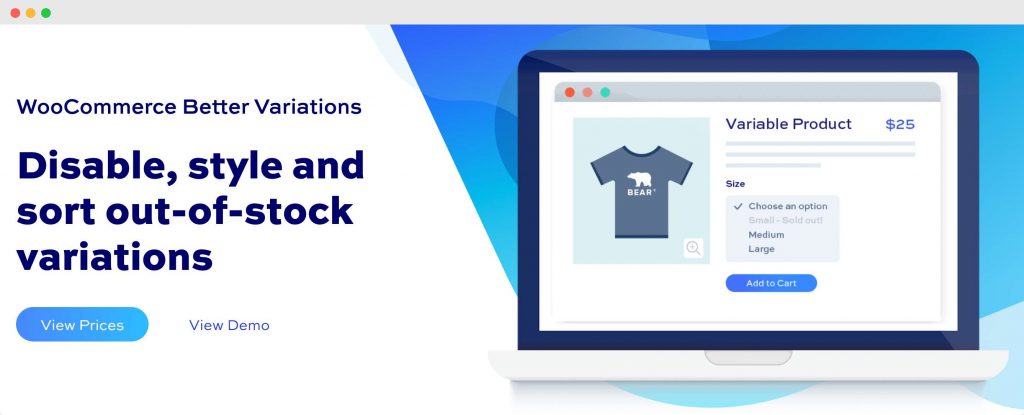 Key features
Grid layout display: WooCommerce Better Variations displays all product variations in an easy-to-navigate grid layout. This unique format allows customers to effortlessly add multiple variations to their cart, enhancing user experience and potentially boosting sales.
In-stock and out-of-stock differentiation: This plugin aids in effective stock management by clearly distinguishing between in-stock and out-of-stock variations. You can disable or apply a unique style to your out-of-stock products, making it easier for customers to identify available options.
Priority to in-stock variations: In a clever design tweak, this plugin displays in-stock variations ahead of out-of-stock ones. This not only improves the shopping experience by showcasing available options first but also reduces potential frustration caused by selecting an out-of-stock variation.
WooCommerce Better Variations comes at a starting price of $59.00/year.
While the grid layout and stock management features are robust, the plugin may be less beneficial for stores that don't have a large number of variations per product. It's ideally suited to stores with substantial product variation inventories.
5. Swatchly
Swatchly is a powerful WooCommerce plugin that injects a flair of color and vibrancy into your product variations. Its main focus is on providing a more visually engaging method to present your product variations to customers.
Key features
Versatile swatch types: Swatchly offers three distinct swatch types to display your product variations – image, color, and label swatches. This allows you to choose the most appropriate method to present each product's unique variations effectively.
Customizable swatch button: The plugin enables you to fully customize the swatch button's appearance and placement on the product page. This can be essential in making your product page look cohesive and maintaining your brand's identity.
Variation swatches on shop page: Swatchly extends the display of variation swatches to the shop page, giving customers an overview of available options without having to click into individual product pages. It also provides an AJAX add-to-cart button to add individual variations directly to the cart from the shop page.
Swatchly's pricing begins at $49/year.
Swatchly's features are highly visual. Therefore, it may be less beneficial for stores that sell products with variations not readily distinguishable through images, colors, or labels. It's most effective when the product variations are visually significant.
6. Variation Swatches for WooCommerce
Variation Swatches for WooCommerce brings an elevated level of visual representation to your online store. It aims to make product variations more accessible and attractive, potentially increasing customer engagement and sales.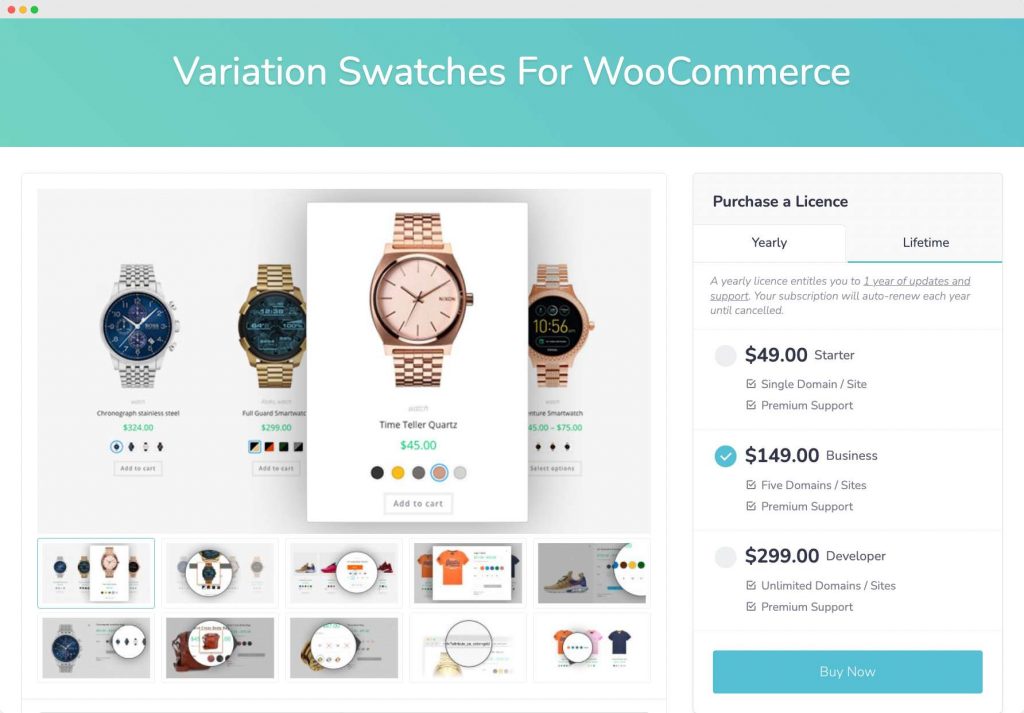 Key features
Variation display options: With this plugin, you can exhibit your product variations as images, color swatches, or labels. This flexibility means you can choose the most suitable method to showcase your products based on their specific variations.
Quick view of variations: Variation Swatches for WooCommerce offers a quick view option that allows customers to see different variations without reloading the page. This feature saves time and creates a more seamless shopping experience, encouraging customers to explore more options.
Handle out-of-stock variations: The plugin provides options to hide, blur, or cross out variations that are out of stock. This feature can help prevent customer disappointment and direct them towards available products, thereby maintaining a positive shopping experience.
Pricing for Variation Swatches for WooCommerce starts at $49/year.
As with a few of the options on this list, this plugin is predominantly geared towards visually driven product variations. Stores with variations based on non-visual characteristics, like material or size, may not benefit as much from its features.
7. Variation Switcher in Cart for WooCommerce
Variation Switcher in Cart for WooCommerce is a plugin designed to simplify the shopping experience by allowing customers to alter product variations directly from the shopping cart or checkout pages.

Key features
Change variations from cart and checkout: With this plugin, customers can modify their product variation choices without leaving the cart or checkout pages. This saves time and eliminates the need to navigate back to the product page whenever a change is desired, providing a smoother shopping experience.
Restrict variation switching: Variation Switcher in Cart for WooCommerce allows you to restrict variation switching to specific products and categories. This control provides flexibility to decide where this feature is most beneficial in your online store.
The plugin is competitively priced at $29/year.
While the functionality of changing variations from the cart or checkout page is convenient, it may not be essential for all WooCommerce stores. If your product variations are significant enough that customers need to reconsider their choices, this plugin will be beneficial.
However, for simple variations, customers may rarely need to change their selection after adding a product to the cart.
Embrace the power of product variations with Product Manager Add-ons
The power of product variations on your WooCommerce store cannot be understated. By providing an array of options, you enhance customer satisfaction, increase potential sales, and give your store a competitive edge. However, as we've seen, WooCommerce's built-in functionality for managing and displaying product variations can be limited and time-consuming to navigate.
To make the most of product variations, we recommend leveraging the power of plugins to revolutionize how you display and manage these variations. Tools such as Product Manager Add-ons and Product Tables for WooCommerce not only overcome the inherent limitations of WooCommerce's default variations functionality but also introduce innovative, customer-friendly features that make shopping at your online store a breeze.
With Product Manager Add-ons, you can bulk create and edit variations, offer variations at the cart and checkout, and provide an intuitive display for your variations. On the other hand, Product Tables for WooCommerce allows you to display product variations in an attractive, easy-to-compare table format.
In essence, making your online store's shopping experience as seamless and personalized as possible is the key to standing out in today's competitive eCommerce landscape. Start your journey to achieving this by trying out Product Manager Add-ons and Product Tables for WooCommerce today.
Ultimately, the goal isn't just to offer variations; it's to present them in the most compelling, user-friendly way possible. And with the right plugins, you're one step closer to turning browsing customers into loyal buyers.
Take the leap today and elevate your product variations to the next level!