How can you automate processes in your WooCommerce store? As an online store owner, you're open for business around the clock. However, unless you have an army of staff, you may struggle to respond to your customers 24/7.
That's where WooCommerce automation plugins come in. By automating key tasks, you can process enormous workloads and keep your store running smoothly, even when your staff isn't present.
In this article, we'll explore why so many online stores are using WooCommerce automation tools. We'll then look at six must-have plugins that could wow your customers and boost your bottom line. Let's get started!
Why You Might Want to Add WooCommerce Automation Tools to Your Website
You can use WooCommerce automation tools to perform many time-consuming, frustrating, and tedious tasks. These plugins can often complete actions in less time than you could manually. 
With 82 percent of consumers expecting businesses to respond to their requests in ten minutes or less, automation is often essential for meeting customer expectations.
Running a successful online store isn't easy. If you're struggling under the weight of your To-Do list, automation can remove some of that pressure. It can boost your productivity and free up time to invest in higher-value activities.
While most traditional brick-and-mortar stores have strict opening hours, by default your online store is open for business 24/7 (unless you use our Store Hours Manager to close and open your checkout automatically!) Automation can help you respond to customers regardless of whether an event occurs at 2pm or 2am. 
When you perform tasks manually, there's always the risk of human error and inconsistencies. These mistakes can affect the quality of the customer experience. You can use automation to standardize common business processes and deliver a flawless experience every time. 
When shopping around, we recommend focusing on tools that can automate time-consuming tasks you perform regularly. They can give you the most significant time and cost savings, and deliver the best Return On Investment (ROI).
It's also wise to look for tools that automate processes where there's significant time pressure. For example, you may seek a plugin that sends order confirmation emails. By automating this workflow, you'll have no problem responding within the expected timeframe.
6 Essential WooCommerce Automation Plugins for Your Online Store
As WooCommerce is one of the world's most popular e-commerce platforms, there's no shortage of compatible automation plugins to choose from. To help you unlock the full potential of your online store, here are six of our favorites.

Even in today's digital age, many businesses still provide physical receipts. Brick-and-mortar retail stores are the obvious example, but several e-commerce sites also offer printed records when shipping their products. 
Some businesses also rely on printed information to fulfill a sale. For example, a restaurant may automate printing so that the chef can get to work immediately without extra steps.
How do you automatically print orders from WooCommerce? BizPrint Cloud & Print Manager for WooCommerce is a plugin that promises to help you print WooCommerce orders automatically. Using this WooCommerce print plugin, you can connect multiple printers to your online store. BizPrint will then convert your orders into a readable receipt format and print them automatically.
Using this WooCommerce print order plugin, you can customize all your printouts to feature your logo, business information, and branding. As such, BizPrint's automatic order printing for WooCommerce can help you provide a seamless customer experience.
Features:
Automatic order printing for WooCommerce 

Provides templates for thermal printers, letter, A4, and custom paper sizes

Supports all major brands of printers, including HP, Canon, and Epson 

Provides additional compatibility templates via the

Print Manager Template Store

Supports advanced print station product category mapping features
Pricing: BizPrint offers 50 print jobs for free. Its plans start at $10 per month for 5,000 print jobs. 

Marketing is essential for building brand awareness, attracting new customers, and retaining your existing ones. However, advertising also requires a significant amount of time and effort. For busy e-commerce owners, it's easy to let it slip to the bottom of your to-do list.
How do you automatically send emails in WooCommerce? That's where the AutomateWoo WooCommerce email plugin comes in. Using this WooCommerce email automation platform, you can create workflows that market your products to prospective customers, without requiring manual input. 
The plugin also enables you to define triggers and set rules that control when actions should happen. For example, you might run this workflow when a customer purchases a particular item. You'll then specify the automated action, such as sending a Thank You email. 
You can run these workflows as soon as the trigger occurs or schedule a delay. The latter option can be useful for creating follow-up campaigns. For example, you might use AutomateWoo to send cart WooCommerce abandoned cart emails to nudge reluctant shoppers across the finishing line.
Features:
Send automatic emails in WooCommerce

Setup abandoned cart emails

Targets inactive customers with special offers, discount codes, and recommendations

Contacts customers via SMS

Generates dynamic, customized coupons

Notifies customers before a saved debit or credit card expires
Pricing: Licenses start at $99 per year.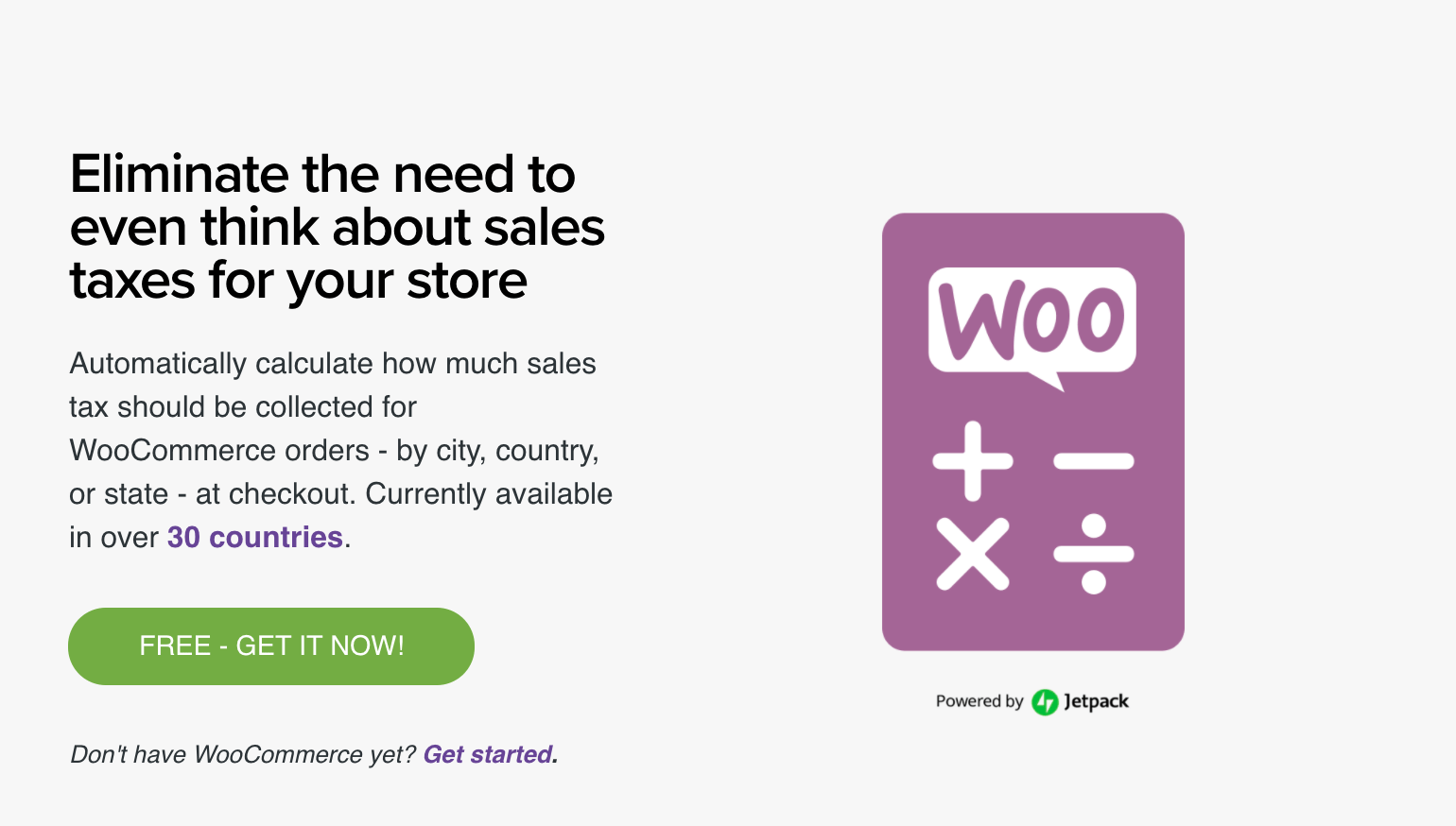 To ensure that you're turning a profit, it's important to track all of your expenses. However, understanding your sales tax obligations is notoriously difficult for online businesses. 
If you have a successful e-commerce venture, your customers likely span multiple cities, states, or even countries. Furthermore, most states permit local areas to set their own sales taxes. As such, your total sales tax may consist of multiple smaller components, such as the state, county, and district tax rates. 
How do you automate your taxes in WooCommerce? Instead of spending time trying to decipher your tax obligations, you can let WooCommerce Tax do the hard work for you. This WooCommerce sales tax plugin automatically calculates how much sales tax should be collected on each order, and charges it automatically at checkout. In this way, you can charge tax in WooCommerce, without the headache. 
Features:
Pricing: This WooCommerce tax plugin is available as a free download.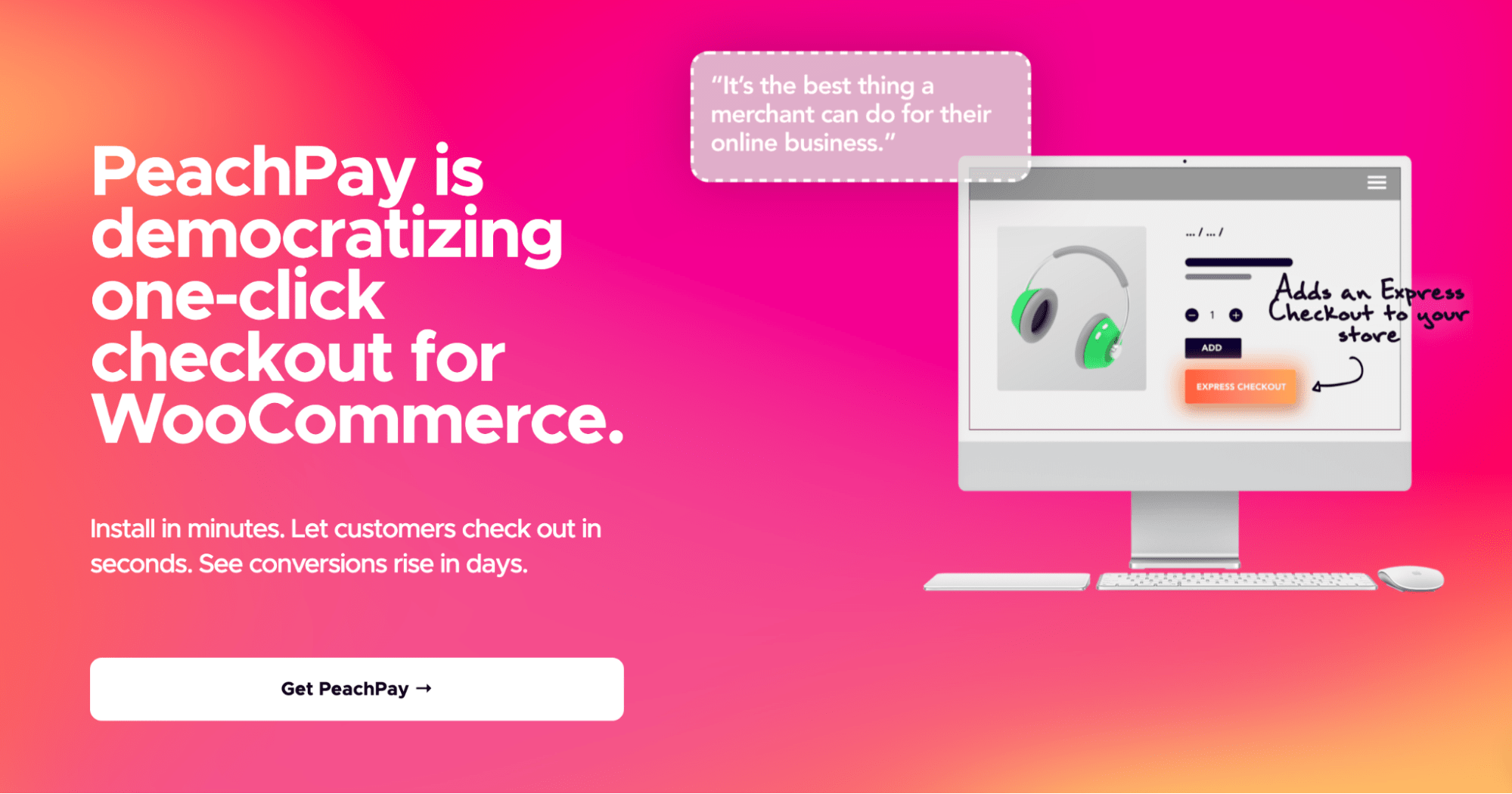 A long, complex purchasing process is a surefire way to drive customers away from your store. In fact, 34 percent of shoppers will abandon their carts if they're forced to create an account. Through WooCommerce one page checkout automation, you may be able to secure some additional sales. 
How do you set up fast one click checkout in WooCommerce? PeachPay can be your secret weapon. This single click checkout service adds an Express Checkout button to your product and cart pages.
The first time a customer interacts with PeachPay, they'll be prompted to enter their usual payment and delivery information. However, the next time they click on any PeachPay Express Checkout button, this service will auto-fill all their details. This enables you to provide a WooCommerce one page checkout experience. 
Furthermore, information is shared across the PeachPay service. If a customer has previously used the payment platform on a third-party website, then their information will be auto-filled on your site – even if this is their first visit. 
Features:
WooCommerce one click payment method

Supports

over 135 currencies

Provides instant payouts 

Integrates seamlessly with your Stripe dashboard

Offers white-labeling functionality
Pricing: PeachPay is free to use. However, using the plugin is subject to Stripe's standard transaction fees.

For an e-commerce store, downtime has an immediate impact on your sales. Every moment you're closed for business, you could be losing out on potential orders. Online shopping is also a highly competitive industry. If a customer cannot purchase a product right now, chances are they'll look elsewhere. 
A good WordPress backup solution is essential for minimizing downtime. Even if your site does encounter serious problems, you can restore a previous version and remain open for business. 
How do you back up your WooCommerce site? To ensure that you're always fully covered, we recommend opting for a solution that can back up your store automatically, such as the Jetpack WordPress backup and restore plugin.
Not only does this popular WordPress backup plugin provide automated daily backups, but it can also save all of your WooCommerce customer and order data. If you ever encounter an issue, you simply can revert to an earlier, working version of your online store with a single click. 
Features:
Automatic site backup

Full, incremental, and differential backups created in real-time

Unlimited storage, site migrations, and restorations

Off-site and cloud backups to reduce the load on your server
Pricing: The core Jetpack plugin is available for free. Jetpack licenses start at $4.77 per month when paid annually.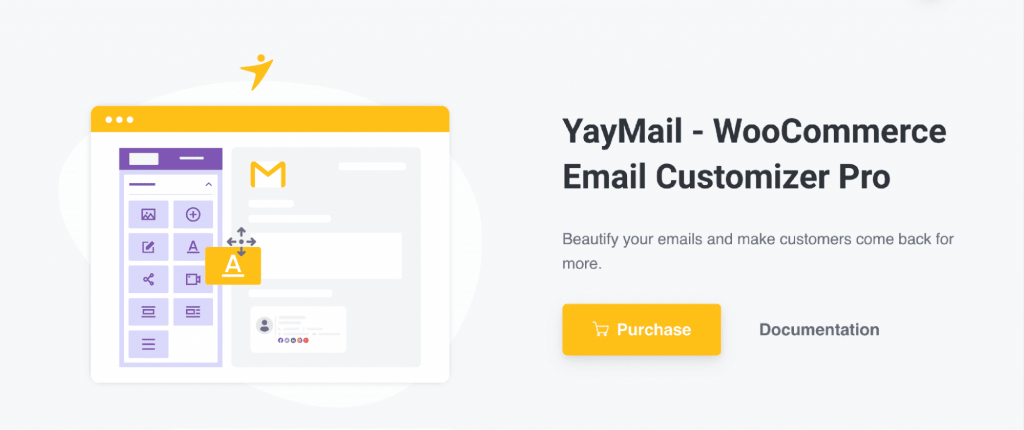 YayMail is a drag-and-drop WooCommerce email customizer that can help you create custom blocks and dynamic content. It is available to download for free – you'll have access to all core functionality to redesign your WooCommerce email templates.
The notifications themselves, based on WooCommerce's own emails, are fixed and rigid. But if you are a YayMail user, you can add advanced WooCommerce conditional logic to those email notifications.
Basically, you can add unlimited blocks to the email templates, which allows your customers to scroll down, learn more, and get further offers.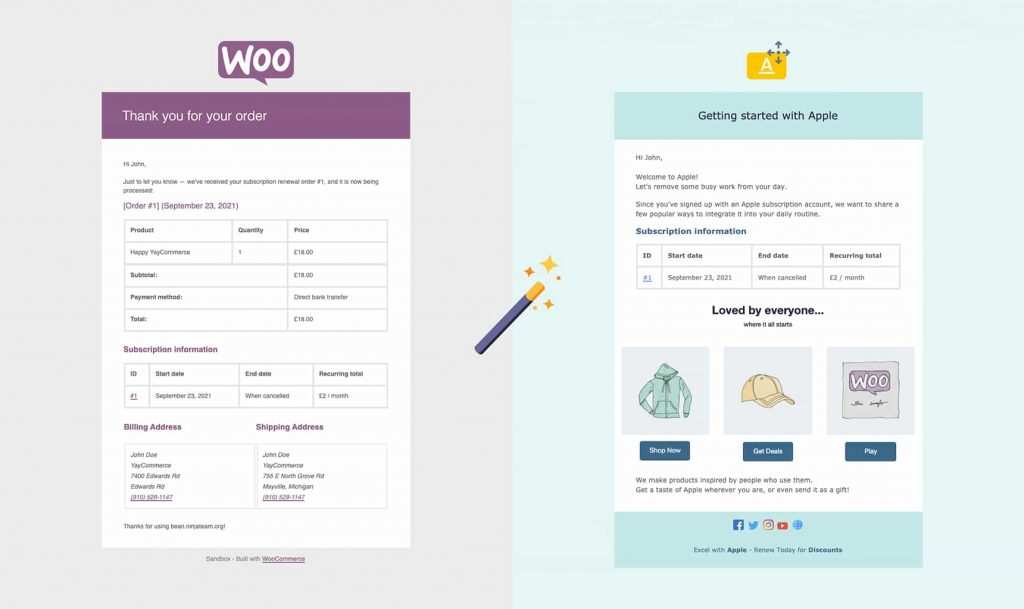 For instance, you'll be able to add criteria to notifications should you wish to introduce new products or send exclusive content:
Offer tailored

coupon codes

for big spenders

Send

related products

when the ordered items belong to a specific category

Send notifications to the recipients in a

shipping

class

Set up

per-product

notifications

Deliver

sales triggers

to those who have spent less than a specified amount
Pricing: Licences start at $59 for an e-commerce website.
Conclusion 
Running a successful e-commerce store can be a challenge. However, with the right automation plugins, you can slash your To-Do list and free up a ton of time for higher-value activities. 
If you're unsure where to start with WooCommerce automation plugins, check out any of the six tools we recommended earlier:
Do you have any questions about any of these WooCommerce automation tools? Let us know in the comments section below!