Recommended products increase the value of orders, boost product visibility, and make it much easier for customers to find the items they're interested in on your WooCommerce store.
WooCommerce's default product recommendation functionality is limited, however. You'll want to use a dedicated plugin if you're serious about maximizing your bottom line with add-ons and upsells!
In this post, we'll discuss the benefits of offering recommended products and the best WooCommerce plugins on the market. We will also walk you through how to set up recommended products on your eCommerce site.
What are WooCommerce recommended products?
Let's start with the basics. A recommended product is any item from your WooCommerce store that is suggested to customers as they browse. The recommended products vary depending on certain criteria, including the products your customer is looking at, the items in their cart, and their order history. As a result, recommendations are a highly personalized strategy.
The most popular types of recommended products in WooCommerce stores are:
Upsells
If a customer is viewing an item and you recommend a similar product available at a higher price point, that's an upsell! Upsells typically fall into two categories: premium upsells and add-ons.
Premium upsells encourage customers to purchase a premium version of the product they're interested in. For example, let's say your customer wants to buy a new cell phone. You could recommend a newer version of the model they're looking at with more features for a higher price.
Add-ons encourage customers to make additional purchases supplementing their original interest. So, you could recommend additional factors like increased memory, larger screen size, or even personal flourishes like inscribed phone cases and accessories.
Cross-sells
Similar to add-ons, cross-sells are products that supplement the primary purchase that the customer intends to make. Sticking with our cell phone example, cross-sells could encourage the customer to pick up a charger, phone case, or Bluetooth speaker.
Related products
This recommendation strategy considers a customer's viewing history and store taxonomies (including tags, product categories, and attributes), ensuring that the suggested items have commonality.
Related products can increase product order value, just like upsells and cross-sells, but can also have the opposite effect if they recommend items cheaper than the primary product your customer has been considering.
What are the benefits of recommended products in WooCommerce?
Before we round up our top recommended product plugins, let's dive deeper into why having recommended products on your WooCommerce store is such a useful strategy.
Increased average order value
Some customers know exactly what they want to purchase when they visit your store. This is great, but it means that they might not take the time to browse the rest of your stock. Recommended products encourage these savvy shoppers to consider items they might otherwise overlook and ultimately boost sales.
Store owners can employ upsells to nudge customers towards making a more expensive purchase or cross-sells to encourage customers to add extra items to their cart. However you decide to display your recommended products, they can ultimately benefit your bottom line.
Better customer experience
Recommended products benefit customers, too! Relevant recommendations add personalization to a customer's visit to your store and allow them to add items of interest to their cart from a single location.
Recommendations enhance the overall customer experience, too, ensuring visitors don't have to search your website page-by-page to find the items they want or need. It also streamlines the purchase journey and reduces the risk of cart abandonment.
And don't forget to take advantage of all of your site's pages! Including product recommendations on cart and checkout pages creates even more cross-sell and upsell opportunities.
Improved product discoverability
If certain products aren't flying off the digital shelves in the way you'd hoped, listing them as recommended products can give their visibility a much-needed boost.
Let's revisit our example of a customer buying a cell phone. You might also have a stock of wireless headphones and want to increase their exposure by offering them as a recommended product. Adding them to the pages of your more popular cell phone handsets is a great way to do this. Not only does it create relevant cross-sell opportunities that'll help shift stock, but it's easier for customers to discover the items, help new lines gain traction, and increase sales of products that aren't popular as individual products.
How do you add recommended products in WooCommerce?
The default recommended product functionality provided by WooCommerce comes with serious limitations. However, the built-in system does allow store owners to create upsell and cross-sell opportunities for specific products.
Here's how you can enable WooCommerce's default recommended products functionality:
Open your WooCommerce admin panel and select 'Products' from the sidebar. Then, click on the product that you'd like to display recommended products on and select the 'Linked Products' tab in the 'Product Data' section.
You can determine which products display as "Upsells" and "Cross-sells" here. Simply type the product name into the relevant field and hit "Update" when you're finished.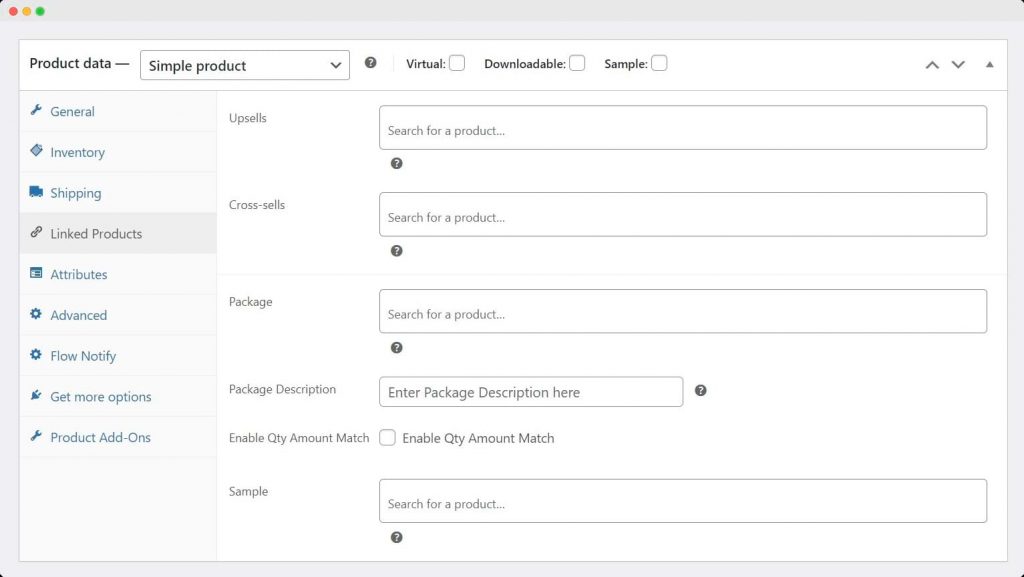 Visit the primary product page to see your upsell products displayed live! Then, add the primary product to your cart and visit the cart page to see your cross-sells in action.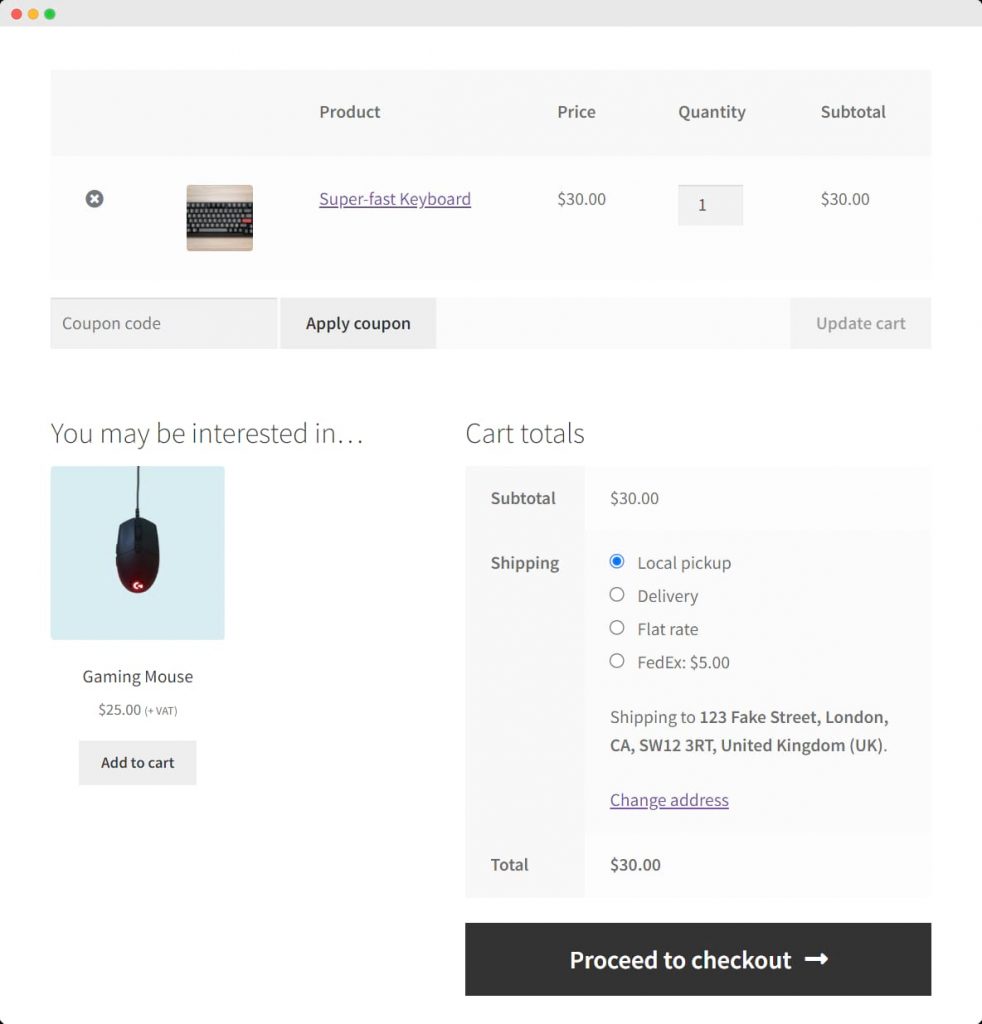 While WooCommerce's default recommended products functionality is straightforward and allows store owners to promote product visibility, there are several reasons why it's not the most practical option in the long run:
Listing products as upsells and cross-sells must be done manually and can be a time-consuming process for online stores with a large product catalog.
Store owners face limitations around where they can display recommended products.
It's not possible to add discounts to your upsell or cross-sell products.
Because upsell products must be existing items in your store, it's harder to list add-on options like extra product options, gift wrapping, and personalization.
What is the best plugin for adding recommended products in WooCommerce?
Now that we've covered the benefits of recommended products, let's look at three WooCommerce plugins we'd recommend using to add them to your website. The plugins below have been selected based on their array of product options, customizability, ease of use, and price, so you can be sure you're using the right tool for the job!
Product Manager Add-ons
With Product Manager Add-ons, store owners can create bespoke add-on options and groups to offer upsells, cross-sells, and bundles throughout their digital store.
Key features
Powerful add-on creation – get creative with your add-ons! Product Manager Add-ons' variety of input field options makes it easy to create bespoke upsells, cross-sells, and product bundles. You can even upsell add-ons like product personalizations, gift wrapping, and customization options, and include cross-sell opportunities directly via the product page, cart page, or checkout.
Flexible pricing – a good deal can be the difference between a customer adding a recommended product or add-on to their cart or ignoring it entirely! Easily affix discounts to upsell and cross-sell products with this plugin, and take your pick of pricing structures (with pricing based on a flat rate, percentage of the product price, or percentage of the cart subtotal).
Support for cart and checkout recommendations – streamline the customer journey by ensuring that the right products are displayed at each point of the process. Display related items on product pages to keep your store navigation convenient. Include add-ons and special offers to cart and checkout pages to encourage customers to add to their order value.
Product Manager Add-ons and its impressive suite of features are available from $49/year. The plugin allows store owners to create bespoke product upsells and cross-sells with total flexibility, and can apply to both online and physical stores.
Product Recommendations
The official WooCommerce recommended product plugin, Product Recommendations, lets store owners take the default upsell and cross-sell functionalities to the next level with in-depth analytics.
Key features
Bulk upsell/cross-sell creation – use categories, attributes, tags, and price filters to determine which products are recommended to your customers, and create smart upsells and cross-sells in bulk. Then, use metrics like popularity, rating, creation date, and conversion rate to boost specific results.
Product relevancy – consider conditions like customer cart/order contents, browsing history, date, and location to ensure offers are relevant.
Variety of locations – recommend products at more than 20 locations on your eCommerce store, including category, tag, product, cart, and checkout pages, and streamline the customer experience.
With the Product Recommendations plugin, you can capitalize on upsell and cross-sell opportunities for $79/year. However, as it doesn't support add-ons, you might want to pair Product Recommendations with Product Manager Add-ons for the best results.
Frequently Bought Together
Created by Premmerce, Frequently Bought Together lets store owners craft unique product bundles that recommend, upsell, and cross-sell products.
Key features
Customizable display options – use customizable built-in bundle widgets to reinforce your branding and tailor every aspect of how products are displayed.
Useful shortcodes – add recommended products anywhere on your product pages with a shortcode.
Bulk category bundles – use categories to bulk-create product bundles, then quickly add cross-sell and upsell add-on offers to the product pages within a given category.
Easy discount application – encourage customers to increase the value of their orders with easy-to-apply discounts on upsell and cross-sell products.
Frequently Bought Together is a great way to quickly bundle products, recommend relevant items, and upsell add-ons to customers. However, there's currently no option to offer recommended products as stand-alone items, as all product recommendations must be part of a bundle. The plugin is available from $49/year.
Tutorial: How to set up WooCommerce recommended products with Product Manager Add-ons
Using Product Manager Add-ons to display cross-sell and add-on opportunities across your WooCommerce store is straightforward and quick – simply follow the steps below:
First, download and install Product Manager Add-ons.
Return to your WordPress dashboard and select Products > Add-on Groups, then select 'Add new' on the following screen.
You'll be prompted to name your product group and determine where the products will appear on your site. You can select all product pages, custom product pages, cart, checkout, or cart and checkout.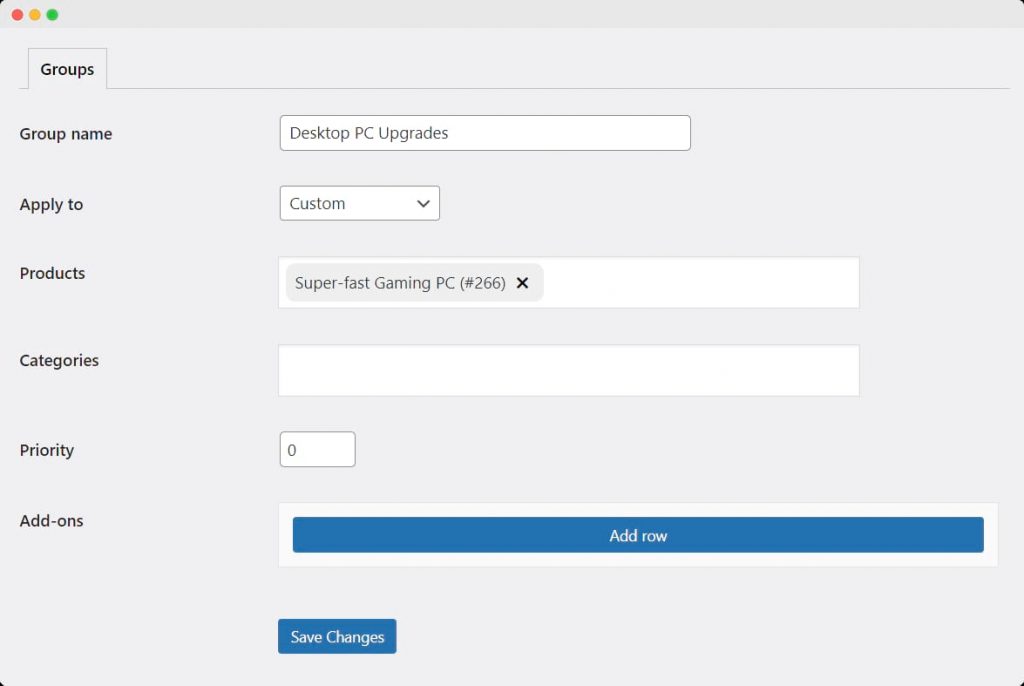 Once you've decided, click 'Add row' to add your first add-on. You can get creative here, for example, adding cross-sell products or upsell add-ons/upgrades to orders.
Next, select your input field. Take your pick of radio buttons, dropdown menus, checkboxes, text inputs, and file uploads. You'll also need to determine the pricing structure, choosing from flat-rate, percentage of product price, or percentage of cart subtotal.

Scroll down to the 'Options' heading, where you can click 'Add option' to add specific add-ons to upsell or recommended products to cross-sell.
Fill in the product name, description, and SKU code, and use the dropdown menu to determine whether your customers can add multiple quantities of the items to their purchases. You can also add a product image.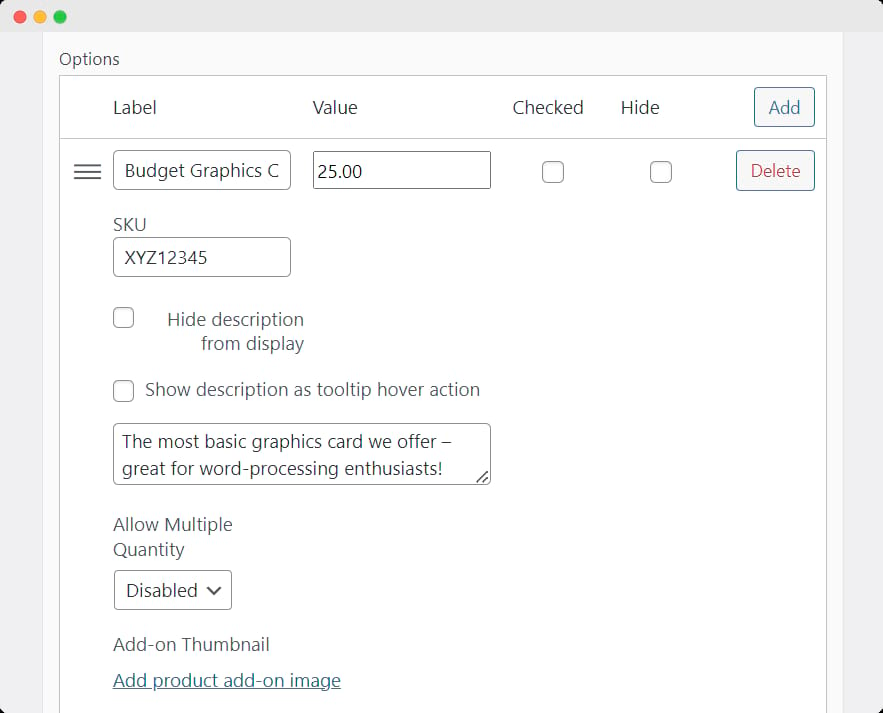 Want to add more choices to your first add-on or include extra add-on options? Simply run through the above steps again.
Save your changes when you've finished.
Finally, preview your product recommendations on the front end of your store. If you'd like to re-order your options or include more choices, navigate back to the WordPress Dashboard, select Products > Add-on Groups, and click 'edit' next to whichever product group you want to tweak.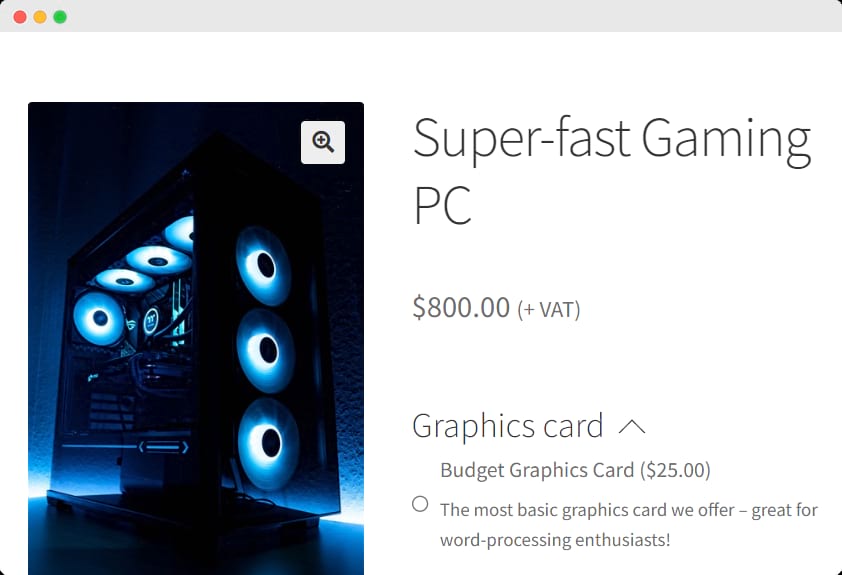 Streamline the customer journey on your WooCommerce site with recommended products
Adding recommended products to your WooCommerce store is a simple action with significant benefits – including increased revenue, customer order totals, and item discoverability.
There are several methods store owners can use to display recommended products, including upsells, cross-sells, and add-ons. These strategies help your customers find products relevant to their previous purchase history or cart contents, and give floundering stock lines a chance to flourish by pairing them with more popular items.
You'll need a dedicated plugin to make the most of these opportunities, however, and Product Manager Add-ons makes adding recommendations to your WooCommerce store a breeze.
The plugin also offers:
Powerful add-on creation
Flexible pricing options
Cart and checkout add-on options
And more!
If you want to see the difference that add-ons, upsells, and cross-sells can make to your bottom line, then be sure to try Product Manager Add-ons, available from $49/year with a 14-day money-back guarantee!